Below I will compare the engine power, portability, and outstanding features of the Westinghouse IGen2200 and Honda EU2200i.
Differences between Westinghouse IGen2200 and Honda EU2200
We have summarized some short information about the two products in the comparison table below:
Image
The Winner (#1)
The Runner-up (#2)
The Winner (#1)
Image
The Runner-up (#2)
Image
Power Comparison
Honda EU2200i is the upgraded model of Honda EU2000i with more wattage and features. This model has reached almost legendary status when it is the most popular generator on the market. Many people often consider it as the point of reference for an excellent quality inverter.
Featuring the engine with 1800 Rated Watts and 2200 Peak Watts, EU2200i can operate well for power for most of the home appliances in your house.
Honda inverter generator is known for being quiet and extremely reliable, and this buddy is not an exception either. With a 25% load, EU2000i can run for 8.1 hours, and the noise level 48 dBA it creates is almost negligible.
We are now coming to Honda's competitor, Westinghouse iGEN2200. Westinghouse is not a strange brand with customers.
When looking at the model, don't let the price fool you into thinking this is a poor quality generator because the technical information about it can make you feel startled.
iGEN2200 is a truly value-for-money product. This buddy shares the same running and surge wattage with the Westinghouse iGEN2200. However, iGEN2200 outstanding feature is its uptime and fuel consumption.
At quarter load, the Westinghouse can run continuously for a maximum of 12 hours, which makes it perfect for overnight usage.
The noise level 52 dbA of the machine is slightly more than that of the Honda. Nevertheless, it is just equal to the humming noise of a small car engine you can hear from around 20 feet away.
Both are suitable for sensitive electronic devices (<3% for the Westinghouse iGen2200 and <3% for the Honda EU2200i)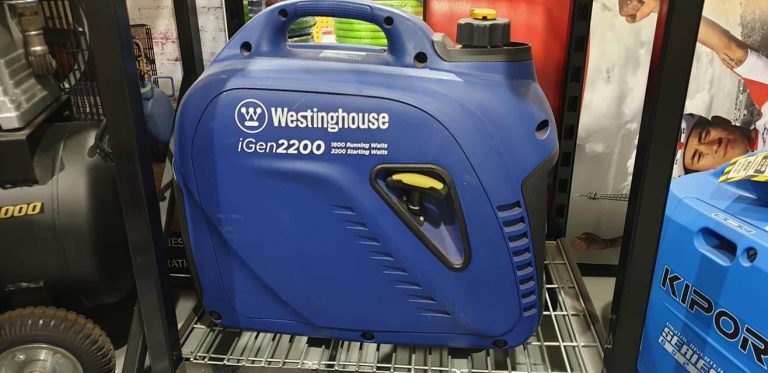 Design
The first impression when looking at the appearance of these two models is the difference in their main color. In addition, Honda eu2200i is also more impressive in terms of appearance as it is more compact than the other model.
Indeed, while the Westinghouse weighs 46.3 pounds, Honda's weight is only 40 pounds. But you don't need to worry too much about this difference because they are not too heavy, still light enough for you to carry around.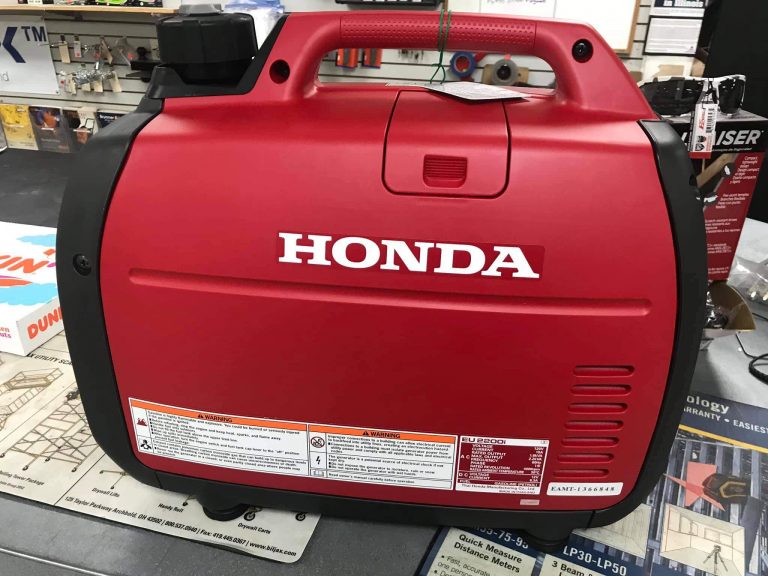 Features Comparison
First of all, let's talk about their starting system. You can start the Westinghouse IGen2200 and Wen 56200i with their pull-start mechanism
The second feature that should be taken into account is the outlet. Both of them provide 2 AC outlets
Quick Rundown Of Westinghouse iGEN2200
Westinghouse iGen2200
1800 Rated Watts and 2200 Peak Watts at Less Than 3% THD - Weighs Only 47.4 Lbs. - Gas Powered - Two 120V 20 Amp Outlets; Two USB Outlets.Alternator Type : Permanent magnet. Maximum Ambient Temperature: 104°F (40°C).
Great Choice for Home Use as an Emergency Backup in a Power Outage - Strong Enough to Run All Your Home Essentials
Extremely Quiet, Extremely Fuel Efficient: as Low as 52 dBA Noise Output and 12 Hour Run Time on a 1. 2 Gallon Gas Tank - Features "Economy Mode" for Maximum Fuel Efficiency
Parallel Capable - Combine Your iGen2200 with the Westinghouse WH2200iXLT; iGen1200; iGen2200; and iGen2500 to Increase Available Wattage and Amperage (Requires Westinghouse Parallel Cord)
All Westinghouse Portable Generators are Functionally Tested in the Factory and May Contain Minimum Residual Oil and/or Fuel Odor; EPA and CARB Compliant; Backed By 3-Year Limited Service; Labor; and Parts Coverage and Nationwide Customer Service Network
[i2pc show_title="false" title="Pros & Cons" show_button="false" pros_title="Pros" cons_title="Cons" ][i2pros]Reasonable price
Long run time
Quite
Reliable fuel efficiency mode
User-friendly for beginners[/i2pros][i2cons]Lacks fuel gauge
No remote start[/i2cons][/i2pc]
---
Quick Rundown Of Honda EU2200i
Sale
Honda EU2200i 2200-Watt
This popular model can operate a wide variety of appliances, making it perfect for portable use at home, camping, on the job site, or much more. Reliable Power is now at your fingertips with Honda's Inverted Generators.
So quiet, your neighbors will thank you. The EU2200i operates at 48 to 57 dBA, which is less noise than a normal conversation. This makes it ideal for camping, supplemental RV power and any other activity that requires quiet operation.
Add a second EU2200i for additional power. Two identical models can be paralleled with an optional cable or cord for up to 4400 watts of power, or time-consuming applications.
Thanks to our exclusive Eco-Throttle System, the EU2200i offers great fuel efficiency. Runs 4.0 to 9.6 hours on a single tank, depending on the load. This makes it the ideal choice for overnight power, or long-time applications.
Honda's inverter technology means stable, clean power in a smaller, lighter package. The precision of Honda's inverter technology ensures our inverter generators produce power that is as reliable as the power you get from your outlets at home.
[i2pc show_title="false" title="Pros & Cons" show_button="false" pros_title="Pros" cons_title="Cons" ][i2pros]Parallel operation
Eco-Throttle toggle switch
Super quiet operation
Easy to use[/i2pros][i2cons]Running time is not too long
Not suitable for heavy-duty appliances
Quite expensive compared to its rivals[/i2cons][/i2pc]
---
Conclusion
Westinghouse igen2200 vs Honda eu2200i, both can operate perfectly as a portable power source for a variety of uses for a power-off situation, camping, and more.
We think Westinghouse iGEN2200 will be a better choice because this model is cheap, but it still performs excellently. However, Honda is not a terrible choice if you want to own a reputable brand generator that operates smoothly.
That's all for today. Hope that the article is useful for you. Next time you come back here, tell us about the generator you have chosen. Thank you for reading!
---