Westinghouse iGen4500 and Honda EU3000iS: Which portable generator is the better option for you? Still, have no idea? Let's scroll down to find the answer!
Differences Between Westinghouse iGen4500 and Honda EU3000iS:
Below is a summary of the specifications:
Image
The Winner (#1)
The Runner-up (#2)
Size
24,5 x 17,5 x 20,5 inches
25.9 x 17.6 x 22.0 inches
The Winner (#1)
Image
Size
24,5 x 17,5 x 20,5 inches
The Runner-up (#2)
Image
Size
25.9 x 17.6 x 22.0 inches
Power Comparison
Like most other generators, both Westinghouse iGen4500 and Honda EU3000iS run on fuel and have a fuel tank of 3.4 gallons.
While a 224cc Westinghouse engine powers Westinghouse iGen4500, Honda EU3000iS operates on its 196cc Honda GX200 motor. Yet, the two generators' engines both use the same OHV 4-stroke.
Not only does Westinghouse iGen4500 prevail over Honda EU3000iS in terms of engine, but it also has a more powerful capacity than Honda EU3000iS (3700W vs 3000W). However, both machines share the same figure of max input of 4500W.
When it comes to noise level, Honda EU3000iS still gains its superior position. The Westinghouse generates around 52dBA of noise level, while the Honda only creates a noise of 50dBA during its performance. In our perspective, the noise of the two generators is still ideal for camping and any activity that requires a quiet operation.
Honda EU3000iS also does a better job in providing a longer time performance than its rival. Specifically, Honda EU3000iS can run up to 20 hours continuously, which is 2 hours longer than the Westinghouse iGen4500 of 18 hours.
About their fuel consumption, the Honda one still will win over its rival as the machine only consumes 0,17 GPH per hour, and the other uses up to 0,19 GPH per hour.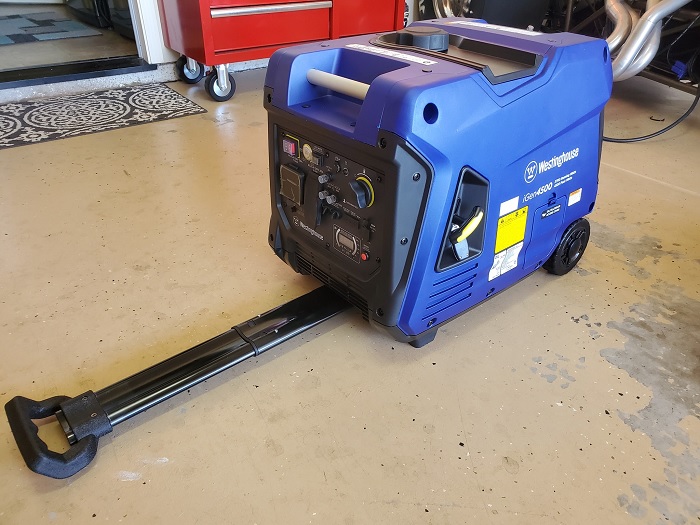 Design Comparison
Again, Westinghouse iGen4500 knocked down the Honda EU3000iS regarding portability. With a dimension of 24,5 x 17,5 x 20,5 in centimeters, the Westinghouse generator is more compact than the dimension 25,9 x 17,6 x 22 cm of the Honda EU3000iS.
Moreover, the Westinghouse is also much lighter than the Honda. Weighing only 98 pounds, Westinghouse is perfectly suitable for outdoor activities or camping. You won't have to spend too much effort on moving and transporting it.
On the other hand, the Honda generator seems quite heavy as it weighs up to 130,7 pounds. Therefore, it will take you a lot of work to carry.
Another plus point for Westinghouse is that it offers wheel features that Honda does not have. Hence, Westinghouse iGen4500 has done a greater job than Honda EU3000iS in portability comparison.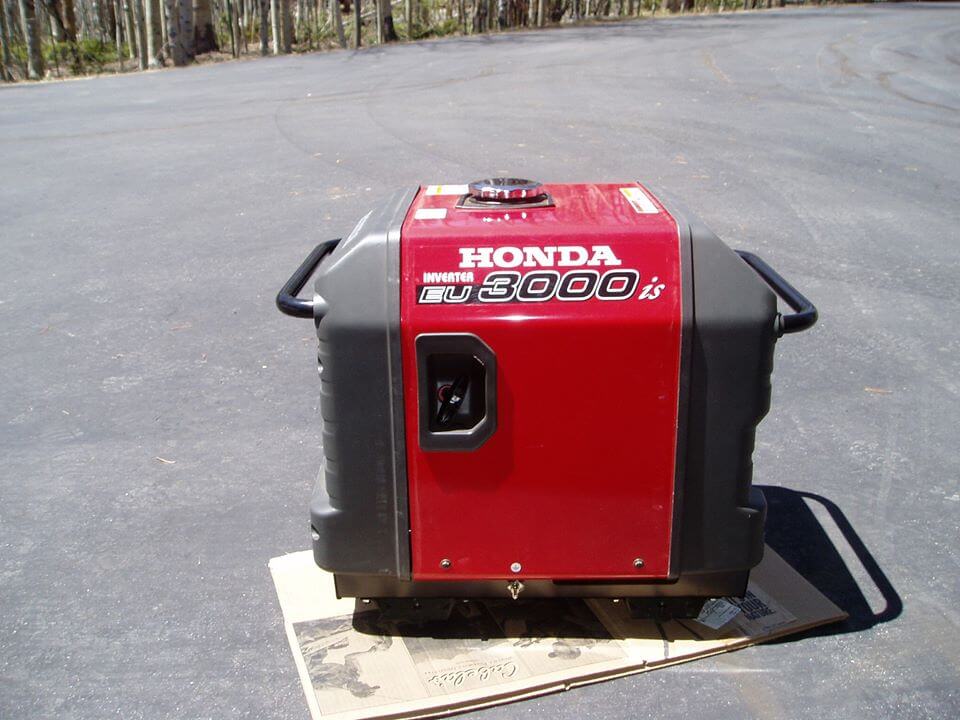 Features Comparison
It is very simple and easy to start the Westinghouse iGen4500 and Honda EU3000iS because they all use manual pull. Any adult can easily do this manual pull, but children might find it hard. Therefore, you can feel secure that your kids can not fiddle with these generators.
What is more? The Honda generator offers an electric start; if manual pull does not work, the manufacturer has promised their customers extra safety for its electric start.
Following this, both generators offer the same number of 3AC sockets, and THD lower than 3% is suitable for all sensitive electronic devices.
Quick Rundown Of Westinghouse iGen4500
Sale
Westinghouse iGen4500 Portable Inverter Generator
4500 Peak Watts and 3700 Rated Watts at Less Than 3% THD; Telescoping Handle; Gas Powered; Remote Start With Included Key Fob, Electric and Recoil Start
Features a 5–20R 120V Duplex Household Outlet, an RV-Ready Tt-30R 30 Amp Outlet and Two USB Outlets – Great Choice for Travel Trailers or Home Use – Strong Enough to Run All Your Essentials
Led Data Center: Rotating Digital Display Shows Fuel Level, Power Output, Remaining Run Time, Voltage Output, and Lifetime Hours
Extremely Quiet, Extremely Fuel Efficient: as Low as 52 dBA Noise Output and Up to 18 Hour Run Time on a 3. 4 Gallon Gas Tank – Features "Economy Mode" for Maximum Fuel Efficiency
All Westinghouse Portable Generators are Functionally Tested in the Factory and May Contain Minimum Residual Oil and/or Fuel Odor; EPA and CARB Compliant; Backed By 3-Year Limited Service, Labor, and Parts Coverage and Nationwide Customer Service Network
[i2pc show_title="false" title="Pros & Cons" show_button="false" pros_title="Pros" cons_title="Cons" ][i2pros]More portable
Powerful engine
Better fuel efficiency[/i2pros][i2cons]Noisier
Less long-lasting[/i2cons][/i2pc]

---
Quick Rundown Of Honda EU3000IS
Electric start is available
Longer run time
Lower fuel consumption
[/i2pros][i2cons]Less portable
Less powerful engine[/i2cons][/i2pc]

---
Product Videos
---
Conclusion
Overall, both Westinghouse iGen4500 and Honda EU3000iS have their strengths and weaknesses. But if you are a wise consumer, you may realize that Westinghouse iGen4500 will do a better job than the other. Specifically, it has a powerful engine and more compact and lightweight, perfectly ideal for outdoor activities and long transporting. Thank you for reading this review on "Westinghouse iGen4500 vs Honda EU3000iS"!