Yamaha EF2000isv2 vs A-iPower SC2000i are two of the top-notch generators you can find on the market. Telling the better one is challenging for any customer.
In today's article, we will provide you with an in-depth comparison between them. From the comparison, you can understand in more detail about the products. Wait no more, let's go!
Image
The Winner (#1)
The Runner-up (#2)
The Winner (#1)
Image
The Runner-up (#2)
Image
Differences Between Yamaha EF2000iSv2 vs A-iPower SC2000i
At first glance, you can feel confused when the design of these two products are nearly the same. They are also designed with mainstream blue tones.
Now let's dig into the details to discover more regarding the price, utilities, and maintenance of each product.
Price
The Yamaha EF2000isv2 costs around $630 on its original website, while A-iPower SC2000i offers a higher price than its opponent, at around $883.
As such, it will be more economical to choose EF2000isv2. However, do not care too much about the price because to select the best generator, it is not the number-one factor.
Utilities
The EF2000iSV2 and SC2000i are remarkably the same. They boast the same power output, and both come with parallel capability, which allows them to link with another unit to double the total power output.
With dimensions of L21″ x W12.5″ x H19″, the A-iPower SC2000i offers a less compact experience of power generation than the Yamaha EF2000iSv2 and its L19.3″ x W11″ x H17.9″.
The A-IPower SC2000i is eleven pounds heavier than the Yamaha EF2000iSV2 with the item weight of 55.00 pounds and 44.1 pounds respectively. However, do not worry too much because these weight numbers are quite small that you can easily handle and carry them.
With a noise of 58 dBA, the A-iPower SC2000i will have a bit noisier operation than the 51.5 dBA of the Yamaha EF2000iSv2. Thanks to that advantage, the latter will be the most suitable for those who take noise emission seriously.
EF2000iSv2 can run up to 10.5 hours at 25% rated load while at 50% rated load, its rival can give you 7 hours.
However, because the products don't come with runtime information at the same load so it will make little sense to compare their runtime now. The same thing happens to the fuel consumption, but overall both these products are very fuel-efficient.
Maintenance
The inverter generators from the provider A-iPower comes with an exclusive two-year warranty. This time is one year less than what Yamaha EF2000isv2 offers when its buyer can enjoy a three-year warranty policy.
Quick Rundown Of Yamaha EF2000isv2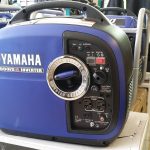 Yamaha EF2000isv2
1600 watt rated AC output, 2000 watt maximum AC output, 13.3/16.7 amps @ 120V
Super-quiet muffler with USFS-approved spark arrestor - 51.5 dBA at 1/4 load
Smart Throttle varies engine speed based on load - improves fuel economy and reduces noise
Inverter system with Pulse Width Modulation (PWM) control
CARB Compliant
Pros:
It has an impressive run time
The machine is very user-friendly
Coming with original Yamaha engine
Very lightweight
It offers a 3-year warranty from Yamaha
Fuel-Efficient
Easy to transport
Cons:
More expensive than other options

Quick Rundown Of A-iPower SC2000i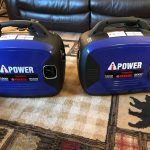 A-iPower SC2000i
light and portable nature of this product makes it perfect for camping and tailgating
2000 peak watt and 1600 running watt powered by 79cc yamaha engine
52 dba, ensures ultra quiet operation
1. 1 gal fuel tank give you 7 hours run time at 50% load'
Engine type: 4 Stroke
Pros:
In the expected price range
Several accessories included
Lightweight
Fuel efficient
Parallel kit included
Cons:
The run time is relatively low
It has no data center
No electric start

Conclusion
Well, Yamaha EF2000isv2 vs A-iPower SC2000i? What do you think? Which one is better for you?
For us, Yamaha EF2000isv2 clearly proved more overwhelming than in the face-off. The only thing that can make you hesitate to buy this product is the price. However, you get what you pay for. An excellent investment will never make you disappointed!
Popular Alternatives Worth Considering: