Does the battle between two top companies with two top generators, Yamaha EF2000iSv2 Vs Honda EU2200I interest you? To find the victor, this post will mention all the typical features of these two machines so that you can find your gratifying answer.
Who will be the conqueror? Which will suit you best? Check this out now!
Differences Between Yamaha EF2000iSv2 Vs Honda EU2200I
Honda and Yamaha have marked their names in the power generator market with their own exceptional products' features. So, what differences between these two would determine the champion?
Product Specs
We believe that this below specifications comparison table would be useful for your purchasing process.
Image
Best Choice
Best Price
Best Choice
Image
Best Price
Image
Power Performance
In terms of maximum and continuous output, both machines can provide a thriving power source. However, compared with the Honda EU2200I' s maximum output of 2200 and continuous output of 1800 watts, the Yamaha EF2000iSv2 loses one point when only providing 2000 and 1600 watts respectively.
On the other hand, the Yamaha EF2000iSv2 takes its point back when considering the tank size and running time.
Specifically, the Honda EU2200I' s full tank volume is only 3.6 L, while the number goes up to 4.4 L in the Yamaha EF2000iSv2. This difference is the main foundation leading to the difference in the operating time.
At 1/4 load work, the Yamaha EF2000iSv2 indeed outstrips its component when being recorded to run up to 10.5 hours – 2 hours longer than the Honda EU2200I.
Portability
The Yamaha EF2000iSv2 is estimated to weighs 25 kg, 4 kg heavier than its opponent. This distinction makes the maneuverability easier and more comfortable for the Honda EU2200I.
Fuel Efficiency
The Yamaha EF2000iSv2 is implemented with a Smart Throttle, which enables the engine RPM's regulation to manipulate. This will offer an economical fuel consumption and drainage before storing it.
Quick Rundown Of Yamaha EF2000iSv2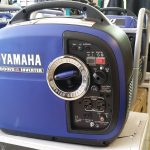 Check these brief features of the Yamaha EF2000iSv2 to easily weigh up its strength and weakness.
Yamaha EF2000iSv2
1600 watt rated AC output, 2000 watt maximum AC output, 13.3/16.7 amps @ 120V
Super-quiet muffler with USFS-approved spark arrestor - 51.5 dBA at 1/4 load
Smart Throttle varies engine speed based on load - improves fuel economy and reduces noise
Inverter system with Pulse Width Modulation (PWM) control
CARB Compliant
Pros:
Comfortable noise level at only 51.5 to 61 dBA
Effective fuel consumption
Hardened steel handle for stable moving
Extended runtime
Deliver clean power
Cons:
No ideal for high-intensity work
No display screen available

Quick Rundown Of Honda EU2200I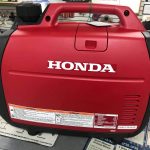 Let's break this following Honda EU2200I' s advantages and disadvantages to have a wise choice when purchasing a generator.
Honda EU2200I
More Power. Same Legendary Quality. - The EU2200i delivers 10% more power than the previous EU2000i - enabling you to power more of what you need, in the same lightweight, compact package. The EU2200i gives you the power to get more done.
Co-minder - Advanced Carbon Monoxide Detection System. CO-MINDER continuously monitors carbon monoxide (CO) levels. It automatically shuts down the generator before detected CO levels near the generator become dangerously high.
Honda My Generator App + Bluetooth Capability - Honda's exclusive My Generator smartphone app offers remote generator operation and monitoring with impressive performance. The app includes wireless stop and operation monitoring.
Lightweight And Compact - Weighing just over 47 pounds, the EU2200i is incredibly lightweight and portable. Thanks to Honda's inverter technology, it's easy to transport and store.
Commercial Grade Reliability - The EU2200i is powered by the Honda GXR120 Commercial Series engine. At 121cc, the GXR120 is at the top of its class - ensuring the EU2200 always produces the power you need to get the job done.
Pros:
Lightweight yet sturdy, which permits flexible portability
The four-stroke engine provides effortless power sources
2200 watts for maximum output
Soft nose and vibration
Cons:
Not very affordable
Limited operating time

Conclusion
I believe that after this short-but-informative article, you have found your favorite in the battle of Yamaha EF2000iSv2 Vs Honda EU2200I.
The two generators mentioned above certainly have what it takes to be the most efficient tools and both can satisfy your needs and enable smooth work.
Popular Alternatives Worth Considering: