Below I will compare the power, portability, and features of A-IPower SC2000I and SUA2000I
Difference between A-iPower SC2000I and SUA2000I
Design Comparison
At first glance, we cannot notice the significant difference between these two products. But when it comes to convenience while transporting, A-iPower SUA2000I wins a vintage position.
Specifically, this tool weighs about 48 pounds, and its dimensions are 21 x 12.5 x 19 inches. Meanwhile, the SC2000I unit's weight is 7 pounds heavier, along with the dimensions of 22 x 13 x 20 inches.
As a result, you can hold and move the SUA2000i generator comfortably without a hassle.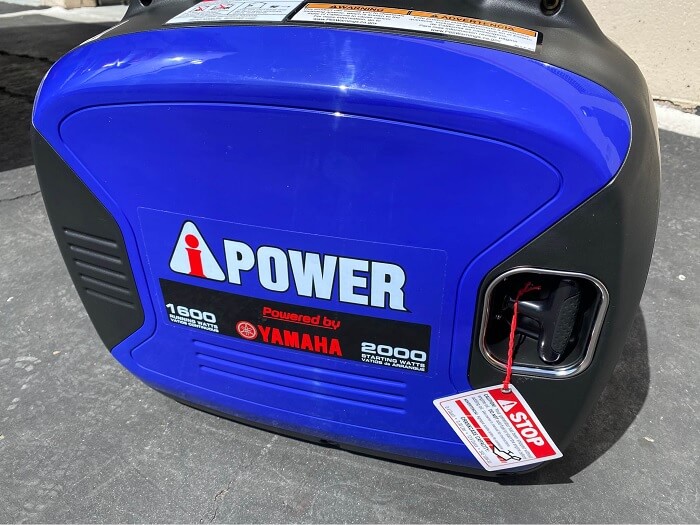 Power Comparison
Regarding the engine power, we have to say that both A-iPower SC2000I vs SUA2000I are much identical.
They all come with a gasoline-fueled 79 cc OHV 4-stroke engine, delivering up to 120V. The only difference here is the motor brand. SC2000I features the Yamaha engine, and the other gets the Sense one.
But they are all reliable enough to guarantee you premium performance at the peak wattage of 2000W and the running wattage of 1600W. Thanks to their parallel capability, the power will be nearly doubled when paired with the compatible unit.
No doubt, these machines are incredibly ideal for outdoor activities, including camping trips, parties, concerts, and more.
Of course, we cannot announce the winner in this field.
Features Comparison
Apart from these features above, both outstanding generators of A-iPower deliver a couple of impressive things. Keep scrolling down!
In fact, they share many features in common. All equipped with a 1.1-gallon fuel tank, SC2000I vs SUA2000I models enable you to enjoy up to 7 hours of runtime at 50% load.
On top of that, A-iPower has paid more attention to users' safety by adding inverter technology to these tools. For this reason, a safe and clean electric flow is provided to power up any other application.
Besides, first-time users will get used to these tools quickly due to the conventional pull-start mechanism. A multi-switch includes the start, run, and stop button, making it super easy to control and operate. Most notably, you will know when to refuel thanks to a built-in fuel gauge. How convenient it is!
Moreover, each generator has a particular advantage. While using the A-iPower SC2000I, you can expect an ultra-quiet operation without disturbing your neighbors. The reason lies in the ability to make a noise of only 52dBA.
As for the SUA2000I unit, it is designed with an exclusive eco-throttle system to ensure extended run time, in addition to the large fuel tank. In more detail, the machine is able to run for nine hours at 50% load.
A package of A-iPower SC2000I vs SUA2000I is quite similar, which consists of parallel cables, a 30-Amp RV adapter, DC charging cables, a spark plug socket, oil funnel.
Quick Rundown Of A-iPower SC2000I
A-iPower SC2000I Portable Inverter Generator
Digital inverter gas generator provides you with power on the go
Link another SUA2300i generator with included parallel cables to double your power
Multi-switch controls fuel, choke, and engine function
2,000 starting watts and 1,600 running watts
Runs on 79cc OHV engine, ideal for small outdoor events
---
Quick Rundown Of A-iPower SUA2000I
No products found.
Pros
---
The Bottom Line
It is not an exaggeration to say that both A-iPower SC2000I vs SUA2000I are Tweedledum and Tweedledee. They share many similarities in power, ease of use, and more. Hence, it is not a big deal to pick up one as they can surely meet your demands.
If we have to choose, our favorite is the A-iPower SC2000I because of its quietness and the Yamaha motor. But you had better consider carefully to see what you need before making an informed decision.
---