Honda and Yamaha are two big boys in the inverter generator making industry with some of the most outstanding units ever made.
In today's article, we will be having an in-depth comparison between Honda EU1000i Vs Yamaha EF1000iS. Which machine do you think will win? Read on to find out!
Image
The Runner-up (#2)
The Runner-up (#2)
Image
Differences Between Honda EU1000I Vs Yamaha EF1000IS
First of all, both of these machines are ideal with small electrical devices, such as phones or laptops.
The designs are lightweight and compact, making it easy to move them one place to another. In fact, Honda EU1000i and Yamaha EF1000iS share the same dimensions, measuring 17.7 x 9.4 x 14.9 inches.
They both operate quietly and have a recoil starting system. That's pretty much it for the similarities. Let's dig into the details to give you a better look at the units regarding the price, utilities, and maintenance.
Price
As both units aren't the latest models of their class, they had a slight drop in terms of price compared to when they were first released.
What is more, Honda and Yamaha are prestige brands that have been in the industry for quite some time; therefore; the price is very competitive. To be more specific, it ranges from $750 to $1000 for the Honda EU1000i and Yamaha EF1000iS.
Utilities
Weight: You'd want your generator to be as lightweight as possible since you're very much likely to move it around the campsite or recreational facilities.
Weighing 27.9 lbs, Yamaha EF1000iS is hands down the most lightweight generator you can ever find. Its competitor – Honda EU1000i is somewhat heavier, at around 29lbs.
It might not be a big deal to some people, but once you give it a second thought, small details like this count as well!
Noise Level: Yamaha EF1000iS scores again, thanks to the special noise block system, offering you with super silent operation at only 47 dBA (at 7m). This is even quieter than a regular conversation you have, measuring around 48-50 dBA. Astonishing, isn't it?
Honda EU1000i creates a noise level of 52 dBA, which is considered very quiet compared with other units of its class.
Fuel Efficiency: Despite the small size, Yamaha EF1000iS has a decent running time of roughly 12 hours before it needs to be refilled. Honda EU1000i, on the other hand, can only run for 8.7 hours with a full tank – 3 hours less than its counterpart.
Even though both units are equipped with a smart throttle helping adjust the gas load to match with the required output, Yamaha EF1000iS still surpasses its competitor thanks to the bigger gas tank.
Other Features: By far, Yamaha EF1000iS seems to prevail in all aspects; however, Honda EU1000i has something it's opponent doesn't – the parallel connection, which enables you to hook it up with another Honda EU1000i for dual power.
Maintenance
Both units are backed with a 2-year warranty for residential purposes (1 year for commercial purposes).
Quick Rundown Of Honda EU1000i
Honda EU1000i
1000 watts, 120V
Ideal for TV, lights, fans, small power tools and more on camping trips, power outages and home improvement projects.
Very quiet generator operates between 53 to 59 dBA.
Lightweight and mobile at 29 lbs
The generator is very fuel efficient and can run up to at 1/4 load for 8.3 hrs on 0.6 gal of gas
Pros:
Good value of money
Lightweight and compact design
Very quiet (59 dBA)
Parallel connection for double power
Auto shut off when the unit is low on oil
Exclusive and smart eco-throttle system for fuel efficiency
Cons:
Needs proper fuel tap
Lack of care in delivery causes oil leaking

Quick Rundown Of Yamaha EF1000iS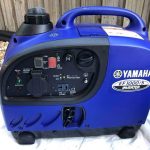 No products found.
Pros:
Special noise block sound reduction system for extra quiet operation at 47 dBA
Outstanding running time
Smart throttle for optimal fuel performance
User-friendly
Ergonomic design
Cons:
The exterior looks cheap
Hard to determine the oil level until it is overfilled

Conclusion
Yamaha EF1000iS is clearly the winner in the battle of Honda EU1000i Vs Yamaha EF1000iS.
The only thing to make potential customers think twice is its price; however, if you happen to have another Honda EU1000i at home, opt for the Honda EU1000i as you'll be able to make the most of its parallel connection feature.
Popular Alternatives Worth Considering: