Below I will compare the power, portability, and features of the Bosch CM10GD and GCM12SD
Difference between Bosch CM10GD and GCM12SD
The technical summary sheet for Bosch CM10GD and GCM12SD
Image
Dimensions
2.00 x 26.50 x 20.50 inches
Image
Dimensions
2.00 x 26.50 x 20.50 inches
Image
Design Comparison
Before jumping into the specs of two products, let's look at the differences in dimensions.
CM10GD has a dimension of 32.00 x 26.50 x 20.50 inches and weighs 64Ibs. Meanwhile, its counterpart measures 31.00 x 23.8 x 22.5 inches with a weight of 65Ibs. Overall, these two dual-bevel sliding glide miter saws are heavy and quite hard to carry.
The weight is certainly not a problem for users who apply the devices indoors because they do not have to move them around too much. However, for many woodworkers working independently, it is quite challenging for them to transfer both of the tools to their worksites.
Therefore, in this round, neither CM10GD nor GCM12SD is the winner because their dimensions and weights are not much different.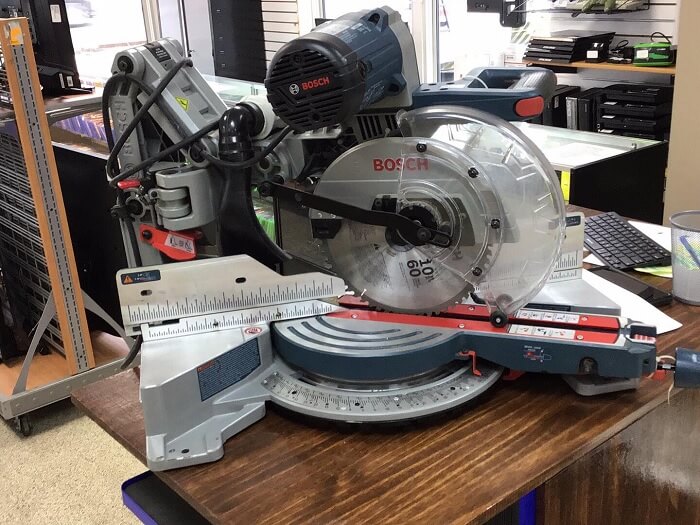 Power Comparison
Both Bosch CM10GD and GCM12SD motors are equipped with the same amperage (15amps, 4800 RPM) and voltage (120V). These features bring a sense of smoothness and power even when used with the blade.
Furthermore, both of the saws cut through the cedar wood floor smoothly, giving the user an excellent view of the precision and outstanding functionality. Therefore, it is difficult to provide a fair assessment of the power of the two Bosch mechanisms.
In terms of expanded cutting capacity, CM10GD is packed at 10 inches, while GCM12SD's is at 12 inches. This leads to the fact that GCM12SD is safer and more suitable for a variety of cuts.
The reason is that CM10GD only has a 10-inch diameter blade, so things like the large crown shape are harder to cut with this machine. In contrast, GCM12SD with 12-inch cutting capacity can easily handle crown shape materials.
The horizontal capacity (nominal) of CM10GD is at 5-1/2 inches; meanwhile, GCM12SD's is at 6-1/2 inches, which makes the cut more in-depth into the material.
The vertical capacity against the fence base of two merchandises is 6-1/2. Also, both CM10GD and GCM12SD's share the same crown capacity against the fence at 45° spring.
CM10GD allows you to slightly lock the fence's saw head to maximize the saw blade's position with the material, allowing it to cut as deep as possible. This is a new feature that is not available on GCM12SD.
However, GCM12SD also holds high precision cutting, with smooth, soft cuts. Also, for cutting a complete block of wood like a 2 × 12 rafter, you need to use the 12-inch version of the GCM12SD.
To sum up, GCM12SD is the winner in this comparison round.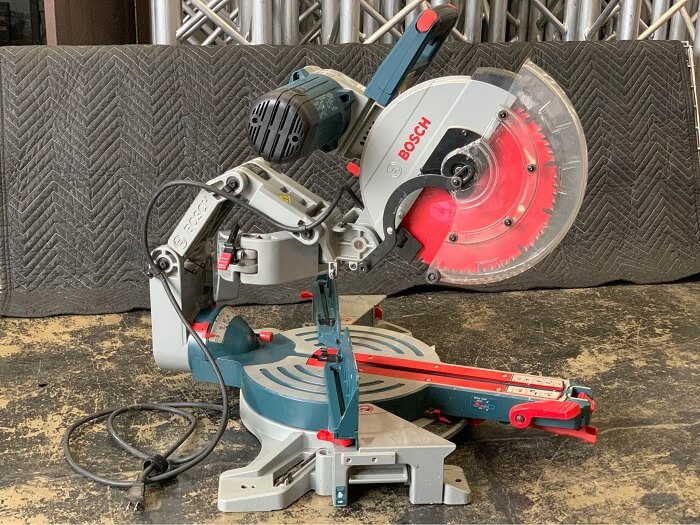 Features Comparison
For saws that only have a single 10-inch diameter blade, something like the large crown shape will be a bit difficult to cut. So Bosch took care of that with the innovative two-position crown stopper for CM10GD, shown in red in the bottom position.
When CM10GD is flipped up to attach the pin to the machine's hinge arm, the stopper locks the saw into different positions either for cutting large molds or baseboards.
It is worth mentioning that neither of these positions is easy to perform on other 10 inch saws. Meanwhile, the wire is a new feature that is not available on the GCM12SD.
A standout innovation of the 12-inch model is that it transforms the conventional wiper into the lock/open detent lever. The detent lever can adjust an angle without pulling the saw back to the pin, virtually eliminating all associated discomfort.
One more characteristic that CM10GD does not have is the stock support extensions.
Therefore, in this round, neither of the two mechanisms wins. The reason is the best choice will depend on the using purposes and interests of the individual.
Quick Rundown Of Bosch CM10GD
Sale
Bosch CM10GD Compact Miter Saw
ACCURACY: The Bosch-exclusive Axial-Glide System allows wider cross cuts and better alignment
CONVENIENCE: Featuring large, upfront metal bevel controls and Square lock precision fences for...
CONTROL: This miter saw provides accuracy and cutting control at all angles. Crown/chop lock locks...
COMPACT: Featuring a compact design that replaces the sliding rail system, taking up to 10 In. less...
COMFORT: Large, form-fitting ergonomic ambidextrous trigger handle with soft grip provides maximum...
---
Quick Rundown Of Bosch GCM12SD
Sale
Bosch GCM12SD Dual-Bevel Sliding Glide Miter Saw
Axial glide system: The patented glide system allows wider cross cuts and better alignment while...
Capacity: Expanded cutting capacity 14 inch horizontal capacity nominal 6 1/2 inch vertical capacity...
Adjustable: The GCM12SD miter saw provides easy adjustments with a large easy to read uniform bevel...
Precision: Square lock quick release fences lock fence 90 degree to the table and requires no...
Ease of use: Upfront bevel controls all metal bevel lock lever and range selector located upfront...
---
Conclusion
After reading the Bosch CM10GD Vs GCM12SD comparison, have you decided which product to buy yet?
Actually, there is no final winner in this battle. The reason is the right choice depends on users' preferences and purposes. Personally, I would prefer Bosch GCM12SD because it works more powerfully, smoothly, and safely than its counterpart, CM10GD.