Bosch PL1632 Vs Dewalt D26676 are the two hand planers coming to the market with top-notch features and well-made details that can handle a variety of wood with different cutting styles. Today, we'll give you a comprehensive comparison of them, as well as the pros and cons of each product. Stay tuned!
Differences between Bosch PL1632 and Dewalt D26676
Image
The Winner (#1)
The Runner-up (#2)
The Winner (#1)
Image
The Runner-up (#2)
Image
Both products share some similar features and specs, such as the maximum planning depth and width, and the aluminum-made shoes. However, they're also different in certain aspects.
Price
We all know that price is the determining factor when it comes to buying a product. In this case, the price gap between the two products is minor when they both come into the woodworking market at a price point of over $100.
Utilities
First and foremost, Bosch PL1632's fan cools down better than Dewalt D26676, based on the amperage number.
What is more, Bosch PL1632 offers more effective dust collecting thanks to the round-shaped dust port, enabling you to attach it to a shop-vac. Dewalt D26667 has an irregular-shaped dust port, making dust collection somewhat more difficult; you'll also have to do more cleaning to keep wood dust from getting around the work area.
Some additional tools are included with Dewalt D26676 but not Bosch PL162, and vice versa. For example, Dewalt D26676 comes with a blade depth-setting gauge as well as a blade re-sharpening tool, but Bosch PL1632 doesn't. Likewise, Bosch PL1632 has a shavings bag, but Dewalt D26676 does not.
Now, here's the important thing.
Dewalt D26676 provides more superior performance with some rough cuttings; it handles better in situations where you might hit nails thanks to the aluminum cutter head, which is milled out to accept the blade and the bolts. D26676's blade is much thicker than that of Bosch PL1632 and is made of steel. It is finely laminated out of one layer to make sharpening a breeze. Yes, the blade will get dull, but it will not break when you accidentally shave stuff like metal or hard knots. Also, there are 2 blades in case you're wondering.
Bosch PL1632 has a carbide cutter head attached to stamped out discs of galvanized steel. The thing about this cutter is it tends to wear down quickly if you encounter nails or any other metals when operating the tool. You cannot sharpen it, which is a big downside to make consumers reconsider purchasing the device.
Quick Rundown Of Bosch PL1632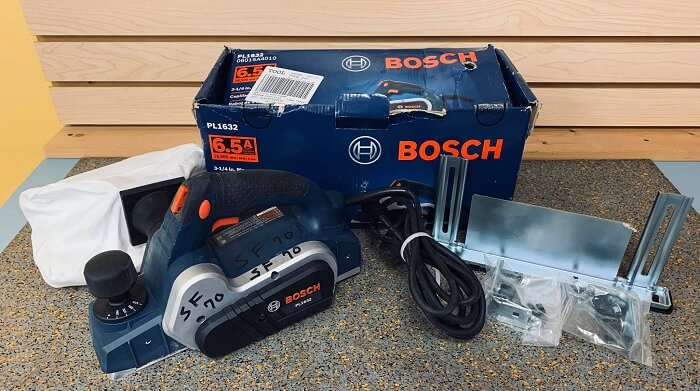 Bosch PL1632 Planer
Powerful planer with 6.5 Amp rating and 16,500 RPM speed for fast stock removal and smooth finish in soft and hard woods
Spring-loaded stand elevates tool to protect blade and tool resting spot; special shape allows easy entry in middle of workpiece
Dual-mount guide fence with protective shield for steady planing of door edges with plastic overshoe to prevent marring of door face
Separate inch and metric depth scales for easy setting of planing depth
Optimally-angled handle for forward motion of tool with soft grip for comfort
Pros:
Cut through both hardwood and softwood like butter
Lightweight and compact construction
Ergonomic handle offers excellent grip for the hand, lessening hand fatigue when working long hours
Easily adjusted cutting depth
Smartly-designed dust port to make dust collecting more effective
Cons:
Only comes with one blade, and it tends to wear and tear quickly if you have to shave through nails or metal knots
Unadjustable knife

Quick Rundown Of Dewalt D26676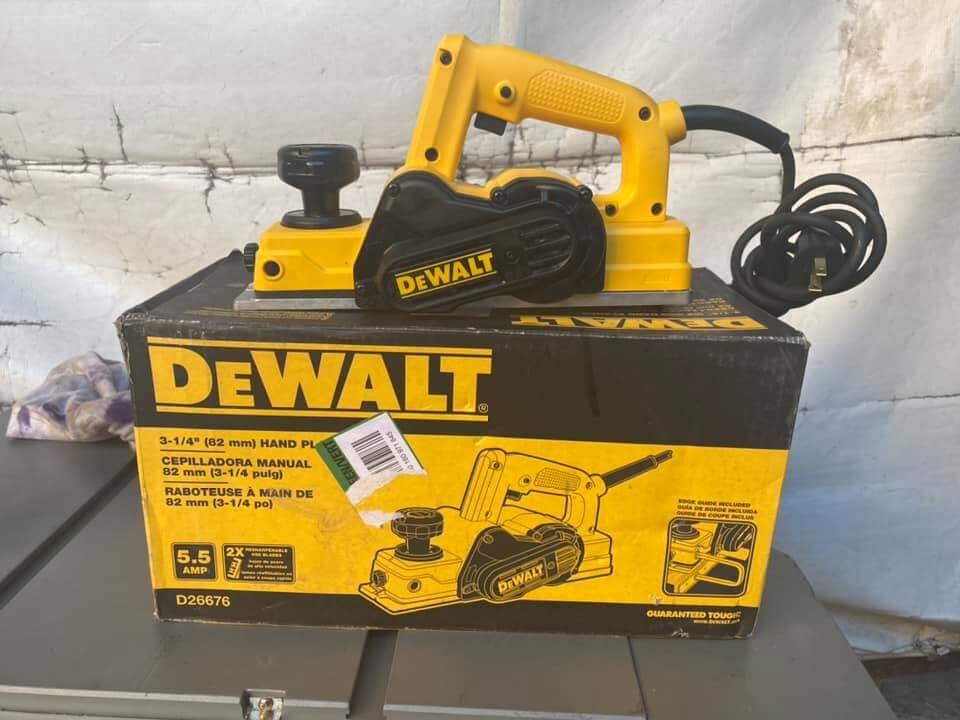 Sale
Dewalt D26676 Planer
Powerful 5.5 amp motor of the electric hand planner provides a smooth, even finish in the hardest of woods
The hand planer featuring 34,000 cuts per minute achieves a fast removal rate
1/16-inch (1.5mm) maximum depth of cut
Includes industry-standard large, resharpenable high speed steel blades for straight edging or framing applications
Also accepts reversible carbide blades for improved blade life and material finish
Pros:
Reversible carbide blade
Powerful 5.5 Amp motor that provides smooth cuts for a variety of wood
Makes zero noise when operating
A sturdy knife that can be sharpened or replaced at ease
Decent 3-year warranty and 90-day money-back policy
Cons:
Exhaust and refuse attachment is not included
Odd-shaped dust port

Conclusion
So, what does it really boil down to? Which unit is better between Bosch PL1632 Vs Dewalt D26676? It depends on several factors, but we can break it down to make it a little easier for you.
Opt for Dewalt D26676 if you need a tool to deal with heavy-duty jobs like shaving rough frames or so. On the other hand, Bosch PL1632 is recommended if you're new to woodcraft working, or if you're just doing finish work where you're not likely to hit any nails or metal stuff.