Which one is the best choice, Festool ETS 125 vs ETS EC 125 vs ETS EC 150 vs RTS 400? You may throw your money out the window with a bad shopping decision of the wrong products.
Don't make it happen. Let's walk through a brief comparison with us and be a smart consumer!
Festool ETS 125 vs ETS EC 125 vs ETS EC 150 vs RTS 400
Before making the final shopping decision, the first thing that we should do is to look into each of the products' strengths and weaknesses. So now, here we go!
1. Festool ETS 125 Random Orbital Sander Review.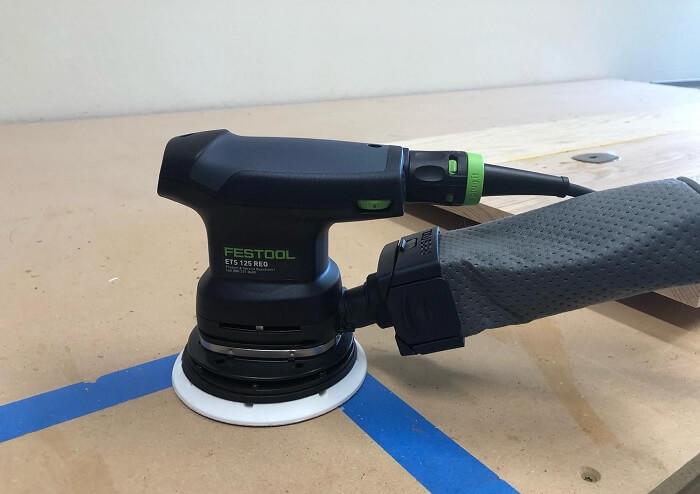 Compared with other products on the list, the EST 125 is the most excellent sander for quiet operation. Both pad brake and vibration-stop balancing features help the device run smoothly without noisy irritation.
The quiet operation does not mean that the product is not a powerful sander. Otherwise, it comes with the sanding stroke at 5/64 inches (2.0 mm). This feature can ensure the maximum surface quality, especially for one-handed machine sander like EST 125.
Another outstanding point is the jetstream design for efficient dust removal. Consequently, there is no need to worry that the dense dust will affect your vision over the in-process sanding wood surface.
Moreover, a button located on the top with a dual function allows you to make a step-less adjustment for speed levels.
Thanks to those features, nothing will trouble you while controlling the sander for extended vertical or overhead action. And there are no ugly swirl marks left on the surface.
Festool ETS 125 Random Orbital Sander
Ergonomically Formed to fit comfortably in any size hand
Compact and light weight enough for extended vertical and overhead use. Dust extraction connection dia-1-1/16 inch. Interchangeable sanding pad dia- 5 inch
Step-less variable speed allows you to adjust to the needs of the application
Balanced vibration stop (vs) design delivers better finish results, smooth operation and greater comfort
Jetstream design delivers highly efficient dust removal, resulting in cleaner air, better finishes, and longer abrasive and pad life
Pros:
Quiet operation
Fast and accurate delivery
No swirl marks
Powerful sanding
Dust extractor for the cleanliness
Cons:
Verdict:
With a compact design, simple use, and robust operation, this Festool ETS 125 can deliver the best results for your projects.

2. Festool ETS EC 125/3 EQ Random Orbit Sander Review
While the Festool ETS 125 mentioned above is not equipped with EC-TECH, this ETS EC 125 model is.
EC-TEC or EC Technology standing for Electronically Commutated is a combination of AC and DC voltages. The EC-TEC motor enables the sander to run all day no matter how many shifts there are.
Along with powerful technology, the product is also worth your money due to its sanding stroke. The information EC 125/3 EQ 5″ lets us know that the ETS 125 has a 3mm stroke with a 5-inch pad. These features make the device more suitable for vertical and overhead surfaces.
Moreover, the sander comes with a lower height and a top grip made of high-quality rubber, combining with an electronic vibration control system for extra comfort. So, it does not matter what your hand size is as the device will make a perfect fit and allow more control without hand fatigue.
Besides, an electronic hose detection sensor will alert in case the dust extraction hose gets disconnected. Therefore, it ensures a better finish and a clean space to limit adverse effects on your respiratory system.
Festool ETS EC 125 EQ Random Orbit Sander Review
Ergonomic and comfortable: Compact design and ergonomic grip for greater flexibility in sanding tasks with less user fatigue. Vibration control system
Effective and long-lasting: Power through the demands with EC TEC brushless motors delivers a constant powerful performance. Exceptional service life
Efficient and productive - Designed with dust extraction efficiency with new ETS EC sanders integrate seamlessly into sanding solutions system.
Pros:
Less vibration
Constant work
Comfortable design
EC Technology
High sanding stroke
Cons:
Problem with modules after months of using
Verdict
We appreciate the design of this ETS EC 125 from its form to its color. Moreover, the smooth, robust operation is another crucial factor for the perfect finished surface.

3. Festool ETS EC 150/5 EQ Random Orbit Sander Review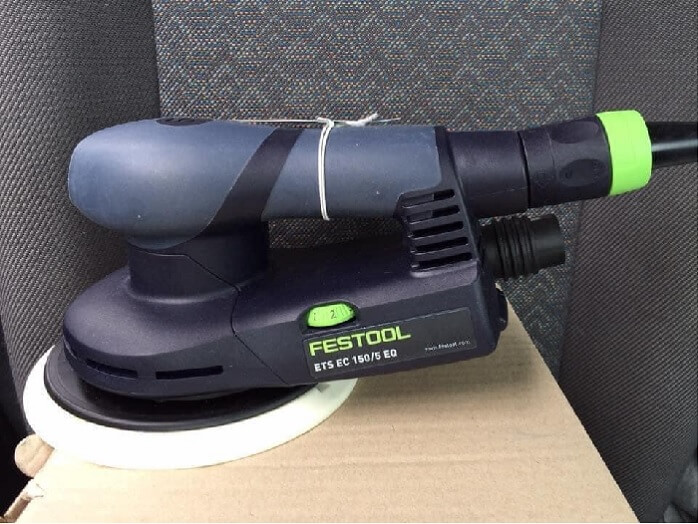 The Festool ETS EC 150 includes the EC-TEC technology, too. However, this third Festool model has much higher sanding stroke in comparison with two former products.
Thanks to the sanding stroke of 5mm, the feed of the ETS EC 150 will be faster. If you want to cover more area in less time, a sander with a higher sanding stroke will be better.
Saving time is not the only advantage that we found in the Festool ETS EC 150. Its automatic dust control is another impressive feature. It will reduce dust production, which may have negative effects on your respiratory system if not designed properly.
Besides, it is the vibration control part that saves your arm from getting tired after hours of using the sander.
Festool ETS EC 150 EQ Random Orbit Sander Review
Stepless speed preselection, constant speed even under load
Very high surface quality thanks to 5 mm sanding stroke
Long-Life thanks to EC technology and sanding pad brake with Carbide tip
Compact design and weighing only 2.5 lbs. (1.2 kg) for optimal ergonomic work conditions
Optimal work protection thanks to vibration and extraction detection
Pros:
Durability
Compact design
Automatic dust and vibration control
Lightweight
Cons:
Narrow space between the handle and the sander body
Verdict
The ETS EC 150 is suitable for users with small hands because of its drawback regarding the narrow space between the handle and the sander body. Besides this point, it is also worth considering its efficient operation and health-protecting features.

4. Festool RTS 400 Orbital Rectangular Sander Review.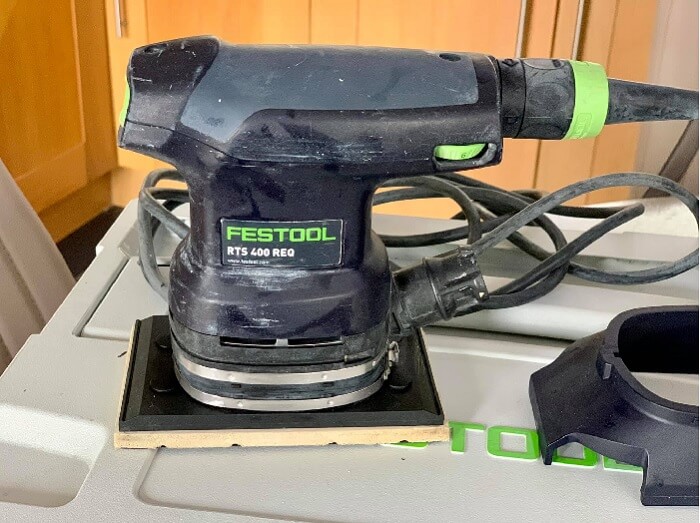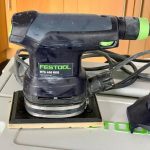 As for RTS 400, the most excellent point is its durability.
There is a rubber layer covering the top of this sander for extra comfort and long-lasting lifespan. Plus, there is an all-new protector to minimize pad damage and protect adjacent surfaces for more professional results.
Furthermore, the redesigned dust port adds more durability to the sander. You can consider this feature as a safe connection point to reduce wood dust and improve the sanding results.
Another worth-considering point is its speed which ranges from 6,000 to 12,000 opm. In comparison with many other sanders, this feature is one of the highest speed ranges, helping you save a lot of time.
Furthermore, the RTS 400 is an ideal choice for its 25% higher efficiency thanks to Festool's MMC Electronics system. Thus, you can rest assured that the device is able to operate all day long without issues of overheating.
Festool RTS 400 Orbital Rectangular Sander
Power: increased power coupled with festool's mmc electronics, which provides a smooth and powerful operation for the finest finishing tasks
Durability: designed for professional use and equipped with features like an all new protector which helps to minimize pad damage as well as to protect adjacent surfaces for professional results
Comfort: rubberized over-grip coupled with an ergonomic form factor and oversized, Robust switch add up to all-day-long comfort with less fatigue
Just over 2.5 lbs, for efficient overhead and vertical work; Speed: 6,000 - 12,000 opm
Sanding natural wood and veneer prior to varnishing
Pros:
Durability
Smooth powerful operation
Comfortable design
Low vibration
Cons:
Verdict
If you care about the durability at most, the Festool RTS 400 is such a match made in heaven. Not only its dust extractor protects you from unhealthy wood dust, but also the compact design will bring you the utmost comfort while working.

Which one is the best?
It seems to be so hard to pick one of these four Festool sanders as the best one. Each of them offers users with their helpful features. But if we must choose only one product, it will be the Festool ETS EC 150.
The sander features both powerful EC-TEC for continuous work and high sanding stroke of 5mm for fast and accurate finishes.
Also, its weight and design are compact and convenient for any sizes' hands. So, you can hold and run it for hours without fatigue. Besides, we give a high appreciation for its powerful yet quiet operation to produce accurate and smooth results as well.
Image
Rank #2
Rank #3
Rank #4
Image
Rank #2
Image
Rank #3
Image
Rank #4
Image
Conclusion
We believe that you have known a lot more about ETS 125 vs ETS EC 125 vs ETS EC 150 vs RTS 400 after reading this post. What will be your top pick?
Festool equips each model above with different outstanding features that satisfy specific requirements. So, determining your budgets as well as working requirements should be the first steps to make the best purchase decision.
If you have any questions, feel free to drop us a line. We will come back with other exciting reviews. Stay tuned and goodbye!