Further down the page, you'll find some explanations regarding the key similarities and differences between the Bowflex BXT216 and the Sole F80.
But before checking out explanations regarding their specs, features, and warranty, here's a table that summarizes the main technical summary sheet for these 2 treadmills:
Image
The Winner (#1)
The Runner-up (#2)
Heart Rate Monitor
Pulse grip and chest strap heart rate monitoring
Display
7.5-inch LCD workout display 7.5" Blue Backlit LCD
Audio
MP3-compatible sound system
The Winner (#1)
Image
The Runner-up (#2)
Image
Heart Rate Monitor
Pulse grip and chest strap heart rate monitoring
Display
7.5-inch LCD workout display 7.5" Blue Backlit LCD
Audio
MP3-compatible sound system
Specs Comparison
If you want to save the cost, Sole F80 seems the better choice since it is $500 cheaper than Bowflex T216. With this price difference, Bowflex T216 will indeed have more impressive numbers than Sole F80. But who says you can't find a suitable treadmill without not spending too much on it? Let's see the differences and choose the best for you.
Well-known as a superstar in the treadmill market, Bowflex T216 can bear weight up to 400 LBS, an awe-inspiring capacity. In this part, its competitor – Sole F80, has a slightly lower max user weight capacity of 375 LBS.
As Bowflex has upgraded some specifications in this T216 version, users are able to use 11 "push and go" workout programs. F80 also provides various options with 10 exercise sessions, one less than its competitor.
If you are looking for a treadmill with a spacious running surface, both T216 and F80 will make you satisfied. They have the most significant running surface of the high-end treadmill with 22″ in width x 60″ in length.
T216 is equipped with peak horsepower with a 4.0 CHP belt motor, helping the machine smoothly handle multiple workout sessions and stand for a large capacity. However, Bowflex T216 makes a big noise with this heavy motor, ignoring the fastidious customers. If you want a quiet machine, F80 Sole is an alternative preference. It has a lower 3.5 CHP motor, which can minimize noise.
So what about the incline? Fortunately, these treadmills have the perfect incline range of 0 – 15%. Moreover, their running speed can reach 12 MPH – the top performance of a professional treadmill.
And when you are heated after a long-time cardio burning, turn on the built-in cooling fans setup in these products, then they can cool you down immediately. The comfort of a built-in automatic 3-speed fan of T216 never makes customers frustrated. Otherwise, F80 displays a small cooling fan in the center, which works relatively weakly and gives negligible effect.
Bowflex t216 has enabled a telemetry system with chest straps to measure the standard heart rate accurately. In comparison, Sole F80 provides two options: wireless chest straps and touch sensors. But for more accurate results, we appreciate using chest straps.
So well, at first sight, Sole looks more compact and portable than the competitor Bowflex. F80 has the dimension of 82 (L) x 36 (W) x 16.5 (H) inches, while T216 is quite bigger with 85 (L) x 39 (W) x 55 (H) inches.
With that vast dimension, it's not surprising that T216 is a bit difficult to move or transfer. It weighs 341 pounds heavier than F80, which only has 250 pounds in weight.
Let's discuss the movement of these two treadmills! T216 moves on the high-end 2.77-inch diameter rollers, which offer exercisers smooth and durable movements. On the other hand, F80 runs on 2.5-inch rollers, weaker but less noisy than the opponent.
Nowadays, when people focus on the convenience and space-saving of the product, folding treadmills are preferable. Both T216 and F80 are equipped with hydraulic technology, helping the folding and unfolding be safer and more accessible.
Features Comparison
Bowflex T216 and Sole F80 have multiple options to change speed and orient incline as expected. Besides, they also provide varied workout intensity. But the thing you should note is that T216 inclines quite suddenly in manual mode.
How about the display? Both Bowflex and Sole have a 9.0-inch LCD screen showing the workout programs in full color and visible for users.
Also, you can easily install the Bowflex Results app for T216 and Sole Fitness app for F80. Other than that, they are compatible with various fitness apps; therein, MyFitnessPal and FitBit are more widely used.
There are many comforts provided in these treadmills: USB charging port, Bluetooth connectivity, and Bluetooth audio speakers. Even the detailed facilities such as water bottle holder and accessories storage are also set up in the machine. They all make your workout serviceable and convenient.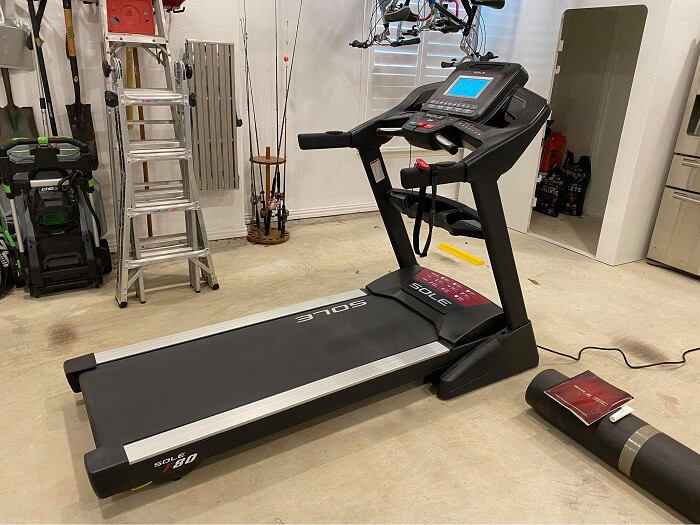 Warranty
Bowflex T216 offers an extensive warranty package with long-time coverage in separate items. Customers have up to 15 years of coverage on the Frame and Drive. For other things, the manufacturer covers five years on Motor and Mechanical and two years on Parts, Electronics and Labor.
In comparison, the warranty of Sole F80 is even more impressive. Customers will get a lifetime warranty on the frame, motor, and deck. So you don't need to worry if these items suddenly break out. We have five years on Parts & Electronics and two years on Labor in-home about other coverage.
Quick Rundown Of Bowflex T216
Bowflex T216 Treadmill
Introducing Bowflex JRNY, the personalized coaching technology that integrates with your BXT216 to create daily, custom workouts and provide in-workout coaching and personalized feedback that encourages and drives users through their workout.
Stay engaged by exploring dozens of virtual courses and stunning trails that automatically adjust to your running speed with the Explore the World App. Coming soon
Motorized incline up to 15% to vary workout intensity
22" x 60" running path with Comfort Tech Cushioning Technology
9" full color, back-lit LCD screen with 11 simplified "push and go" intuitive workout programs
[i2pc show_title="false" title="Pros & Cons" show_button="false" pros_title="Pros" cons_title="Cons" ][i2pros]Powerful motor
High weight capacity
Maximum up to 15% power incline
Great built cooling fan
11 workout sessions integrated
Very responsive console control
Long-time coverage on Frame and Drive[/i2pros][i2cons]A quite noisy motor[/i2cons][/i2pc]
---
Quick Rundown Of Sole F80
Sole F80 Treadmill
Folding treadmill with 3.0-horsepower continuous-duty motor
Vibrant 7.5-inch LCD display with integrated speakers and audio cable
6 standard workouts, 2 custom workouts, and 2 HR-controlled workouts
Easy Assist folding deck design; Cushion Flex shock-absorption system
350-pound capacity; measures 33 x 80 inches (W x D); weighs 250 pounds
[i2pc show_title="false" title="Pros & Cons" show_button="false" pros_title="Pros" cons_title="Cons" ][i2pros]Spacious running surface
Sync and share data with your phone
Quiet Cushion Flex Whisper Deck
Very user-friendly
Lifetime warranty on frame, motor, and deck
Well priced for overall value
Maximum up to 15% power incline[/i2pros][i2cons]Quite heavy to transfer
Short side rails[/i2cons][/i2pc]
---
Product Videos
---
Conclusion
So, Bowflex T216 vs Sole F80, which one will you choose? Overall, they are two well-known treadmills that customers have trusted for many years. If you are looking for a vigorous power treadmill with impressive performance, pick a Bowflex T216. And for a more affordable price with tremendous value, Sole F80 is the best.
---