Further down the page, you'll find some explanations regarding the key similarities and differences between the Bowflex T116 and the NordicTrack Commercial 1750.
But before checking out explanations regarding their specs and features here's a table that summarizes the main technical summary sheet for these 2 treadmills:
Image
The Winner (#1)
The Runner-up (#2)
Model
NordicTrack Commercial 1750
Heart Rate Monitor
Bluetooth chest strap and EKG grip pulse
Pulse grip and chest strap heart rate monitoring
Display
10″ full color touch display
7.5-inch LCD workout display 7.5" Blue Backlit LCD
Audio
MP3-compatible sound system
The Winner (#1)
Image
Model
NordicTrack Commercial 1750
Heart Rate Monitor
Bluetooth chest strap and EKG grip pulse
Display
10″ full color touch display
The Runner-up (#2)
Image
Heart Rate Monitor
Pulse grip and chest strap heart rate monitoring
Display
7.5-inch LCD workout display 7.5" Blue Backlit LCD
Audio
MP3-compatible sound system
Specs Comparison
Let's start with the price. The Bowflex T116 has joined the personal home treadmill market with a more friendly price of $1,499, while users have to pay an additional $300 to own the NordicTrack Commercial 1750.
In terms of weight capacity, the Bowflex holds up to 375 pounds while the NordicTrack holds 350 pounds.
Despite a difference in maximum weight capacity, there is a similarity in the total assembled weight of both, which is 309 pounds.
Looking at total assembled dimensions, the Bowflex takes up LxWxH (84.6"x 36.3"x55.2"), and the Commercial 1750 is slightly 5.8-inch shorter than the former.
Acknowledging customers' demand, the Bowflex T116 and NordicTrack Commercial 1750 are launched with the innovative integration of SpaceSaver and EasyLift Assist, featuring a foldable frame.
If you want a marathon right at home, you will prefer the 3.75CHP of the NordicTrack's motor to the Bowflex.
How can you push yourself forward? With one touch, your speed can easily reach a peak of 12MPH in both models.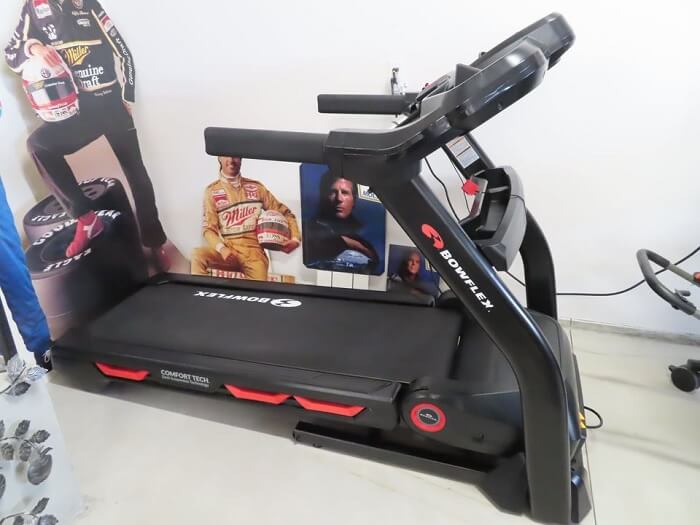 Along with the high-speed implementation of the Bowflex T116 vs NordicTrack Commercial 1750, the set of the AutoBreeze system controls excessive heat increase. This smart response motor dominates endurance workouts.
Like most of Nordictrack's products, the current model also impressively challenges trainers with up to 15% incline and -3% decline. Regarding 0-15%, the T116 offers a bit smaller incline/decline range.
Both machines offer users heart rate indication via Contact Grips or EKG Grip Pulse and Bluetooth compatible heart rate system. Thanks to a heart monitor, exercise intensity are known.
In general, the larger the rollers, the longer the belt's longevity and the less the power requirement. With a 2.75-inch diameter of rollers, the Bowflex defeats the 2.5 inches rollers of its competitor's.
What about the trainer's belt size? Bowflex's belt dimensions are WxL (20"x60") while Nordictrack's belt is more adaptable to taller people, slightly 2″ larger in width.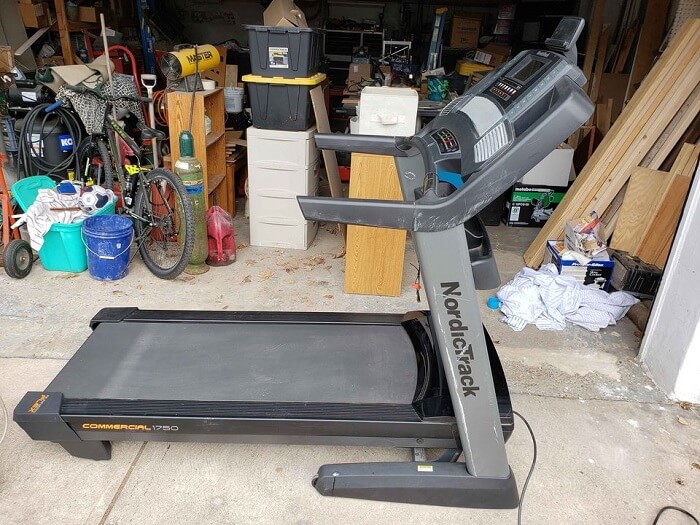 Features Comparison
The 10-inch HD interactive coaching NordicTrack touchscreen allows you to automatically adjust your speed, incline, and decline. No matter how dark your room is, its backlit display will light up your view. In comparison, a 7.5"- wide full-color screen of the Bowflex is far smaller. However, the Bowflex burn rate console motivates and boosts the user's workout intensity.
Bowflex user's comfort 9 workout programs will satisfy fastidious customers, including calorie burn, speed, and cardio endurance. For example, using the Free Zwift for biking and RunSocial to invite your friends to join virtual routes will give you a glimpse of a "real" workout. Surprisingly, the NordicTrack Commercial 1750 treadmill caught users' attention with 38 built-in workout routines.
Besides the available built-in programs, iFit Coach programs also allow you to test your limits while enjoying a workout in a completely new and intensive environment, boosting your moods and motivations. By simply downloading the iFit app onto your smartphones and tablets and clicking on your favorite workout, your training is entirely taken care of via automated adjustment of incline, speed, and resistance. The exciting iFit allows you to discover any destination of the world. Not only that, iFit recommends your favorite exercise based on your recent activity and fitness goals.
Both can share the same dual integrated speakers, Wi-Fi, Bluetooth, iOS and Android compatibility, and USB charging port.
Both treadmills possess small two-sided trays for water bottles/other accessories containments regardless of the accessory holders. However, if you want a device holder for slipping prevention, only the Bowflex T116 is equipped with this feature.
Quick Rundown Of Bowflex T116
Bowflex T116 Treadmill
7. 5 inch color backlit LCD screen
Bluetooth connectivity for connecting to Bowflex JRNY the personalized coaching technology and other popular fitness apps
20" x 60" running surface
9 intuitive "push and go" workout programs
One-touch adjustments for speeds up to 12MPH and motorized incline up to 15%

---
Quick Rundown Of NordicTrack Commercial 1750
Sale
NordicTrack Commercial 1750 Treadmill
30-Day iFIT Family Membership Included; Stream live & on-demand workouts on your equipment with Global Workouts & Studio Classes; Add up to 5 users; Elite trainers adjust your equipment ($39 value)
Immersive 10-inch interactive HD touchscreen streams on-demand iFIT workouts directly to your equipment and provides easy stats tracking; SMART-Response motor for effective running and cardio training
-3 to 15 % OneTouch incline control; 12 MPH SMART OneTouch speed control; Your iFIT Trainer auto-adjusts your speed and incline to meet trainer requirements and match real-world terrain
Innovative SpaceSaver design with EasyLift Assist means your treadmill can fold up after your run for compact, simple storage; 22" x 60" tread belt for leg and elbow space; Runners Flex cushioning
300-pound user capacity; Protected with a 10-year frame warranty, 2-year parts warranty, and 1-year labor warranty; 62.75" H x 39.25" W x 81.25" L

---
Product Videos
---
Conclusion
The winner in the battle between the Bowflex T116 vs NordicTrack Commercial 1750 has been chosen.
As expected, it's the NordicTrack Commercial 1750. The integration of fifty workout-built programs, space-saving design, digital 10" HD console is a complete hit! Believe us, the NordicTrack Commercial 1750 will not fail any home treadmill users!
---