Briggs & Stratton P2200 and Honda EU2000i: Which portable generator is the better option for you? Still, have no idea? Let's scroll down to find the answer!
Differences Between Briggs & Stratton P2200 and Honda EU2000i
Power Comparison
Both the Briggs and Stratton P2200 and Honda EU2000i are run by gasoline, which is readily available at gas stations.
The Honda EU2000i generator and the Briggs and Stratton P2200 both feature an advanced 4-stroke motor with a 2200W maximum output. Notwithstanding, Honda has a 1800W continuous rated power, while Briggs and Stratton are slightly lower at just 1700 watts.
Honda EU2000i can operate continuously for 8 hours at 25% load and 4 hours at full load. Meanwhile, the uptime of the Briggs and Stratton P2200 is slightly lower (8 hours at 20% load).
Interestingly, the manufacturer has set Powersmart mode to automatically adjust the engine speed on both these devices to save fuel. However, the Honda EU2000i is still capable of running longer despite the fuel tank volume being only 0.95 gallons, which is 0.05 gallons less than Briggs and Stratton.
The noise reduction capabilities of both devices are highly appreciated. As a result, you will not worry that these machines will make annoying noises and interfere with everyone's conversation.
Besides picnics, you can also use a generator for your indoor needs. Briggs and Stratton P2200 can fit and ensure the safety of laptops, TVs, or power backup for household appliances. Meantime, the compatibility of Honda EU2000i is better assessed on sensitive devices such as refrigerators, satellites, DVDs, or coffee makers.
Design Comparison
A special feature of the Briggs and Stratton P2200 is the H-shaped handle designed for two people to hold. However, the model measures 22.4 x 14.4 x 19.9 inches and weighs 54.6 lbs, making it a bit bulky.
In contrast, the Honda version is more compact with 20.1 x 11.4 x 16.7 inches and 45.6 lbs, respectively. Without a doubt, the Honda EU2000i will be a more suitable choice to bring out.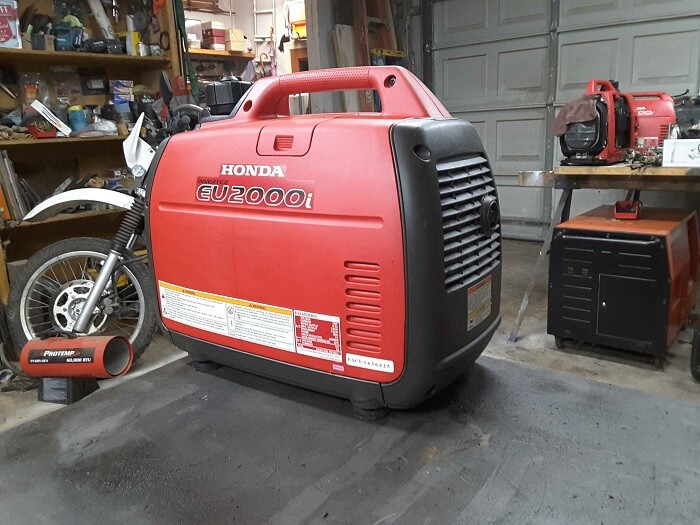 Features Comparison
You can start the machine by simply pulling the wire. The metal part design around the handle is also one of these generators' advantages. Therefore, it will minimize damage to the device when pulling the cord, even if you use a strong pull.
Both include two household sockets and 1 DC outlet. Thanks to the integrated Eco-Throttle mode, the Honda generator can adjust the engine speed according to the power supply needs. Meanwhile, Briggs and Stratton add an attached USB adapter that improves flexibility in using and powering the devices.
Another advantage is the ability to generate power in parallel on both devices. Specifically, they can connect to another generator. This feature will help you create a stronger power source while still being safe.
However, the generators listed above do not have a data control center, which shows the electric power produced and the fuel meter. To avoid unexpected situations, you had better check the equipment connected to the machine and make sure you have a suitable backup fuel source.
Quick Rundown Of Briggs & Stratton P2200
Sale
Briggs & Stratton P2200 Inverter Generator
Quiet and fuel efficient 111 cc OHV engine produces 2,200 starting watts and 1700 running watts
USB port allows charging of portable electronics in order to stay connected. Muffler : Super Lo-tone. Start type: Recoil
Produces less than 3% total harmonic distortion making it safe for laptop computers, TVs and game systems
1-gallon fuel tank for up to 6.5 hours of continuous operation at 25% load
Parallel connector port allows connection between 2 units for more power

Quick Rundown Of Honda EU2000I
Honda EU2000I Inverter Generator
2000 watts, 120V
Ideal for TV/DVD, satellite, fridge, coffee pot, and more
Super quiet
Easy to carry
Fuel efficient - up to 8.1 hrs on 1 gal of gas

Product Videos
Conclusion
Above are all the comparison information between Briggs and Stratton P2200 vs Honda EU2000i that we have researched and synthesized. Overall, the Honda version is priced quite high, commensurate with its quality. Conversely, if you still want to buy a cheaper portable generator for camping, the Briggs and Stratton P2200 might be a good alternative. We hope this information will be useful to you.