Briggs & Stratton Q6500 and Honda Eu7000is: Which portable generator is the better option for you? Still, have no idea? Let's scroll down to find the answer!
Differences Between Briggs & Stratton Q6500 and Honda Eu7000is
Below is a summary of the specifications
Image
The Winner (#1)
Size
24,8 x 21,2 x 21,5 inches
The Winner (#1)
Image
Size
24,8 x 21,2 x 21,5 inches
Power Comparison
Similar to other generators, both units use gasoline for their engines. As you know, this popular fuel can be easily found in any area at an inexpensive price.
The manufacturer has equipped the Q6500 with a 4-stroke Briggs & Stratton OHV 224 cc engine, while the EU7000iS has a larger engine output – 389 cc Honda GX390 EFI OHV 4-stroke. Thus, it is clear that Honda has used a much more powerful engine, and of course, the machine also works stronger.
The starting watts and running watts of Briggs & Stratton are 6500W and 5000W, respectively. In comparison, Honda comes with maximum watts of 7000W and rated watts of 5500W. These numbers prove that the Honda brand can deliver electricity to meet the diverse needs of customers.
With a full fuel tank level, the Honda EU7000iS can run for 16 hours, while the Briggs & Stratton Q6500 is only 14 hours.
However, the Q6500′ fuel tank capacity is only 5 gallons, much smaller than the Honda fuel tank (5.1 gallons). As a result, the EU7000iS is more fuel-efficient than its rivals. This is understandable because its working capacity is not high.
Both machines offer a THD of less than 3%, making them well-suited for sensitive electronics. Thus, you don't need to worry too much when using the devices in your family.
Based on this criterion, the EU7000iS seems to hold all the cards with a level of only 52db, while the Q6500 produces a sound level at 66db when working.
Design Comparison
Q6500 (139 lbs) is more lightweight than EU7000iS (263.2 lbs). So, Honda EU7000iS is not an optimal choice for mobility compared to the Q6500.
In addition, the Briggs & Stratton model, with the overall dimensions of 24,8 x 21,2 x 21,5 inches, is a bit more compact than the 33.4 x 27.6 x 28.4 inches of the Honda version.
The two devices use a suitcase-like tubular handle combined with large wheels with good grip. So moving them around the house is now simpler than ever.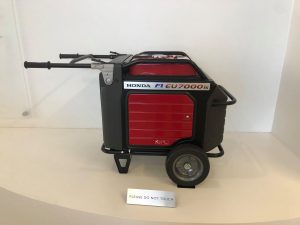 Features Comparison
Briggs & Stratton is equipped with diversified plugs with 5 AC sockets and 2 in AC. As for Honda's machine, the number of sockets is more limited, with only 2 AC outlets. However, this is nothing compared to the outstanding performance that people like about this Honda version.
In addition to the strong operating capacity, the EU7000iS device brings a perfect experience with its three-way boot design: remote pull, electric start, and remote start.
Meanwhile, the Q6500 does not have a remote start, making it inconvenient for users in cases they can not get close to the machine.
For easy observation and control, the two machines have data control centers that show how much power is produced.
Quick Rundown Of Briggs & Stratton Q6500
Briggs & Stratton Q6500 Inverter Generator
QuietPower Series Inverter Technology - Inverter technology produces power that's more than 60% quieter than standard generators while delivering consistent power for essential home appliances, including sensitive electronics.
306cc Integrated Engine/Alternator - A highly-efficient integrated engine/alternator provides up to 14 hours of run time.
Protective, Noise-Reducing Shell - With an all-steel frame enclosed in a protective shell, noise is minimized and internal components are protected.
Compact, Lightweight Design - With a design that's 45% more compact and 30% lighter than standard generators, moving and storing your generator is no hassle.
CO Guard carbon monoxide shutdown technology - Shuts down the generator when harmful levels of carbon monoxide are detected
[i2pc show_title="false" title="Pros & Cons" show_button="false" pros_title="Pros" cons_title="Cons" ][i2pros]Energy saving
Socket diversity
Clean design
Easy to use[/i2pros][i2cons]Heavyweight
Difficult to take away[/i2cons][/i2pc]

Quick Rundown Of Honda EU7000iS
No products found.
[i2pc show_title="false" title="Pros & Cons" show_button="false" pros_title="Pros" cons_title="Cons" ][i2pros]Large working capacity
Lightweight
Low noise
High durability
Easy to start
[/i2pros][i2cons]Slightly fuel-efficient[/i2cons][/i2pc]

Product Videos
Conclusion
Above is our full Briggs & Stratton Q6500 vs Honda EU7000iS comparison. If you ignore all the minor external points and only pay attention to working capacity, the Honda EU7000iS generator will surely make you satisfied. Conversely, in case the capacity is only one of your selection criteria, you can try the Briggs & Stratton Q6500!