You must be familiar with the brand Honda as it has been striking in the industry for quite some time, but what about Briggs and Stratton? Doesn't ring a bell? We understand.
Briggs and Stratton are on the list of the brands that offer high-quality products at a budget-friendly price. Without further ado, let's jump right into our comprehensive comparison of Briggs and Stratton P3000 Vs Honda EU3000iS.
Differences Between Briggs & Stratton P3000 Vs Honda Eu3000IS
Image
The Runner-up (#2)
The Runner-up (#2)
Image
Judging from the first glance, it appears that the Briggs & Stratton P3000 looks far better with a futuristic design in black and a little touch of red.
In contrast, Honda EU3000iS has a conventional look with the same color scheme of black and red, just not as eye-catching as the Briggs and Stratton. Yet, if you're fond of old-fashioned designs, opt for the Honda EU3000iS.
Rightio, let's break these boys down from different aspects, including the price, key features, and maintenance.
Price
There is a big gap between the two products in terms of pricing. The Briggs & Stratton P3000 is relatively cheap at around $800, while you will have to spend a lot more for the Honda EU3000iS, being approximately $2200.
A lot of people might be thinking Honda EU3000iS has to be the winner since it costs so much more. Well, we'll find out the answer in the next part – key features.
Key Features
Both machines were designed for heavy-duty purposes, which is why they're quite heavy. However, Honda EU3000iS appears to be much heavier than its competitor, being 131 lbs while Briggs & Stratton P3000 only weighs around 85 lbs.
What is more, Briggs & Stratton P3000 is equipped with built-in wheels for more portability. The same goes for Honda EU3000iS; yet, you'll have to put out more effort due to the heavyweight.
Thanks to the larger size, Honda EU3000iS provides a decent fuel tank with a capacity of 3.4 gallons, meaning it can run continuously up to 20 hours. Thus, the running time can last much longer if you have the eco throttle mode on as it offers fuel efficiency.
Even though Briggs & Stratton P3000 has a fairly small fuel tank, the running time is actually quite impressive, with up to 10 hours of continuous operation at a quarter load.
Briggs & Stratton P3000 is fairly quiet when operating at 58 dBA thanks to Quiet Power Technology to lessen the noise. However, if you are sensitive to loud noises, you might want to take a step further from the machine.
Honda EU3000iS is the same when speaking of the loudness, making it ideal for camping activities or RV running.
Maintenance
We expected more from Honda when it comes to warranties.
Unfortunately, Honda EU3000iS is backed with a 12-month warranty only, while warranties from other prestige brands are usually 2 years at the least.
Briggs & Stratton P3000 has an exclusive limited 2-year warranty to support customers whenever they need it.
Quick Rundown Of Briggs & Stratton P3000
No products found.
Pros:
Eye-catching design; aimed for heavy-duty tasks
Produce clean and instant power for electronics
Relatively quiet while providing enough power to start an AC (mind the wattage)
Exclusive technology for fuel efficiency
Convenient built-in wheels and ergonomic handle for easy transport
Budget-friendly
Cons:
Still quite loud when operating in public space
Doesn't start easily; sometimes it takes 4 or 5 pulls to start

Quick Rundown Of Honda EU3000iS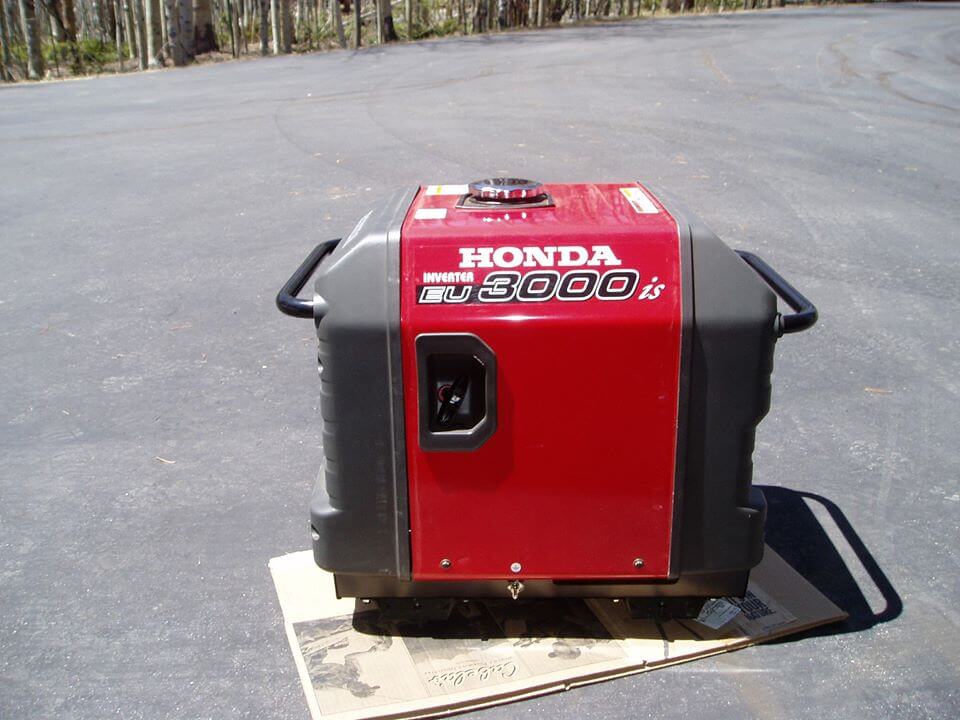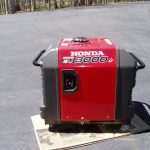 Pros:
Powerful motor to power a wide arrays of devices
Super quiet
Eco-throttle mode for fuel efficiency
Produces reliable, clean power for safe operating
Auto shut off when the oil is low
Integrated wheels and offset handle for easy moving
Cons:
Expensive
Heavy
Short time warranty

Conclusion
Have you decided which generator wins in the battle of Briggs and Stratton P3000 Vs Honda EU3000iS, because we have!
Briggs and Stratton offer similar features to Honda EU3000iS at a much lower cost. However, the small fuel tank capacity will be what to make you think twice if you need your generator running frequently.
Popular Alternatives Worth Considering: