Cat INV2000 and Honda EU2000I: Which portable generator is the better option for you? Still, have no idea? Let's scroll down to find the answer!
Differences Between Cat INV2000 and Honda EU2000I
Image
The Winner (#1)
The Runner-up (#2)
The Winner (#1)
Image
The Runner-up (#2)
Image
Power Comparison
In terms of power, both have the same wattage of 1800W. However, the Cat INV2000 can deliver a maximum of 2250 starting Watts, while the figure for the other is a bit smaller, with 2000 Watts.
The EU2000I takes the lead with 121cc engine capacity, while the Cat INV2000 can put out the only 78cc. However, the Cat INV2000 is better when it comes to running time as it can operate a maximum runtime of up to 10 hours at 25% load while its competitor offers 8.1 hours.
Both the Cat INV2000 and the Honda EU2000I run on gasoline. With 0.1 GPH ( gallon per hour) gasoline consumption, the former is more fuel-efficient when compared to 0.12 GPH of the latter.
Both generators provide a low THD, which is under 3%. So they are all suitable for sensitive devices.
What about the noise? Those manufacturers seem to make good because the two generators are very quiet. The Honda EU2000I and Cat INV2000 produce only around 55 dB of noise when running.
Design Comparison
In terms of sizes, the difference between the dimensions of Cat INV2000 and Honda EU2000I is not noticeable, with the former being 19.6 x 12.5 x 18.1 inches and the latter being 20.1 x 11.4 x 16.7 inches.
However, EU2000I is more lightweight than its competitor, as their weights are 48.72 pounds and 45.6 pounds, respectively.
Both generators offer a handle so that users can easily grip if they want to move them to another location.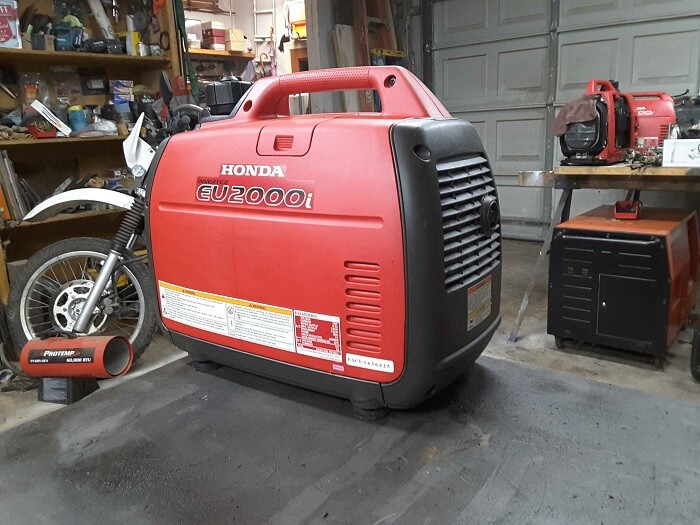 Features Comparison
Though Cat INV2000 and Honda EU2000I work flawlessly, we have to admit that the two generators offer a bit outdated solution as they offer manual pull-start mechanisms.
The Cat INV2000 provides two AC outlets and an extra outlet for the full panel GFCI, while the Honda comes with a standard 120V AC and DC outlets.
Regarding the data control, The Honda EU2000I has a center to provide better insight into the power. Meanwhile, the Cat INV2000 uses a fuel gauge for users to know more details about the fuel level.
With additional security technology, Honda's product is a bit smarter as it can automatically shut off in case the surroundings become unsafe.
Quick Rundown Of Cat INV2000
Cat INV2000 Generator
Super quiet - (52-61 db)
6 hrs. Run time at 50% load
Easy start/stop switch with integrated choke
Engine Smart control (esc) for efficiency
USB (2), DC 12V (1) and 120V 20A GFCI (2) outlets

---
Quick Rundown Of Honda EU2000I
Honda EU2000I Generator
2000 watts, 120V
Ideal for TV/DVD, satellite, fridge, coffee pot, and more
Super quiet
Easy to carry
Fuel efficient - up to 8.1 hrs on 1 gal of gas

---
Product Videos
---
Conclusion
After reviewing "Cat INV2000 vs Honda EU2000I", we see that they are two good inverter generators that can deliver users wonderful features.
We prefer the Cat INV2000 as it has a better starting watt, longer runtime, and more fuel efficiency at a more affordable price. However, the Honda EU2000I, although it is an old model, can also bring good performance for users.
We hope you can learn about those generators and choose the best suited for your house.