Today, we'll look at the comparison of Delta 40-694 Vs Dewalt dw788 to help choose right when getting your speed scroll saw.
We'll start by briefing their description each, then to the similarities and differences between both speed scroll products. At the end of this comparison review, you'd be convinced as to which suits your preferred purpose of purchase. Stay with me!
Image
The Winner (#1)
The Runner-up (#2)
The Winner (#1)
Image
The Runner-up (#2)
Image
Similarities between Delta 40-694 vs Dewalt DW788
When we look at both Delta 40-694 vs Dewalt dw788, what similarities do we say exist among the two products? If you've stayed glued this comparison, you should notice a few by now without mentioning them. Both scroll saws have a double parallel link arm, which enables you to apply less effort and get more efficiency. Also, they both have variable speeds, which makes them relevant for working with multiple material types.
In our little challenge of Delta 40-694 vs Dewalt dw788, both products have flexible arms capable of cutting through inner objects. Lastly, both scroll saws with precise and reliable parts that contribute to the overall effectiveness of the machine.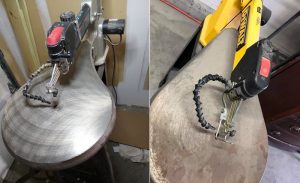 Differences between Delta 40-694 vs Dewalt DW788.
Now that we've looked at how alike both products are, let's take a close look at the features that make them different from one another.
*** Price Range:
The Delta 40-694 scroll saw can be gotten for a little under $300 while the Dewalt product costs a bit more than that.
***Customer Satisfactory Reviews:
We consider this a differentiating factor because the reviews and feedback given by previous customers have a lot to say about a product. Dewalt wins in this section of the differences between both scroll saws as their product seems to have gotten lots of satisfaction from previous and existing users.
*** Storage:
The delta scroll saw gets an edge over the Dewalt saw because of its blades storage compartment. At the top of the base of the scroll saw, there's a section meant for keeping the blades preventing them from rusting.
Delta 40-694 Scroll Saw Review.
If we weren't making this comparison, I'd have said that this speed scroll saw has one of the best characteristics ever. This power tool has a lot of efficiencies and the right mechanism to serve as an asset in your toolbox.
Using a delta 40-694 scroll saw with so much for the first time made me remember why I love DIY projects in the first place. The scroll speed machine is built with a motor eligible to power any activity. Let's take a glance through its features.
Delta 40-694
Electronic variable speed can be adjusted from 400-1,750 SPM for a wide array of cutting applications
Dual parallel link arm design reduces vibration reducing over and under cutting improving accuracy and quality
Upper arm lifts and locks in the raised position during blade changes or while adjusting blade position for fret work
Tool-free blade clamp allows for quick, easy blade changes in seconds. Bevels 0° - 45° left and right. Motor: 1.3 Amp
On/Off switch, electronic variable speed dial, flexible dust blower and blade-tensioning lever are all conveniently located up front on the arm for easy accessibility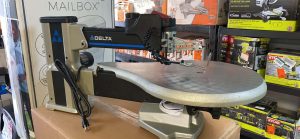 *** 2-Parallel Link Arm:
The Delta 40-694 scroll saw has a user-friendly design that allows your cutting operations to go smoothly. Its dual parallel link arm feature makes cutting through a material happens with twice the amount of blades than regular cutting saws. The link arm also reduces the amount of vibration inquired but retains the quality when cutting through objects.
*** Variable Speed:
This tool has a relative speed of 450-1800 SPM from the motor lowering the blades. With this much efficiency, you get less effort and more work done in less time than regular electric saws. Also, the speed gives you the option of cutting through a wide range of objects.
*** Blade Changing without Tools:
Unlike other saws where you might need more than your wrench to replace worn-out blades, this product allows you to make changes without the need for an extra tool.
**** Built-in Light and Stand:
For optional purposes, the product is built with light for instances of being used in the dark. Also, you get a stand that makes ensure the machine stable and reduces the direct impact of vibrations with your body cavity.

Dewalt DW788 Scroll Saw Review.
For decades, Dewalt has been a reputable brand recognized among tools machinery experts in this industry.
The DW788 happens to be one of their flawlessly designed machines available to the public. Even with the daily increase of scroll saws out there, professionals still trust the Dewalt dw788 scroll saw. Without further ado, let's get right to the feature of this product that'd make it worth your cash.
Sale
DEWALT DW788
Double parallel link arm design dramatically reduces vibration and noise for extremely accurate cuts
Exclusive tool free blade clamps allow blade changes in seconds. Depth of Cut (inches): 2 inch
On off switch, electronic variable speed, flexible dust blower, and blade tensioning lever all located on front upper arm
Arm design pivots from back of the saw to front, shortening the arm movement for smoother, quieter operation
Arm lifts so blade can be easily threaded through the material for inside cuts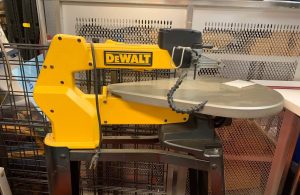 *** Reduced Movement:
The design of this scroll saw causes a restriction in the movement of the arms of the machine. Since the saw is being pivoted from the back, the arms of the scroll saw are now shorter. This development makes the machine runs without distress and produces minimal sound during use.
Dual Parallel-Link Arms: The high-quality design of this scroll saw earns the trust of every user in engineering today. Because of the dual parallel-link arms, a fast, reliable, and also makes precise & accurate cutting.
*** Accessible Adjustments for Narrow Cuts:
Gone are the days when saws are used strictly to cut open areas. With innovative designs and structures, there is now a high demand for scroll saws with access to inner cuts. This Dewalt product is designed specifically to cut through materials. With the arm extension causing the blade to fit into your material.

Popular Alternatives Worth Considering: