An angle grinder is a necessary tool for any carpenters, artisans, or woodworking enthusiasts. Likewise, choosing your suitable angle grinder is very important. So, DEWALT DCG413B vs DCG412B vs DCG411B, which one is perfect to be your long-term companion?
Do not make up your mind just yet. Below I will review and compare the strengths and features of DEWALT DCG413B, DCG412B, and DCG411B. In this paper, you would find a clear and thorough breakdown of the three grinders, which would probably help you decide.
1. DEWALT DC411B Angle Grinder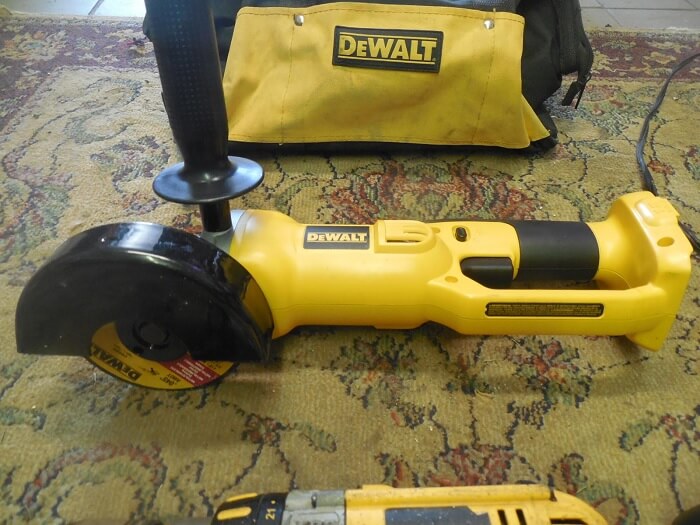 Design
The DEWALT DCG411B, with 7,13×15,38×6,56 inches dimensions, is somewhat convenient to handle and use. Its weight is approximately 5,19 pounds, a bit heavy but still light enough to lift and hold when used with minor difficulties.
The grindle is designed with high-quality material, and thoughtful designs on the trigger and the two sides handle, offering comfort and control for the user.
Power
The DEWALT 18V Cordless 4-1/2″ Cut Off Tool motor has 6,500 RPM, providing noticeable strength for cutting and grinding tasks easily. The wheels' RPM is above 10,000 RPM, helping the user excel their job efficiently, slicing through most metals cleanly and quickly. However, the powerful tool can drain the battery in no time.
Features
2-position side handle offers greater comfort and control
Convenient trigger switch with lock-off button for easier gripping
Quick-change wheel release provides easier and quicker wheel removal without the need for a wrench
Jam-pot and low-profile gear case provides precise gear alignment for a smoother, quieter transmission while allowing access to tight spaces
DEWALT DC411B Angle Grinders
The product is 18V CRDLS Cut Off Tool
Easy to use
This product is made of high quality material
Battery & Charger Sold Separately
6,500 rpm provides high power for cutting and grinding applications
---
2. DEWALT DCG412B Angle Grinder
Design
As for the second one in the account, the DEWALT DCG412B, also comes with well-thought designs with the 2-finger trigger switch, the 2-position side handles, and a quick-change wheel release. This one is 7,32×16,75×4,75 dimensions and just 5,1 pounds – a bit longer than the previous one and a tad lighter.
Power
The DEWALT DCG412B Grinder owns an 8,000 RPM motor that supports almost heavy, difficult tasks and woodworks. Its strength is unbeatable, but it also has a problem with the long-term work duration. As the machine's power is too much, it requires more resting time and less working duration than its prior opponent.
Features
All the features of the DEWALT DCG412B are smooth and responsive. And the manufacturer also cares for the buyer when installing the paddle switch to make the safety trigger. Even though it does create some difficulties in operating but it's still a good feature to consider.
Sale
DEWALT DCG412B Angle Grinders
8,000 RPM motor provides high power for cutting and grinding applications
Quick-Change Wheel Release allows for tool free wheel changes
2-finger trigger switch with lock-off button
2-position side handle for greater control, comfort & versatility
Battery & Charger Sold Separately
---
3. Dewalt DCG413B Angle Grinder
Design
Finally, the last one is the DEWALT DCG413B. This angle grinder is smaller than its other opponents, with 12,2×4,7×6 inches and only 3,75 pounds.
Its design is somewhat similar to the other two except for the brushless motor and the blade brake. These new touches bring some benefits for the users when using: more control over the machine, more efficiency, and easier to replace some of the components inside.
Power
Last but not least, the DEWALT DCG413B 20V MAX XR Small Angle Grinder enhances an outstanding power with a maximum 9,000 RPM motor speed. This gadget is perfect for slicing up some heavy materials like concrete and other metals.
Features
Despite the difficulties in battery usage from its other two counterparts, the DEWALT DCG413B Tool/Grinder has a 20-volt max battery, helping it to conduct its job in a long time compared to the other two. This is a new feature that highlights this grinder above the other two.
Sale
DEWALT DCG413B Angle Grinder
Dewalt Brushless Motor: Delivers Up to 57 Percent More Run Time over Brushed
No Load Speed: Max 9, 000 RPMs
Blade brake: brake engaged when paddle switch is released, bringing the wheel quickly to a stop.Max Watts Out:850 W
Warranty: backed by DEWALT 3 year limited warranty
Battery & Charger Sold Separately
---
Dewalt DCG413B and DCG412B, DCG411B: Which One's Best?
So, DEWALT DCG411B vs DCG412B vs DCG413B, which one is the best? They are all well-manufactured and with considerate designs and high-quality materials. Hence, the main element to consider is your needs and purposes when buying this product.
As for now, we consider the DEWALT DCG413B is easy to use, long performance with great strength and durability. Also, it's light and easy to grasp for handy and fine work.
Whereas this matter remains for further consideration, we hope that all of the information above is enough to help you decide to purchase your perfect grindle.
Below is a summary of the specifications
Image
Image
Image
Image