You are a big fan of Dewalt, and you find it overwhelming to choose between Dewalt DCK283D2 vs DCK277C2? Maybe you need advice! More and more house tasks require specific tools. Therefore, the demand for power tools is increasing day by day!
However, for people with no expertise, it is quite challenging to tell the difference between these two machines! As a result, it is more difficult for them to decide which one they should buy! But you don't need to worry anymore, because this article will give you a useful comparison!
Differences Between Dewalt DCK283D2 Vs DCK277C2.
Made by the same manufacturer, Dewalt, one of the most trusted brands for power tools, both of the machines are always compared to each other due to their common use and high quality.
However, despite the similarities, Dewalt DCK283D2 vs DCK277C2 also have particular separate specs that you need to know before buying! Let's see what they are!
Price
Come into the market at around 250$-300$, these two combo kits from Dewalt have the same price, which is affordable for any user! However, on several websites, there has been a great discount on a Dewalt DCK277C2 combo's price! If you are looking for a cheaper cost to save money, this should be taken into consideration!
Size and weight
As a basic feature to compare, the size and weight of each machine always vary considerably! To make sure whether it suits your work requirements, you need to check them carefully before buying.
As we can see, these two kits have different sizes and weights to suit a variety of needs. If your workload requires a brushless drill with a compact size for portability, it is fair to say that Dewalt DCK283D2 is more suitable to satisfy your demand.
Utilities
Last but not least, the most significant spec that we need to clarify is the benefits these machines bring users. Probably, both come with high quality and convenience, but they still have their own differences to suit particular purposes!
Dewalt DC283D2 includes a cordless drill with an impact driver combo kit. Features with a powerful brushless motor, this drill offers users maximum runtime for each use. Combining with the compact design, Dewalt DC283D2 is exactly an ideal tool for working in tight spaces!
Additionally, this machine is powered by lithium-ion batteries, which provides users with a 20V max superior, powerful tool! 3-mode LED light for increased visibility is also added to make your working process smoother than ever!
Similarly, Dewalt DCK277C2, with the compact size, is able to fit any small space in your house! Including the high efficient impact driver and drill, this combo is greatly portable to make your work more convenient!
Moreover, a comfortable grip handle is included to offer users outstanding balance and tool control. Additionally, a 20-second trigger LED light is also available to help increase visibility. So, despite less portability, this Dewalt version is still advisable due to its great features and powerful functions!
Quick Rundown Of Dewalt DCK283D2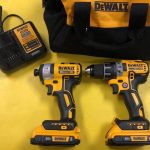 Pros:
Longer runtime with the powerful brushless motor
Fit into any small area
Belt hooks included
Easy to use
Cons:
The grinding sound created by the chuck
A charger is unable to indicate if the battery is full

Quick Rundown Of Dewalt DCK277C2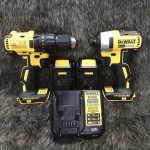 Pros
Easy to use
Easily handle daily projects
Provide users a complete combo kit
Cons:
Less portability
Unable to handle heavy tasks
No belt hooks included

Popular Alternatives Worth Considering:
Conclusion
That is the end of our reviews for Dewalt DCK283D2 vs DCK277C2. Hopefully, you will be satisfied with this detailed article for making your final decision!
These two machines are the most excellent versions of Dewalt products. As a result, whatever your selection is, the final option will never disappoint you! As an advisor, we highly recommend both of them for your work. But if you prefer a lower price, Dewalt DCK277C2, to be honest, appears to be a better deal.