Dewalt DHS716AT2 vs DHS790AT2 can both satisfy your needs but if you have to choose one, which one is best for you? Here is our comparison of the two products and a quick review of each one's pros and cons.
Image
The Winner (#1)

The Runner-up (#2)

The Winner (#1)
Image

The Runner-up (#2)
Image

Similarities Between Dewalt DHS716AT2 vs DHS790AT2
Same Weight And Speed
Though the DHS790AT2 looks quite bulkier than DHS716AT2, they have the same weight with 25 kg. They are not lightweight and need a strong person to hang them for a nice angle-cutting but these two models are worth having that heavyweight since they all have a no-load top speed up to 3800rpm, strong and fast enough to have an easy slice through tough materials.
Flexvolt Battery Platform
So, if you decide to choose the cordless product, surely that battery is the thing that you are focusing on. Leading the trend, Dewalt introduced the innovative battery system in the middle of 2016, named FLEXVOLT, which brings the convenience for the cordless miter saw.
With FLEXVOLT, the 20V tools can be plugged by 60V packs, which helps the equipment have up to 4 times more power than the usual runtime. This will reduce the amount of equipment that you need to carry with you. To adapt the tool, the batteries can switch voltages automatically. And yes, both DHS716AT2 and DHS790AT2 are equipped with the FLEXVOLT platform.
If it runs out of battery, just plug it into the AC adapter and use it as a normal corded saw.
Brushless Motors
Both products can run cooler and keep up the good form thanks to the brushless motor added. How can it affect a miter saw?
This motor can get most of the battery. It takes the power from the battery little by little to have around 289 crosscuts on a single charge. The brushless motors don't need to maintain regularly like a brushed one and make less noise than also.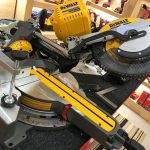 Differences Between Dewalt DHS716AT2 vs DHS790AT2
Besides the battery, we know that you are considering how the cordless miter saw performs when it is compared to a corded one and whether it is worth paying more for that cordless or not. Well, let's see the details of each product's specifications.
Specifications
16 inches at 90 degrees is the total crosscut ability of Dewalt DHS790AT2. For a miter cut at 45 degrees, this model can slice up to 4 inches in height and 8 inches in width. And with a 45-degree bevel cut, it can handle 2×14 and 2×16 dimensional wood panel.
Moreover, up to 49 degrees can be beveled thanks to an override equipped. Besides, the sliding fence helps DHS790AT2 reach 7-1/2-inch vertical crown molding in a nested place and 6-3/4-inches in height for base molding.
The DHS716AT2 is strong enough to handle hardwoods as well as crosscut 9-1/2-inches in width at 90 degrees or up to 2×10 dimensional lumber. It can successfully handle 7-1/2-inches nested or process the cuts with 6-3/4-inches vertical height.
It manages 4×6 inches if you miter out to 45 degrees and cut 2×10 lumber when being beveled at 45 degrees with the support of the back fence.
Particular Functions
The main distinction between those two saws that built it have separate functions is the product type. DHS790AT2 is a sliding compound miter whereas DHS716AT2 – a double bevel compound miter.
The sliding compound miter DHS790AT2 supports to cut at numerous angles and might tilt in one direction (left or right) to chop a bevel, that's effective in cutting molding with 2 different angles slices. DHS790AT2 has the rails allowing the blade to maneuver forward and backward to cut across material which the compound miter saw cannot do. Therefore, it is suitable to use in the wide material that you don't need to reposition anything on the way cutting.
If the sliding saw is used for wide material, Dual-bevel Compound DHS716AT2 is recommended for a thick one thanks to its greater cutting arc. Tilting in both left and right directions without the rails, there's nothing to block the cutting arm, which is more effective in cutting thicker material than the same sized blade used in a sliding miter.
Pros & Cons DHS716AT2 vs DHS790AT2: Which Is The Best?
It's quite difficult for us to choose which the best is since these two Dewalt products have their function in different materials. But if other features are equal, Dewalt DHS716AT2 is a little bit more convenient.
Quick Review of Dewalt DHS716AT2
DEWALT DHS716AT2
Flexible - power of corded. Freedom of cordless. The world's first battery that automatically changes voltage when you change tools
Runtime; Up to 289 Cross Cuts in baseboard along with best in Class Vertical capacity against sliding fence
CUTLINE blade positioning system; adjustment free cutline indicator
120V AC adapter; corded or cordless power delivers ultimate flexibility
Maximum initial battery voltage (measured without a workload) is 20 volts. Nominal voltage is 18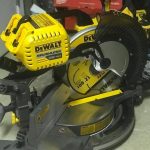 Compact dimension: If your workshop is small and doesn't have much space, DHS716AT2 is a better choice since its dimension is more compact than DHS790AT2.
Affordable price: The price of double bevel compound miter is usually more affordable than a sliding one. With the efficient it brings, DHS716AT2 deserves for your budget consideration.
The only weakness of DHS716AT2 is that it is not optimal for a crosscut on a wide material.

Quick Review of Dewalt DHS790AT2
DEWALT DHS790AT2
Flexible - power of corded. Freedom of cordless. The world's first battery that automatically changes voltage when you change tools
Runtime; Up to 289 Cross Cuts in 3-1/4" baseboard molding
Powerful 120V Brushless motor provides longer runtime compared to Brushed motors
CUTLINE blade positioning system; adjustment free cutline indicator
Portability - Compact design weighs only 56lbs.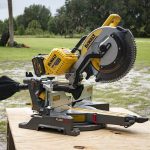 Productive function: It's worth investing in a DHS790AT2 if you know what you are going to do. For wide dimensional lumber, DHS790AT2 might have no competitor.
Massive shape: DHS790AT2 is recommended for a large workplace only. Because of the sliding design, the sliders need more space for forwarding and backward movement.
Costly option: The price of DHS790AT2 is more expensive than DHS716AT2. And for the unknown-purpose project, a sliding miter saw is not really needed.

Conclusion
DHS716AT2 and DHS790AT2 are both the highlights of Dewalt's product. If DHS790AT2 is outstanding with its perfect crosscut for a wide material, DHS716AT2 is more popular thanks to the efficiency in thicker things.
For me, I tend to choose the DHS716AT2 due to the benefits and affordable price it bears.