Below I will compare the power, portability, and features of the Dewalt DWS779 and DWS780
Difference between Dewalt DWS779 and DWS780
Image
Dimensions
21.46 x 17.72 x 17.13 inches
Image
Dimensions
21.46 x 17.72 x 17.13 inches
Image
Design Comparison
In fact, Dewalt DWS779 vs DWS780 has the same weight of 56 pounds. However, they are quite different in dimensions. To be more specific, the former comes with the sizes of 2 x 23 x 18.5 inches, while its opponent is around 21.46 x 17.72 x 17.13 inches.
As a result, you will feel the same while holding two models to move around, but the DWS779 unit might be more suitable to work in tight spaces.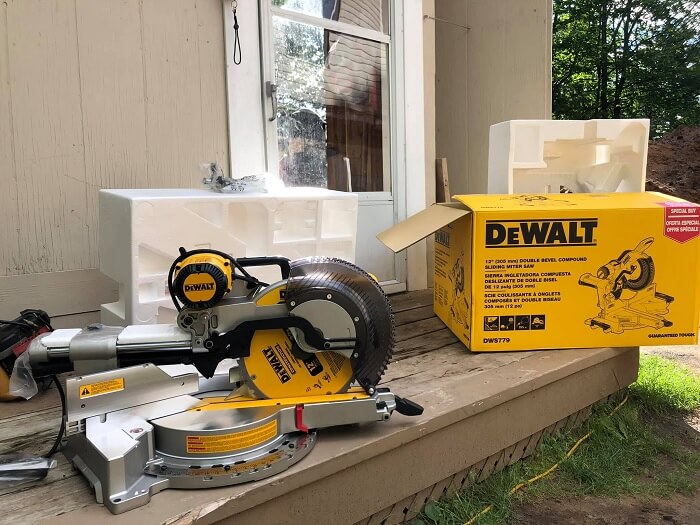 Power Comparison
Up next, we would like to point out the similarity of two Dewalt miter saws, regarding engine power. They all run on a 15-Amp engine spinning at a no-load speed of up to 3800 RPM. The same inbuilt motor and speed allow them to be equally powerful so that you can make the most of them to cut any material with ease.
Of course, there is no winner here.
Features Comparison
When it comes to comparing Dewalt DWS779 vs DS780, we can conclude that other stunning features are also pretty much the same.
First of all, they offer a super-good dust collection system, collecting at least 75 percent of dust during use. Thus, rest assured that these items absolutely guarantee your health.
For superior performance, Dewalt has engineered DWS779 vs DWS780 machines with an adjustable miter detent plate made from stainless steel coming with 10 positive stops at all of the most common angles. You will experience improved cutting accuracy as a result.
Furthermore, an exclusive back fence is added to cut up to 2" x 14" dimensional lumber at 90 degrees and 2" x 10" at 45 degrees. How useful it is!
On top of that, a miter saw is nothing without a good knife. Luckily, two miter saws today are equipped with a carbide blade, leading to better performance, durability, and versatility. You will find it effortless to handle sturdy working materials without much of a hassle.
However, a distinct feature that makes the DWS780 device beat its rival lies in the advanced XPS cross-cut alignment system. To be more specific, this technology comes in handy thanks to a bright LED light when you are positioning to get a perfectly accurate cutline.
Your purchase of Dewalt DWS779 and DWS780 will consist of a miter saw, a blade wrench, a carbide blade, a vertical material clamp, and even a dust bag.
Quick Rundown Of Dewalt DWS779
Sale
Dewalt DWS779 Sliding Compound Miter Saw
Stainless steel miter detent plate of the 12-inch miter saw blade comes with 10 positive stops
The mitre saw has a precise miter system and machined base fence support
Precise miter system and machined base fence support Cam-lock miter handle with detent override delivers quick and accurate miter angles for DEWALT miter saw
Tall sliding fences support 6-3/4-inch base vertically
Bevels 0 degree - 48degree left and right
[i2pc show_title="false" title="Pros & Cons" show_button="false" pros_title="Pros" cons_title="Cons" ][i2pros]Powerful
The effective dust collection system
Adjustable stainless-steel miter detent plate
The exclusive back fence on the market
Affordable price[/i2pros][i2cons]Comes with a less-efficient laser guide
Quite heavy[/i2cons][/i2pc]

Quick Rundown Of Dewalt DWS780
Sale
Dewalt DWS780 Double Bevel Sliding Compound Miter Saw
Integrated CUTLINE Blade Positioning System provides adjustment free cut line indication for better accuracy and visibility for the 12-inch miter saw blade
XPS technology uses an LED to project light down either side of the blade, creating a shadow on the cutline once the saw arm is lowered
Super-efficient dust collection system of DEWALT miter saw captures over 75% of dust generated
Tall sliding fences support crown molding up to 7-1/2-inch nested and base molding up to 6-3/4-inch vertically against the fence while easily sliding out of the way for bevel cuts
Exclusive back fence design cuts up to 2x14 dimensional lumber at 90 degree and 2x10 at 45 degree
[i2pc show_title="false" title="Pros & Cons" show_button="false" pros_title="Pros" cons_title="Cons" ][i2pros]Packs plenty of power
Surprisingly efficient dust collection
Top-notch XPS system for cutting precision
Has a stainless-steel detent plate for productivity [/i2pros][i2cons]Not suitable for use on an extremely bright day
Expensive
Quite bulky[/i2cons][/i2pc]

---
Product Videos
---
Conclusion
Dewalt DWS779 vs DWS780 are both excellent for light-duty and heavy-duty tasks. You can settle for any of them and expect brilliant performance.
However, Dewalt DWS780 is still an ideal option for those professional woodworkers who find its extra feature worthy. Or you can choose the other one as a budget option. Good luck with your ultimate decision.