After referencing some models of the plunge router, finally, you select three good models. However, among Dewalt DW621 vs DW625 vs Makita RP2301, you still cannot choose one for your needs. While the technique is developing a lot, and the manufacturers are introducing various models, we know it's not easy to select a mechanical tool.
Don't worry; we will review and compare the strengths and selective features of Dewalt DW621 vs DW625 vs Makita RP2301, then you can find the best suitable plunge router for your needs. Now we will make a decision together.
1. Dewalt DW621 Router
Design
The first selection we would like to give you for reference is Dewalt DW621, with Dewalt Router, Plunge Base, 10-Amp, 2 HP (DW621). This model is one of the products from the Dewalt brand. This is the smallest router of three kinds we recommend, with the size 11.8 x 7.3 x 14.9 inches.
Power
This recommendation is a kind of 2 HP plunge router, and it has a full-wave electronic variable speed motor. Moreover, this router is quite suitable for your house's power source when it directly uses electricity. The source only requires 120V.
The outstanding feature is the stability. This model can run around from 8,000 to 24,000 rpm without changing. It can work with a constant speed but ensure the final result.
Feature
Besides the dust collection system removing chips from woodworking, the machine is quite light, with 10.69 pounds. Moreover, the manufacturer integrates the starting or shutting down buttons into one. It's functional and convenient, and you should have one in your toolbox.
Dewalt DW621 Router
DEWALT router features full-wave electronic variable speed motor with soft start runs at 8,000-24,000 rpm with constant speed under load to ensure a quality finish in all materials
Rack and pinion depth adjuster with micro-fine adjusting allows quick, accurate set-up for DEWALT plunge router
Integral dust collection system efficiently removes chips and provides superior bit visibility
Spindle lock button allows for single-wrench bit changes
Innovative rubber-coated knobs have plunge-lock and on/off built-in for maximum user control
---
2. Dewalt DW625 Router
Design
This is the second router of your choice. This model is also from Dewalt, and the design is the same as the model Dewalt Router, Plunge Base, 10-Amp, 2 HP (DW621) that we mentioned above. The total dimension of DW625 is 13 x 13 x 7.5 inches. With this size, it's bigger than the DW621.
Power
However, the motor of Dewalt DW625 is stronger than the model Dewalt DW621; Dewalt DW625 gets up to 3 HP. This type is the most powerful plunge router in our review. This tool is designed to run from 8,000 to 22,000 RPM.
Feature
Additionally, in the model Dewalt Router, Plunge Base, Variable Speed, 3-HP (DW625), the designer improves the handles. You can easily hold and move the machine around the work area. One more appreciation, this model starts quite softly. It hardly appears to shake as the machine works at the highest speed.
Dewalt DW625 Router
3 HP ELEC PLUNGE RTR
3 HP ELEC PLUNGE RTR
3 HP ELEC PLUNGE RTR
3 HP ELEC PLUNGE RTR
3 HP ELEC PLUNGE RTR
---
3. Makita RP2301 Router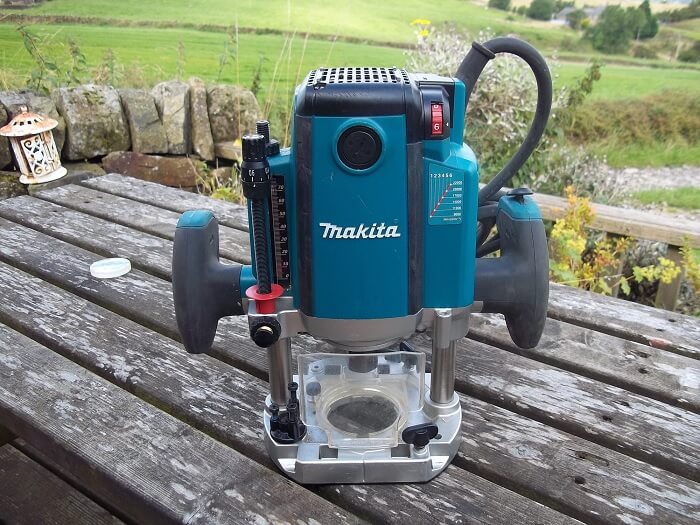 Design
The last one we mention in the post is Makita RP2301, with the typical model Plunge Router Electric Brake, 3-1/4 HP, and it's quite different from the two routers above. Although the dimension is 12.99 x 9.06 x 12.6 inches, the size is still suitable to hand.
You can see the manufacturer, which is Makita, not Dewalt, comes from Japan. Makita brand is also quite popular with portable electrical tools. If you like brand names from Japan, Makita is an ideal option.
Power
The source is the most power, up to 220V. Then, you can decrease the speed capacity for woodworking with smooth operation. Besides, the frequency it can get is 9,000 to 22,000 rpm.
Feature
The manufacturer equips twin LED lights to illuminate the work area and increase visibility for users. LED is the impressive point of this model, and it is more special than the two plunge routers and if compared with the two kinds above. With the 3-1/4 HP plunge router, this model is an ideal tool for most woodworking jobs.
Sale
Makita RP2301 Router
Powerful 15 AMP motor delivers 9,000-22,000 RPM for smooth routing
Electronic speed control maintains constant speed under load
Variable speed control dial enables user to match the speed to the application
Soft start feature for smooth start-ups
Electric brake for increased productivity
---
Dewalt DW621, DW625, and Makita RP2301: Which One's Best?
After carefully considering the three kinds of plunge routers, we can say that the model Makita RP2301 is very good and suitable for carpentry in general. It's ideal for professional woodworkers, especially in making furniture, building boats, or doing crafts.
Despite the similar function, with its equipment – LED lights and the efficiency of the operation, this model is worthy of becoming the essential tool in your toolset. This router will not make you disappointed with its features.
Below is a summary of the specifications
Image
Image
Image
Image
Dewalt DW621 vs DW625 vs Makita RP2301FC – Each model has its typical functions and special features. We know it's not simple to choose a good tool for the first time, but you can try to have your choice by helping from friends. We hope that the comparison from the post will help you make a decision easily.