Image
The Winner (#1)
The Runner-up (#2)
Verdict
✔️ Lightweight and portable
The Winner (#1)
Image
Verdict
✔️ Lightweight and portable
The Runner-up (#2)
Image
Similarities Dewalt DW713 and DWS713
Despite being two different models, these two saws still intersect at certain common points. The heart of both DW713 and DWS713 is the 15 Amp motor. With this powerful motor, these saws can have its blade to spin up to 5,000 Round-Per-Minute. Therefore, you can cut smoothly any kind of hardwood or metal.
DW713 and DWS713 are equipped with a 10'' blade and ⅝'' arbor size. Honestly, the blade is quite small if you have the intention of cutting a too large part of the wood. However, this moderate-sized blade costs you less money than the 12'' blade does.
One point that contributes to the durability of a saw is the material used for making its blade. In DW713 and DWS713, Dewalt uses stainless steel for the blade so that customers can use it for a long time without worrying their saws may be downgraded.
Both of these saws are convenient to carry around because they have a lightweight design. Besides, handles attached to the saw support us hold it more easily. So handy, right?
DW713 and DWS713 are a single-bevel saw, which means that they are not sophisticated to operate. Yet, they can't cut two directions at the same time. You have to move the wood so that the saws can reach the left side.
I have shown you all the similarities between DW173 and DWS173 miter saw. How about the "Difference" part? Don't worry, keep scrolling down to figure it out!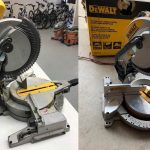 Difference Between Dewalt DW713 Vs DWS713
In my opinion, you all may know that DWS713 is an upgraded version of DW713 because of the letter "S" added to its name. For example, every version of smartphones has an "S" in their names as a way to inform the customers about the development of the product.
However, the added features of the DWS173 are not superior to the functions in DW173. In fact, there are main differences between the DWS173 and the DW173: miter detent and dust bag.
While DW173 has a detent available for 11 positive stops, miter detent on DWS173 has up to 14 positive stops. The detent provides you with stable accuracy, your saw won't slide while you are cutting something.
A significant change in DWS713 which DW713 doesn't possess is the dust bag. A dust bag is installed in a saw with a view to making the workplace be cleaner and clear of the piece of wood.
In general, there aren't many differences between these two products because the DWS173 is just slightly upgraded. So, we are gonna go into detail of each saw.
1. DEWALT DWS713 Review
DWS713 is a single-bevel saw with 10'' blade, hence it can still serve some essential requirements of you excellently. Accuracy, portability is not the matter anymore when you have a DWS713. Furthermore, with stainless steel used for making a blade, DWS713 can last for many years.
DEWALT DWS713 10-Inch Compound Miter saw
Stainless-steel miter detent plate of the 10-inch miter saw blade comes with 14 positive stops
The mitre saw has a precise miter system and machined base fence support
Tall sliding fence of DEWALT miter saw supports 4-1/4-inch base vertically
Bevels 0 degree - 48degree to the left and 0 degree- 3degree to the right
2-inch x 6-inch dimensional lumber cross cut capacity at 90 degree and 2-inch x 4-inch dimensional lumber at 45 degree
2. DEWALT DW713 Review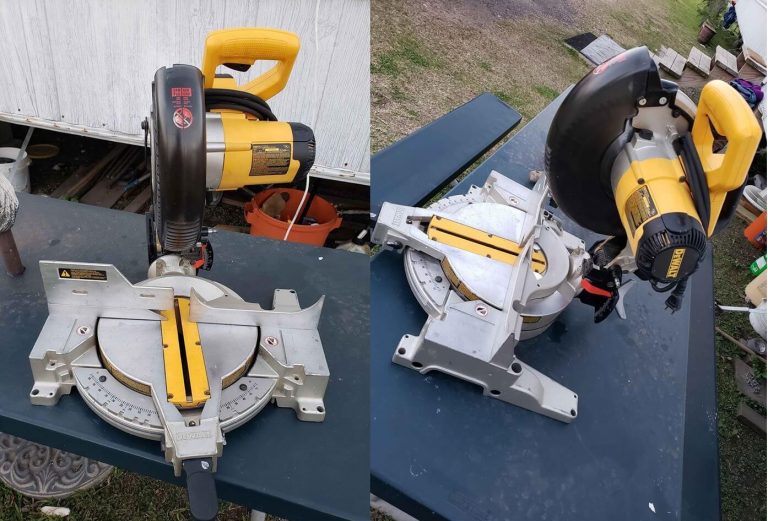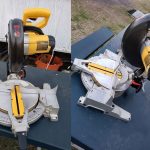 Dewalt produced DW713 for the purpose of making simple cuts and even complex ones. Besides, it is a suitable tool for both amateurs and professionals in making woodwork.
Nonetheless, this saw doesn't have a dust bag to store all the mess so that it won't make your workshop littering.
DEWALT DW713 10-Inch Compound Miter saw
15 amp, 5,000 rpm motor delivers extended power and durability for the 10-inch miter saw blade
Stainless steel detent plate with 11 positive stops of the mitre saw provides repeatable accuracy and jobsite duability
Tall sliding fences of DEWALT miter saw support crown molding vertically 4-1/2-inch and easily slides out of the way for bevel cuts
Machined-base fence support maintains fence perpendicularity with blade for cutting accuracy
Cam miter lock for quick and accurate miter table positioning
---
Product Videos
Summarising
DW713 and DWS713 are both powerful saws from Dewalt. DW173 can serve the basic demands of customers with some remarkable features and affordable price. Whilst, DWS713 is like a slight upgrade version of DW713. However, you have to pay more money for it.
In fact, the extra parts of DWS713 are not too significant to the usage of some people. From my point of view, I would like to purchase DW713 for making some wood stuff at home. What is your choice? Feel free to share with me and don't forget to keep following for more comparison posts.