You are looking for a good table saw at a reasonable price? Yet you have no idea what the choice is. This DW745S vs DWE7480 comparison post will help you.
Image
The Winner (#1)
The Runner-up (#2)
The Winner (#1)
Image
The Runner-up (#2)
Image
Similarities Between Dewalt DW745S Vs DWE7480
15 amp motor for high power
When it comes to powered saw, power is the top priority. Whether your device runs corded or cordless, the energy must be sufficient to operate the saw. The rpm of your saw also decides its efficiency and easy-to-cut ability. Generally, the 15 amp motor is equipped in many Dewalt saws as it provides extended power for cutting hard materials. In particular, both DW745S and DWE7480 operate very well.
Extra lightweight for portability
If you are a frequent mover, then lightweight and portability may definitely be on top of your list. Both devices weigh around 45 lbs to 55 lbs, so you can think of carrying them with you in your van. Like many other Dewalt saws, there is no need to deal much with bulky parts. Therefore, a simple design is a bonus for these two beasts.
Premium and long-lasting stainless steel blade
Blade quality is premium as the finest stainless steel is utilized for extra durability. Your saw can work perfectly well with more precise cutting. The blade is insusceptible to corrosion and it lasts for many years. it is the removable blade that you can switch to a new one over time.
Requires power source of 120 Volts
Both the Dewalt saws work if powered by 120 volts sources. Sometimes you have to find the proper source, sometimes you need an adapter. However, bear in mind that only use 120 volts for the lifespan of these two saws.
Both use pinion type fence system
This is a ruler – incorporated, sliding fence system that allows you to measure any size you want to cut. Whether you deal with large or small pieces of wood, this system helps you handle your work with excellence.
Both products come with a miter gauge, a push stick, and a blade guard
Safety is prioritized in every Dewalt product. In DW745S and DWE7480, you can find some extra accessories that relieve the burden and insure your safety.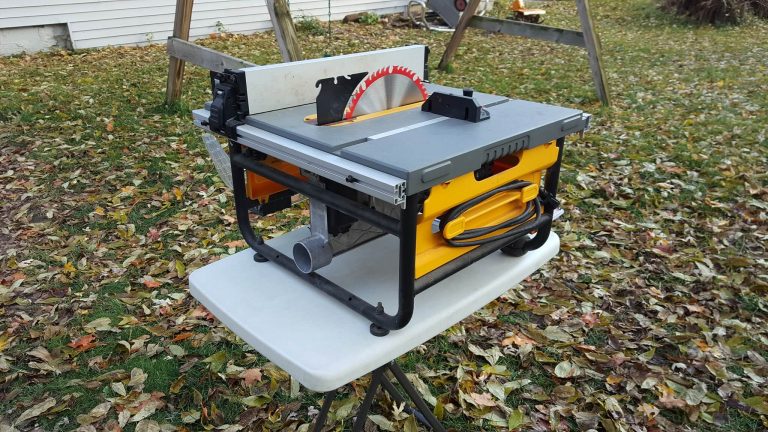 Differences Between Dewalt DW745S Vs DWE7480
It is quite a tough job to tell the difference, however, the DW745S and DWE7480 are not completely identical.
Price
The price is not the deciding factor as it is relatively the same for two products. Depending on where you shop, you will find that sometimes you are charged higher for the DWE7480.——–
Power
Although both saws feature 15 amp motor, the DWE7480 delivers 4800 rotations per minute for extra power when you cut hardwood while the DW745S only reaches 3800 rotations per minute. When using the DWE7480, almost any tasks of yours can be accomplished but they are restricted when you choose DW745S.
Quick Review of Dewalt DW745S.
Dewalt DW745S
Optimized footprint make this the most portable saw in its Class; Shoe bevels 0° to 45° for beveled cuts
15 amp motor quickly rips through hardwoods with ease
Powerful 1850 watt motor for high performance in all applications (1300 watts 110 version for UK only)
Fence system provides up to 20 inches of rip capacity in a portable design for cutting large sheet materials to size
Lightweight; folds flat for easy handling, storage, and transport; No Load Speed: 3,850 rpm
Pros:
The railing system incorporates a ruler that provides you with a more precise cut on a variety of wood sizes. The flexible adjustment of the device is also a plus point.
With proper maintenance, this model can last and work well for years.
Cons:
The motor of this model cannot reach as many as 4000 rotations per minute as that of its counterpart, the DWE7480. Two products at the relatively same size and prize but the DW745S ranks second in power.

Quick Review of Dewalt DWE7480
Dewalt DWE7480
Easy Adjustments: Rack and pinion telescoping fence rails make fence Adjustments fast, smooth and accurate
Variety Of Cuts : 24 1/2 inch of rip easily cuts a variety of Larger shelving and trim Materials
Easy Adjustments: Rack and pinion telescoping fence rails make fence Adjustments fast, smooth and accurate
Guaranteed Tough: metal roll cage ensures job site durability
Onboard Storage : Onboard storage provides easy access to the site pro guarding components and push stick when not in use
Pros:
This model comes with the guarding system that allows you to adjust your saw to various angles. This feature is what you can find in no other Dewalt table saws.
The versatile design of this model allows for easy setup and use. Plus the size and weight are average for easy carry.
Cons:
The saw works with over 110vhz and under 220vhz. That being said, you need to choose the right power source for your device. This can be a nuisance as it is reliable on the really high electricity.

Popular Alternatives Worth Considering:
Final thoughts
Well, this is the end of our review.
It is a hard task to tell which product is better as they are both of high quality. Although the model DW745S can help you deal with as many projects as possible, whether you are a professional or a newbie, the DWE7480 does the hard work for you as it is more powerful.
However, on a personal level, I would choose the DWE7480 for its simple yet effective design.