Spend your whole day struggling with cutting tasks without a useful cutting tool? Never mind! This Dewalt DWE7480 vs Bosch GTS1031 Review will show you the right choice.
Dewalt DWE7480 vs Bosch GTS1031? Which is the right product for you? If you still feel confused about it, our review today will do you good as it gives you a general overview of the amazing features provided by two products.
To make it clear, my review will point out the pros and cons of each product and make an overall comparison so that you can know which is the well-matched tool in your woodshop.
Differences Between Dewalt DWE7480 Vs Bosch GTS1031
Weight and Dimensions
Dewalt DWE7480 is a 53.7-pound machine with average-sized dimensions of 25.8 x 26.5 x 13.9 inches, while Bosch GTS1031 has a little bigger size (26 x 24.8 x 15.5 inches) with the total weight of 57.3 pounds.
The slightly smaller size and lighter weight make Dewalt DWE7480 more portable, reducing difficulties in operating and moving. However, this difference is not so significant, so you can put it aside. Let's look at other features below!
Blade
The blade is the main operating part of the machine, directly contacting the cut materials and primarily contributing to the performance. If equipped with a high-quality and efficient blade, your machine will promote maximum cutting capacity and shorten working time.
Dewalt DWE7480 is provided with a 10-inch blade designed with the 24 sharp curved teeth to easily operate on the surfaces. This feature also makes cutting tasks smoother, simpler, and more accurate.
Like Dewalt DWE7480, the blade of Bosch GTS1031 is 10 inches in size, but its teeth look bigger and deeper. This feature helps users make more perfect cutlines but requires a correct adjustment in direction.
Power
Dewalt DWE7480 runs on a 15 Amp, 120V, and 4800 rpm motor which efficiently performs as a speed booster to operate for a long time without any possible problems. Hard and uneven cutting surfaces are handled smoothly with very little damage to the blade.
On the other hand, Bosch GTS1031 is powered by electricity at 127V and 1700W. Its 4.0 HD 5000 no-load rpm motor speeds up the performance of the machine.
However, constant operation at high voltage may also cause greater power consumption. Plus, the massive heat released during the operation process possibly impacts the machine and users.
Price
In general, both Dewalt DWE7480 and Bosch GTS1031 are categorized in competitive price products, which can make buyers crack their brains before deciding to buy.
In detail, Dewalt DWE7480 has a more competitive price than that of Bosch GTS1031 because of limited production quantity and restricted delivery.
Quick Review Of Dewalt DWE7480
Pros:
Lightweight & Portable Design: I'm a big fan of portable products, and Dewalt DWE7480 satisfies me because it is designed flexibly for long-distance transportation.
Easy Adjustment: Provided with rack and pinion telescoping fence rails, Dewalt DWE7480 makes it easy for users to adjust cutlines perfectly and accurately.
Various Cuts: The 10-inch blade optimizes the cutting performance, resulting in effective cutting on many different trimming surfaces.
High Durability: Produced by high-class and durable materials, this table saw ensures long using time.
120V, 4800 rpm Motor & 2-1/4 inch Dust Collection Port
3 Year Limited Warranty
Cons:
High price
No extra Items Included
Limited Production
No Money Back Warranty

Quick Review Of Bosch GTS1031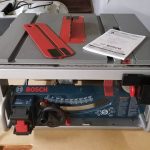 Pros:
Relatively Portable: Compact design makes portability and mobility rather easy and convenient.
Touch & Hard Materials: Mainly produced by firm metals and durable plastic, extending the usage time.
Precise & Versatile Operation: Square lock rip fence with self-aligning design helps users perform more accurately and make consistent cutting when gliding along the saw rails.
10-inch blade with 24 teeth: Work well on cutlines up to 18 inches in length, increasing rip capacity.
127V motor: Run at 5000 rpm, suitable for a wide range of job site applications.
Smart guard with anti-kickback pawls & riving knife system: Provide users with full control.
30 Day Return Policy
Cons:
Somehow Complicated Design
Only 1 Year Warranty
Less Durability

Popular Alternatives Worth Considering:
Conclusion
My Dewalt DWE7480 vs Bosch GTS1031 post has completed reviewing the noticeable features, pros, and cons between these two tools. They are perfect selections for customers who need an excellent tool in doing household or mechanical tasks.
Each product exclusively draws a specific kind of buyer. Dewalt DWE7480 is suitable for high-income customers who require a durable tool, while average-income ones will be in favor of Bosch GTS1031.
However, we often need a machine working for a long time without much possible impairment. Although we have to pay more, we will not worry about expensive repair costs. All things considered, Dewalt DWE7480 is a smarter investment for sure. How about you? Would you choose Dewalt DWE7480?