Do you hesitate to choose Dewalt DWS709 or Dewalt DWS780? If you do, we will give you a thorough comparison in this post. Now, let's check it out!
Image
The Winner (#1)
The Winner (#1)
Image
Similarities Dewalt DWS709 Vs DWS780.
When you first see them, it's very complicated to distinguish between Dewalt DWS709 vs. DWS780 Miter saw. However, they share three things in common:
1. They are both set up with 12'' blades.
2. They have a similar motor
3. The outstanding motor, which creates a power reaching 3,800 rounds per minute, is called 15-amp. With this motor, no kinds of wood can make you struggle, it will smoothly cut anything. It's like you use a Samurai sword to cut a steamed tomato.
Despite having some similarities, they are different products which are mentioned below:
Difference Between Dewalt DWS709 Vs DWS780.
The first and foremost aspect you all want to focus on when choosing a saw is the power of its. In this case, we have shown you that both DWS709 and DWS780 have the same motor with identical power. Therefore, we will move to the other features of these two.
1. Price
If you have a low budget and the price is your primary concern when purchasing a saw, DWS709 is the best choice for you. The price of DWS709 is $ 100 lower than the DWS780
You may ask "If they have the same motor and the same power, why is the DWS780 more expensive?". The answer is, the motor is the must-install feature in a saw. Manufacturers will sell none when they downgrade the motor just because of the price.
Thus, making DWS780 more expensive than the DWS709 is its flexibility. (I don't understand what you mean in this sentence)You can imagine that buying a DWS780 instead of buying a DWS709 is like paying money for an iPhone 11 Promax instead of iPhone 11 Pro. They are all great, but the difference lies in small details.
2. Versatility
It is up to your purpose when using Dewalt saws to decide which one you are going to get
If you specialize in making wooden goods, you will find the DWS780 worth buying and cost-effective. The reason is that it can help you to generate superior bevel cuts to hard-to-reach angels.
In addition, a laser is installed on DWS780. It's believed that this extra element is built just to make the high-price seem to be more reasonable. Yet, the laser is really helpful when you want to have an extremely precise cut.
What will you get when buying a DWS709? Of course, a lower price comes with fewer functions. However, you can still get all the basic functions of a saw when having a DWS709, which are elementary accuracy and stability. With a DWS709, you should only make simple things like stuff around your house instead of aiming for complicated things.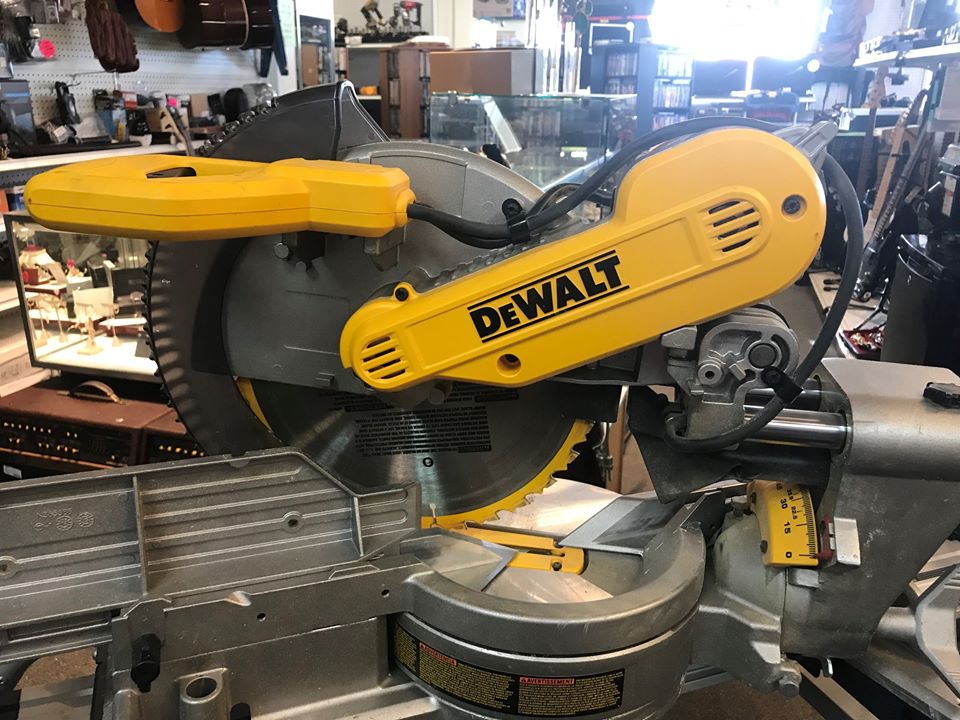 3. Design
Despite having more functions and extra parts than DWS709, DWS780 is quite lighter and smaller.
However, it is just the number of specifications. You will find it the same when you have to carry one of these saws around; they are both not too heavy for an adult.
The key aspect you should consider in terms of design is how much space these saws would take up when you place them in your workshop. If your workplace is confined (narrow?), you should have a DWS780.
Pros And Cons Of Each Saw.
Dewalt DWS709 Miter Saw Review – Best Price.
No products found.
After many years of introducing its products to the public, Dewalt has been widely recognized for its amazing tools. The DWS709 is a confirmation for its success. With a DWS709, you can complete almost every fundamental task.
Nevertheless, one disadvantage of this saw is that it lacks a dust collection part. Therefore, it may cause some inconvenience while you are using it in a narrow workspace.
Pros:
Useful for any basic tasks.
Durable structure.
Reasonable price is the strong point of DWS709.
Cons:
Lacking dust collection part

Rating: 4.7 out of 5 stars.
Dewalt DWS780 Quick Review – Best Choice.
Sale
DEWALT DWS780
Integrated CUTLINE Blade Positioning System provides adjustment free cut line indication for better accuracy and visibility for the 12-inch miter saw blade
XPS technology uses an LED to project light down either side of the blade, creating a shadow on the cutline once the saw arm is lowered
Super-efficient dust collection system of DEWALT miter saw captures over 75% of dust generated
Tall sliding fences support crown molding up to 7-1/2-inch nested and base molding up to 6-3/4-inch vertically against the fence while easily sliding out of the way for bevel cuts
Exclusive back fence design cuts up to 2x14 dimensional lumber at 90 degree and 2x10 at 45 degree
The prominent feature of DWS780, which DWS709 doesn't have, is the XPS system. Literally, this additional piece can enhance the precision of DWS780 to its utmost.
Moreover, a laser installed on the DWS780 is also for the more accurate cuts.
All the functions on DWS709 can be found on DWS780 with some extra equipment. The only thing that can be seen as the drawback of DWS780 is its costly price.
Pros
More precise cuts with the XPS system.
Flexibility.
Cons:

---
Product Videos
Conclusion
Generally speaking, considering choosing which one between these excellent saws is a tough task. DWS709 can serve your basic needs with excellent quality and reasonable price for any budget.
While DWS780 will help you to complete more sophisticated work, it is relatively pricey. As an amateur in making woody stuff, I would like to purchase DWS709 because it can brilliantly meet my needs.
We would be happy if you let us know your choice. Keep following our website to support us.
More: Best miter saw sliding