In this post, we will make a quick comparison among the Festool RO 90 Vs RO 125 Vs RO 150 Vs ETS 150. If you are interested, let's quickly dive in here!
Festool RO 90 vs RO 125 vs RO 150 vs ETS 150 Review.
1. Festool RO 90 FEQ Rotex Sander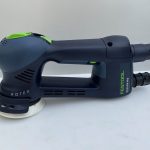 The Festool RO 90 is one of the must-have items for any remodeler or hobbyist out there. This is the perfect tool for stripping paint and removing rust on doors, windows for home-users.
To be more specific, the tool is operated on a gear-driven engine with the 3.500-7000 RPM motor. It helps you significantly in transforming rough surfaces into the smoothest finish product, stripping stubborn paints with ease.
Apart from that, the Festool RO 90 is extremely versatile and can be used for various purposes. You can quickly switch from a round-pad sander to a delta-shaped pad in a second to deal with wood, paint, varnish, and reach deep corners and crevices.
This model is the lightest and smallest sander compared to the three other ones. Thanks to the lightweight nature, it is perfectly suited for tight space and extensive use.
Even though the RO 90 can't be beaten at stripping surfaces and getting into corners, it is quite uncomfortable to use. The weight proportions require you to use both hands while doing the work, so sometimes it might be annoying and inconvenient to multitask.
Festool RO 90 FEQ Rotex Sander
Switch from sanding with a round pad to a delta-shaped pad in seconds, no tools required
Aggressive sanding mode is gear-driven and allows quick removal of material or stubborn finishes
Random orbital mode provides astonishing finish sanding results with ease. 3,500 - 7,000 Speed, Eccentric Motion (RPM)
Polishing mode and accessories offer the ability to product a brilliant, gleaming shine on nearly any surface. Sanding stroke: 1/8" (3 mm).
Lightweight, ergonomic design well-suited for tight spaces and extended use
Pros:
Quick removal of material
Use at ease
Multipurpose
Lightweight
Compact design
Cons:
2. Festool RO 125 FEQ Rotex Sander
In 2011, Festool added a few more new sanders into the lineup with noticeable improvements in the versatility and efficiency of the products. The RO 125 is one of the update models with some enhancement in the operating modes.
Specifically, the RO 150 is well-equipped with a 500W gear-driven dual-mode sanding engine. A dual-mode sander, as its name suggests, will provide you with two-mode options to choose from.
The first mode is the standard random orbital mode. It allows you to strip the surfaces at the average speed like any other Festool sanders. For a quicker removal rate, you can switch to the direct-drive eccentric orbital mode, which will work three times faster than the standard model.
However, it might not be the most suitable sander to pick up if you often do large built-in projects like stripping boat surfaces. You might want to look for something with a larger head for better results.
Festool RO 125 FEQ Rotex Sander
Dual-Mode Sanding with a gear-driven, aggressive mode for rapid stock removal or polishing and random orbital mode for fine sanding.
Jetstream dust extraction design delivers highly efficient dust removal, resulting in cleaner air, better finishes, and longer abrasive and pad life.
FastFix tool-free backing pad changing system allows the sander to adapt to different surfaces and tasks with appropriate pads.
Compact Size with a compact form and a 5" pad, the RO 125 delivers performance to even the tightest of places.
MMC electronic controls deliver soft-start, step-less variable speed control, constant speed under load, and thermal and overload protection.
Pros:
Dual-Mode sander
Reaching deep corners
Efficient dust collection
Compact size
Adaptable on different surfaces
Cons:
Not suitable for large, rough surfaces
3. Festool Rotex RO 150 FEQ Dual-Mode Sander
The Festool RO 150 Dual-Mode Sander is an enhanced version of the previous RO 125 generation. While still making sure to maintain the well-loved features of the RO 125, Festool has successfully overcome the major shortcomings of the older version.
Taking an overall look at the design, you can immediately notice that the head diameter of the RO 150 is slightly larger than the RO 125 (6 inches vs. 5 inches). The wider head of the RO 150 provides 44% more surface area, which can easily shorten the sanding operation by half.
Operation wise, the RO 150 runs on a powerful 700W motor, which makes the tool a workhorse for tackling the roughest surfaces to give you the scratch-free finish. This model is also equipped with a mobile dust extractor so you won't have to brush the workpiece surface afterward.
One notable weak point of the EO 150 sander that is worth mentioning is its inefficiency when getting into corners and crevices, mainly because of the head's wide surface area.
Festool Rotex RO 150 FEQ Dual-Mode Sander
Three tools in one for coarse sanding, fine sanding, and polishing
Eccentric motion for high-quality, scratch-free surfaces
Sanding up to the edge thanks to the Festool protector
Rotex rotary motion for efficient material removal
Pros:
Three-in-one tool
Efficient surface removal
Easy to use
Cons:
Not suitable for sanding corners
4. Festool ETS 150 EQ Random Orbital Sander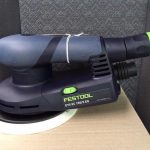 The EST 150 is the sander whose operating system and head movement differ the most from the three other products. The main reason for that is because the tool is operated on a single-mode engine.
To be more detailed, as opposed to the dual-mode Rotex, which can do both random orbital and orbital modes, the EST 150 can only do random orbital mode.
Be it as it may, with the powerful 600W motor, it gives you a speed of 4,000 to 1,000 RPM to deal with every general sanding purpose from aggressive work to standard stripping surfaces.
Additionally, because of the main single-mode functionality, the EST 150 works perfectly as a finishing sander. With a random orbital motion, it can smoothen the surface and leave no room for scratches and marks on the final products.
With regard to the ergonomic aspect, the EST 150 is perfectly designed to fit both one-handed and two-handed operations with a rubberized top grip for maximum comfort.
However, the ETS 150 doesn't provide the users with the most efficient tool to deal with stock removal on slabs and existing finish stripping. You might prefer a dual-mode sander to tackle this kind of work.
Pros:
Lightweight
Perfect ergonomic design
Efficient finishing sander
Affordable price
Cons:
Not suitable for stock removals
Which One Is The Best?
Each product has its own outstanding features to offer to the users. However, after a lot of comparisons and thorough evaluation, we have decided to list the Festool RO 125 Dual-Mode Rotex Sander as the best one out of the four products.
This sander provides a well-functioned dual-action for various sanding purposes just as the RO 150, but you can get it at a more reasonable price.
Besides that, the RO 125's head is a perfect size for working on diverse surfaces and deeper corners that the RO 150 can't reach. It will be unnecessary for you to switch sanders to work on different places on the workpiece, making the sanding much more enjoyable.
Image
Rank #1
Rank #2
Rank #3
Rank #4
Rank #1
Image
Rank #2
Image
Rank #3
Image
Rank #4
Image
Conclusion
It might take quite some time to compare and evaluate things before you can make a final decision. But it shouldn't be too challenging, especially after you have read our informative comparison between the Festool RO 90 vs RO 125 vs RO 150 vs ETS 150.
All things considered, I wish you luck and hope you can find the most fitting one for yourself soon!