Generac 6551 and 70432: Which generator is the better option for you? Still, have no idea? Let's scroll down to find the answer!
Differences Between Generac 6551 and 70432
Image
The Winner (#1)
The Runner-up (#2)
The Winner (#1)
Image
The Runner-up (#2)
Image
Power Comparison
Similar to other standby generator models, both Generac 6551 and 70432 use liquid propane (LP) or natural gas (NG) to power partially or the whole of your house.
Generac's engineers decided to equip the Generac G-Force Engine for these machines. This engine can handle the rigors of generator use, resulting in fewer maintenance requirements and the ability to work regularly.
With this innovation, both 6551 and 70432 can get you through the most serious outages for days or weeks without utility power.
In terms of rated wattages, Generac 6551 can produce a maximum of 20.000 Watts when using liquid propane and 19.500 Watts when it comes to natural gas.
Similarly, the 70432 also has different rated wattages for both liquid propane (LP) and natural gas (NG). When using LP, the machine ranges from 20.100 to 30.000 Watts at peak. Meanwhile, it will produce from 15.100 to 20.000 Watts when you start with NG.
Generac 6551 and 70432 consume 83 ft3/hr and 98 ft3/hr at LP consumption half load, respectively.
At NG consumption half load, the amount of natural gas that the 70432 consumes is 228 ft3/hr, which is higher than its rival (184 ft3/hr).
From these figures, we can conclude that Generac 6551 will be the better option if you are looking for an economical choice, as it uses less fuel when compared to 70432.
Both 6551 and 70432's engines make the same noise level at 67dB when they are in normal operation load. We are sure that you no longer have to worry about noise complaints from your neighbors!
Noticeably, Generac 6551's engine has a special point called Quiet-Test Mode, in which the machine will run for 5-12 minutes self-test at a lower, quieter mode than standard operation.
Thanks to this Quiet-Test, Generac 6551 can ensure the system is working properly while consuming less fuel. The noise of this mode is also lower than the standard model (57dB).
The level of total harmonic distortion of both 6551 and 70432 is less than 5%, which is suitable for sensitive electronic subjects.
Design Comparison
When it comes to design, both Generac 6551 and 70432 are covered with special RhinoCoat powder, giving them a perfect corrosion-resistant aluminum finish for all weather conditions.
Despite the same dimensions of 45 x 29 x 25 inches, the 6551 (445 pounds) is significantly lighter than its opponent – the 70432 (515 pounds).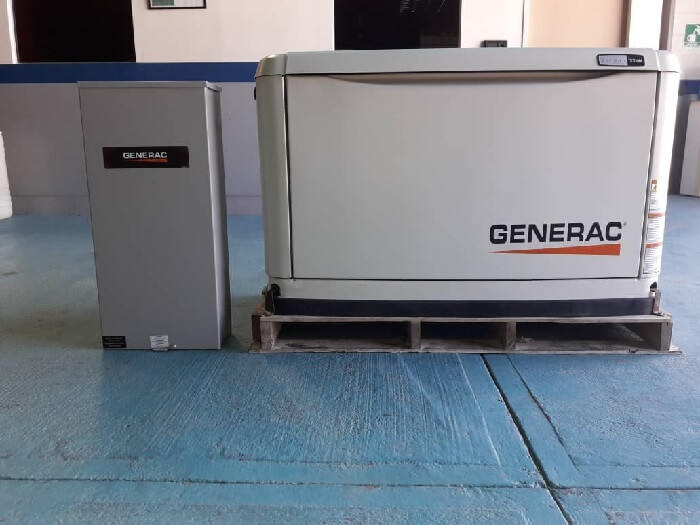 Features Comparison
Surprisingly, you can control both 6551 and 70432 by Generac Mobile Link whenever you are. The manufacturer ensures that with this convenient feature, checking your machine's status will be easier!
All you need to do is connect your account, then every real-time status of your generator will be sent to you, including maintenance alerts.
Generac 6551 and 70432 are equipped with air-cooled systems. These systems keep your generator away from overheating by taking the cooler air from the atmosphere, blowing this air across the machine to cool down.
Unlock the top cover of the generator and you'll find the control panel located on the right. Push the 'Enter' button, then the 'Auto' button. Your generator will start within 10 seconds.
If it doesn't work in 10 seconds, switch to manual mode by pushing the 'Manual' button. When power is restored to your home, turn back to the generator and switch the mode back to automatic mode.
Quick Rundown Of Generac 6551
Generac 6551 Generator
5-Year limited Warranty for automatic standby generators.
True power technology delivers best-in-class power quality with less than 5 percent total harmonic distortion for clean, Smooth operation of sensitive electronics and appliances.
General G-force engines are purpose-built, pressure-lubricated engine capable of handling the rigors of generator use, resulting in power that's more reliable and requires less routine maintenance than any competitive engine.
Transfer Switch Not Included

---
Quick Rundown Of Generac 70432
Generac 70432 Generator
Up to whole house protection with the 200 Amp, NEMA 3R (aluminum outdoor enclosure) smart switch
Smart, User-friendly controls; Generac evolution controller features a multilingual LCD display that allows you to Monitor Battery status and track maintenance intervals to ensure your generator is always in top operating condition
240 volts supply
Receive real time status updates

---
Product Videos
---
Conclusion
It's definitely a challenge to choose the winner in this Generac 6551 vs 70432 comparison battle. From our perspective, Generac 70432 seems more superior when compared to its rival though they share lots of similarities. Simply because this machine offers smart charging features and requires less maintenance.