Generac GP3000i and Predator 3500: Which portable generator is the better option for you? Still, have no idea? Let's scroll down to find the answer!
Differences Between Generac GP3000i and Predator 3500
Below is a summary of the specifications:
Image
The Winner (#1)
Size
22.2 x 13.3 x 18.4 inches
The Winner (#1)
Image
Size
22.2 x 13.3 x 18.4 inches
Power Comparison
You can use gasoline for either Generac GP3000i or Predator 3500 to work. But there are many differences in power systems between these two that you should know:
While the Generac generator uses a 149 CC engine with an OHV 4-stroke, Predator 3500 unit has a bigger engine of 212 CC. As a result, the Predator item offers a higher working capacity with 3000 W, and it can be up to a maximum of 3500 W. The Generac GP3000i model lags behind its competitor with 2300 W, and its maximum capacity is 3000 W. We can clearly see that the engine volume impacts the capacity of the machine.
Both machines use recoils for starting mode. Many users have chosen Predator 3500 as it possesses a larger petrol tank (2,6 gallon) and a longer working time of 11 hours. On the other hand, the Generac opponent offers a tank that is twice as small (1,06 gallon) and allows the machine to work for just 5,8 hours.
Energy efficiency is one of the most important factors in our modern electrical equipment. The energy consumption of Generac items (0,18 GPH) is more efficient than Predator (0,24 GPH). This difference can be explained by the various engine volumes of the two machines.
They are suitable for sensitive appliances as both machines possess low THD indicators (less than 3% for Generac items and 5 % for Predator machines.
When it comes to the noise, we think Generac GP3000i (67dB) is much noisier than its Predator opponent. So, if the sound matters to you, a Predator generator will be a better option with 57dB.
Design Comparison
Users can easily recognize the Predator 3500 as it looks much bigger (22,75 x 17,3 x 20 inches) than its rival from Generac (22,2 x 13,3 x 18,4 inches). The dissimilarity in sizes leads to the difference in weights of both products. The Predator unit is much heavier (110 pounds) than Generac items (59,5 pounds).
The single stable handle on the top makes both machines less modern. However, it is helpful for users to move the machine from place to place, especially for the Generac model GP3000i. For Predator 3500, wheels are at four corners of the product. In our opinion, having wheels is such an innovation for an inverter generator as it makes the machine more portable.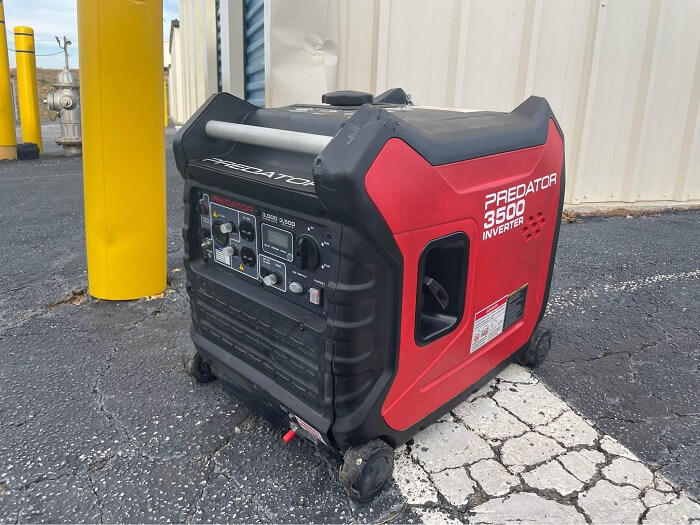 Features Comparison
Like other inverter generators on the market, to turn on the system, you have to master the on-off switches, recoils, and choke buttons on the sides of them.
Сustomers might like Generac GP3000i more in terms of various socket options as it possesses two DC sockets and two AC sockets. Meanwhile, the Predator manufacturers only equipped their machine with two AC sockets and one DC.
It is more convenient for you to manage the generator manually. Besides, the great feature about these two products is the digital LCD screen for signaling timely when the tank is getting low oil.
Quick Rundown Of Generac GP3000i
Generac GP3000i Inverter Generator
PowerRUSH Technology - Delivers over 50% more starting capacity-allowing you to do more with less
Quiet inverter power - reduces sound emissions and provides optimal performance
Easy to carry - compact & lightweight with built-in handle
Truepower - clean power for sensitive electronics. ItemWeight: 59.5 pounds
USB outlets and parallel ready - connect 2 units together for double the power

Quick Rundown Of Predator 3500
No products found.

Product Videos
Conclusion
In conclusion, it is time for you to decide which one is better suited for your family between Generac GP3000i vs Predator 3500. If you want a smaller generator because of having a small house, pick up the Generac item. Otherwise, we'd like to recommend you choose the Predator one as it is more portable, and has a higher working capacity. Good luck!