Does the fiery battle between Generac XT8000E VS GP8000E interest you? Which one is more qualified to be the victor. Check our comparison for a gratifying answer.
Differences Between Generac XT8000E and GP8000E
At first sight, you might think the Generac 6433 XT8000E and Generac 6954 GP8000E are basically the same, yet there are still minor differences that play a vital role in their performance afterward. Let's break it down now.
Products specs
Some detailing specifications below would help you a lot when it comes to purchasing the Generac generator
Image
Image
Image
Performance
Amazingly, both these compact yet powerful machines can run up to 9.5 hours per each 1/2 load, an incredible performance.
However, compared with the 8 gallons tank size of the Generac 6433 XT8000E, the Generac 6954 GP8000E is proved to be more economical as the lower 7.5 gallons can manage the same running time as the former.
What's more, when it comes to operating the device, the Generac 6954 GP8000E has shown its safety because of the support of the low THD (just <5%), much more harmless than the <20% THD in the Generac 6433 XT8000E.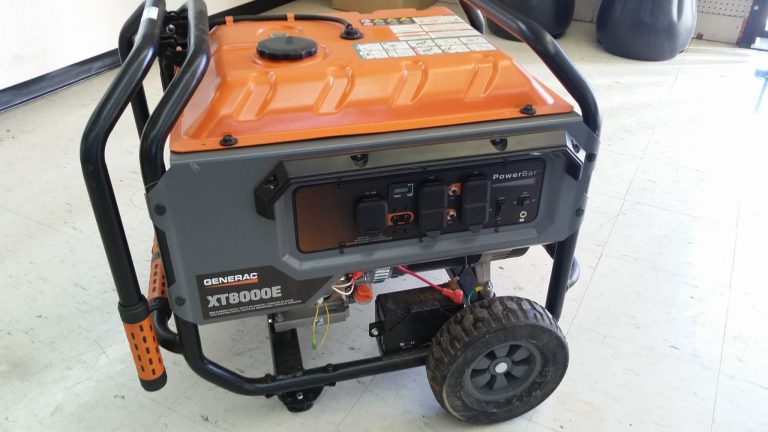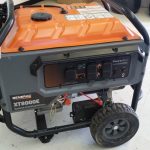 Portability
Manufactured from the same company, both of these share the same shape and size, thus none of them would take less space to store. Furthermore, these two power generators are uniquely designed with a wheel kit, which will greatly boost their maneuverability.
There is just one thing to notice, that the Generac 6954 GP8000E is slightly heavier than the Generac 6433 XT8000E (216 lbs compared with 197 lbs), which sometimes will make a difference.
Noise Level
When reaching max productivity, The Generac 6954 GP8000E is estimated to generate a noise going up to 70 dB. Considering its size, this sound is normal because it has to operate a complicated engine inside.
However, 70 dB is not often resident-friendly, and we recommend you only use it on a nature park campsite or construction section.
If you are noise-serious, you can consider buying the Generac 6433 XT8000E as it is calculated to create under 60 dB, which won't bother your neighbors.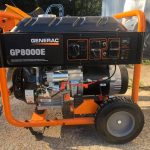 Feature Comparison
Both devices can be started via either a pull-start mechanism or an electric starter
At low fuel levels, both automatically shut off to protect the engine against damage.
Generac XT8000E VS GP8000E provides 5 AC sockets.
Each of these generators is equipped with a data center that allows you to monitor the power output and a fuel meter.
Quick Rundown Of Generac XT8000E
Let's take a glance at the following outstanding features that make the Generac 6433 XT8000E to be one of Generac's pride.
Generac XT8000E Portable Generator
Single touch electric start provides hassle-free start-up, battery included
Idle control reduces noise and conserves fuel for extended run-times
Lighted power bar displays available power
Low-oil level shutdown automatically safeguards engine from damage
Hour meter tracks usage and monitors maintenance cycles
Pros:
Long engine life is ensured with the support of the Generac OHV technique
Equipped with the Idle Control creates noise mitigation and fuel conservation
A data center is provided to easily control the material and power levels
Durable outlets defend every environmental damage
Automatically shut down when the oil nearly reaches the bottom of the tank so that the engine can be protected from deteriorating
Cons:
High THD might be a concern
Doubtful fuel efficiency

Quick Rundown Of Generac GP8000E
The Generac 6954 GP8000E has always been sought-after by generator-conscious. So, what characteristics make it so valuable? Let's check it out now.
Generac GP8000E Portable Generator
Featuring power Rush advanced technology – delivers over 30% more starting capacity allowing you to do more with less
Dimensions: 27.2" W x 27" D x 26.5 H | Weight: 198 lb
10000 Starting Watts. 8000 Running Watts
Electric start Model for easy operation (Battery included)
Generac durable OHV engine with splash lubrication provides a long engine life
Pros:
Strong and sturdy steel frame enables convenient portability when moving considerably
Furnished with the Electronic Fuel Injection (EFI) system, which leads to wonderful working safety, low material consumption, and its start-up
A strong and enduring engine system reduces the maintenance cost and at the same time, promotes its stale ammunition stability and altitude adaptability
Low THD proportion ensures greater safety and reliability
With a gasoline-burning of at 50% load of 0,79 GP, this machine is fuel-saving than most of the other available power generator
Cons:
The smaller volume of the tank, which enable less fuel injected at a time
Kind of hard to use for beginners

Conclusion
We have come to the end of this not-so-long but quite informative article. We believe that you can wisely choose your power generator after viewing this Generac XT8000E VS GP8000E comparison.
Each machine has its strength and weakness, but we are in favor of The Generac 6954 GP8000E as it can meet all your demands and enable a stable power source.
How's about you? We hope that you can make a good decision and have a good time shopping. Thank you for reading!