If you search for a handy pressure washer for your cleaning projects, you must have the recommendation between Generac 7019 vs Simpson MSH3125-S. But it is not a piece of cake to pick up one because both of them are excellent products on the market.
For this reason, we have summarized the number of critical features so that you can consult and make the right decision at last. Do not hesitate and give this post a check.
Differences Between Generac 7019 and Simpson MSH3125
Image
The Winner (#1)
The Runner-up (#2)
The Winner (#1)
Image
The Runner-up (#2)
Image
Design Comparison
At first glance, you can quickly notice a significant difference in weight and design between Generac 7019 vs Simpson MSH3125-S.
Specifically, the 7019 gas pressure washer has a weight of 57 pounds and dimensions of 24.2 x 18.9 x 35.5 inches. Meanwhile, the MSH3125-S model weighs about 65 pounds, and its dimensions are 34.75 x 21 x 23.25 inches.
The washer from the brand Generac excels at the portability feature, which asks users little effort to move around wherever this machine is needed.
Power Comparison
When it comes to motor power, you need to consider carefully to ensure that the tool can tackle a wide variety of cleaning tasks.
Featuring a 196cc OHV engine, the Generac product generates a force of 3100 PSI and the flow rate of 2.4 gallons per minute (GPM), which leads to a high cleaning power of up to 7440. Rest assured that this tool has no compromise to deliver a superb cleaning service.
As for the Simpson MSH3125-S, the cleaning power is 8000, including the maximum PSI of up to 3200 at 2.5 GPM. Additionally, it is engineered with a superior Honda GC190 motor.
With such a robust and durable motor, this machine undoubtedly gives you an optimum cleaning performance of any filthy substances in your home or vehicle.
These two pressure washers are all much of a muchness. But we can conclude that the winner in this regard is the MSH3125-S unit.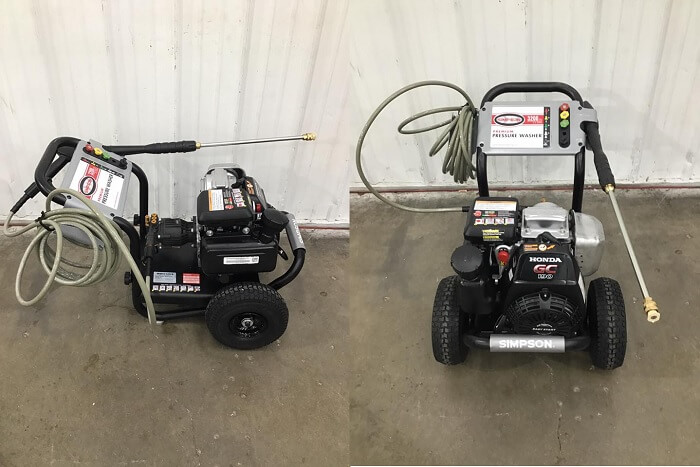 Feature Comparison
Generac 7019 Pressure Washer
Firstly, it must be mentioned that Generac 7019 has smartly designed its product with an onboard 0.5-gallon detergent tank to enhance cleaning productivity.
Moreover, an ergonomic spray gun and an integrated Power Dial system enable you to control the water pressure needed for different surfaces, including wood, concrete, and many others. Also, the mobility, regardless of any terrain, will be much more effortless thanks to its oversized never-flat tires.
Most notably, we highly praise the combination of the horizontal axial cam pump and easy-access hose connections. There is no need to kneel on the ground to attach a hose to the pump anymore. How convenient it is!
Buying a Generac 7019 often includes four quick-change nozzle tips, a 25-foot high-pressure hose, an onboard 0.5-gallon soap tank, and an ergonomic spray gun.
Simpson MSH3125 Pressure Washer
In terms of durability, Simpson has done a great job making the high-pressure hose of the MSH3125-S model flexible and abrasion-resistant. Plus, there is a threaded M22 connection to keep the hose in place while being used at full power. As a result, this tool perfectly fits even for heavy-duty projects.
Another highlight feature is the 10-inch premium pneumatic tires. They offer a four-ply construct for maneuvering the machine over rugged terrains with ease.
Besides, five standard quick-connect nozzles help to adjust the water flow and angle without any difficulty. The manufacturer has even paid more attention to the high-end performance by designing the maintenance-free axial cam pump with Powerboost Technology. Sounds wonderful, right?
This Simpson product includes five nozzle options, a 25-foot premium hose, an ergonomic spray gun, and a safety lock.
Quick Rundown Of Generac 7019
Generac 7019 Pressure Washer
Ergonomic spray gun with integrated Power Dial allows you to easily adjust the pressure needed between four different tasks - car, wood, concrete and soap - at your fingertips
Powerful horizontal axial cam pump delivers 3100 PSI for tough cleaning
Convenient on-board 1/2 gallon detergent tank for hassle free cleaning
Generac 196cc OHV engine delivers maximum cleaning performance
25 foot high pressure hose connects to the rear of the spray gun for maximum convenience
Pros:
An onboard detergent tank
User-friendly design
Lightweight and portable
Superb effectivity thanks to the axial cam pump
Power Dial system to adjust the water pressure effortlessly
Four quick-change nozzles
Cons:

Quick Rundown Of Simpson MSH3125
Simpson MSH3125 Pressure Washer
Honda GC190 Premium residential engine; Does Not Ship to California
Maintenance-free OEM Technologies axial cam pump
Note : Keep Maximum Fuel level 1/2 Inch(12. 7 mm) below bottom of filler neck to avoid fuel spillage
Welded Steel construction frame. Pump/Hose Connection: Threaded M22 connection
10'' Premium pneumatic wheels
Pros:
Easy to use
Transports over rugged terrains easily
Long-lasting hose
Versatile thanks to five nozzle options
Incredibly robust Honda engine
Cons:
Has no detergent tank
Cannot adjust the level of power

Conclusion
Both Generac 7019 vs Simpson MSH3125-S all have a variety of top-notch features that will indeed serve you well. But we highly appreciate the overall balance between power, mobility, the versatility of the Generac 7019.
What you need to do is to consider all the factors to see which tool suits your requirement more. Hopefully, you can make a lucid decision.