Regarding a good electric pressure washer, what will you choose between Stanley SHP2150 vs Sun Joe SPX3000? Read this article to discover the answer!
Differences Between Sun Joe SPX3500 and SPX4000
Image
The Winner (#1)
The Runner-up (#2)
The Winner (#1)
Image
The Runner-up (#2)
Image
Design Comparison
An electric pressure washer is utilized for several cleaning projects, from homes to cars, trucks, and so on. It means that you have to move this machine around. Therefore, you had better consider a lightweight model to opt for.
Stanley SHP2150 is constructed with a weight of 25.6 pounds and dimensions of 14.57 x 13.58 x 26.77 inches. Besides, Sun Joe SPX3000 weighs 31 pounds, and its dimensions are 15.6 x 13.5 x 33.9 inches.
Lighter than its opponent, the SHP2150 unit undeniably gives you higher portability and more convenience.
Power Comparison
Let's see which tool excels at engine power!
Stanley SHP2150 pressure washer up to 2150 PSI of maximum water pressure and pumps through 1.4 gallons per minute (GPM). Compared to the previous product, Sun Joe SPX3000 shows a noticeable difference. Specifically, it boasts up to 2030 PSI at 1.76 GPM for maximum power.
It can be concluded that the SPX3000 unit provides a much lower force to blast off hard dirt and grime, whereas its opponent delivers a noticeably lower maximum volume of water.
But when it comes to the overall cleaning efficiency, Sun Joe's product surely wins this game since it has a higher CPU (PSI x GPM). No doubt, it will give you the best outcome to deal with many tough tasks.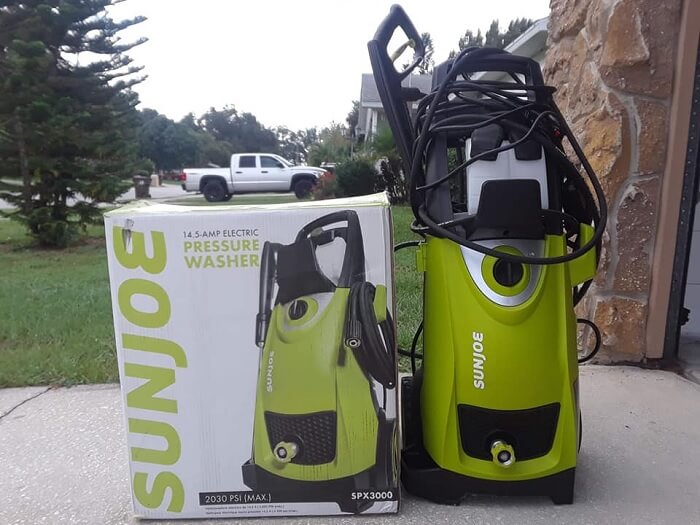 Feature Comparison
What makes SHP2150 brilliant is a foam cannon, which guarantees deeper cleaning by applying a thick coating of suds. Additionally, its detergent bottle doubles are specially designed as a high-pressure foamer. Hence, using this machine to loosen the deep-rooted stains is not a big deal at all.
Besides, it is highly praised for the leak-proof connections thanks to the brass garden hose connector. This tool primarily features a long hose and long power cord that can connect to power and reach far areas without any difficulty.
Purchasing this Stanley washer will receive a single tank, a foam cannon, four nozzles, a pressure washer gun and wand, a 35-foot power cord with an auto-reset GFCI module, a 25-foot high-pressure hose, brass garden hose adapter, and an o-ring replacement kit.
Meanwhile, Sun Joe has designed this SPX3000 with dual 0.9L onboard soap tanks to load them with different types of soap for particular cleaning projects.
Most notably, this machine can take in the warm water of up to 104°F, contributing to the cleaning ability to every dirt and grime. Also, this product comes with five quick-connect nozzles to give you enough cleaning power when it comes to the disturbing dirt.
Furthermore, Sun Joe SPX3000 is applied to the Total Stop System technology to make the pump shut off automatically for energy efficiency and longer pump life.
When you buy this tool, the accompanying accessories consist of two 0.9L removable soap tanks, five quick-connect spray tips, a 20-foot high-pressure hose, a 34-inch extension wand, a 35-foot power cord with GFCI protection, a garden hose adapter, and a needle clean-out tool.
Quick Rundown Of Stanley SHP2150
Sale
Stanley SHP2150 Pressure Washer
HIGH PRESSURE FOAMER INCLUDED: The specially designed detergent bottle doubles as a high pressure foamer to get tough stuff loose or remove deep-down stains.
POWERFUL CLEANING FORCE: Perfect for siding, decks, cement, pavement, pools, outdoor furniture, cars, trucks, RVs, ATVs, garbage cans, animal cages and more.
LEAKPROOF CONNECTIONS: Professional grade brass garden hose connector and 22mm connections. The connection of choice for professional level accessories.
ATTACHMENTS FOR MOST COMMON PROJECTS: Pressure washer gun, pressure washer wand, 25 foot high pressure hose, foam cannon/detergent tank, 4 quick connect nozzles and o-ring replacement kit.
Pros:
Lightweight design
Provides deep cleaning thanks to a high-pressure foamer and foam cannon
Long power cord and hose
Leak-proof connections
Telescoping handle
Cons:
Only has a single tank on board
Four quick-connect nozzles

Quick Rundown Of Sun Joe SPX3000
Sale
Sun Joe SPX3000 Pressure Washer
Questions, Text 563563 to chat directly with a Sun Joe expert
POWERFUL: 14.5-Amp/1800-watt motor generates up to 2030 PSI (at initial discharge per CSA internal pressure testing) and 1.76 GPM (with nozzle open at minimum pressure) of water flow
VERSATILE: Tackle a variety of cleaning tasks: homes, buildings, RV's, cars, trucks, boats, decks, driveways, patios, lawn equipment, and more. With two 0.9 L onboard detergent tanks, removable tanks carry and store different types of detergent to simultaneously tackle different cleaning projects.
TSS (Total Stop System): Automatically shuts off pump when trigger is not engaged to save energy and prolong pump life.
Max PSI at initial discharge per CSA internal pressure testing. Max GPM with nozzle open at minimum pressure.
Pros:
Provides a better overall cleaning power
Two soap tanks for versatility
Five quick-connect spray tips
Can take in the warm water
Features Total Stop System
Cons:
Lacks hose reel for storage
Heavier than its opponent

Wrapping Up
It is not an exaggeration to say that you will benefit much from picking up a handy electric pressure washer. And Stanley SHP2150 vs Sun Joe SPX3000 are all excellent candidates for you to consider. But in our opinion, the SPX3000 unit is much more outstanding.
Hopefully, our article above is of a great reference so that you can decide better. Let's choose one and join hands with cleaning tasks immediately.