Generac GP3000I and Honda EU3000iS: Which portable generator is the better option for you? Still, have no idea? Let's scroll down to find the answer!
Differences Between Generac GP3000I and Honda EU3000iS
Below is a summary of the specifications:
Image
The Winner (#1)
The Runner-up (#2)
Size
25.9 x 17.6 x 22.0 inches
22.2 x 13.3 x 18.4 inches
The Winner (#1)
Image
Size
25.9 x 17.6 x 22.0 inches
The Runner-up (#2)
Image
Size
22.2 x 13.3 x 18.4 inches
Power Comparison
Both Generac GP3000i and Honda EU3000iS function with gasoline. Their engines are powerful enough to run many household appliances with the 149cc Generac OHV 4-stroke and 196cc Honda GX200 OHV 4-stroke, respectively.
Honda's model is slightly better than its competitor in terms of power as it can run at 2800 Watts, 500 Watts higher than the Generac GP3000i. Besides, both can deliver a maximum of 3000 Watts – a superior power compared with other models.
You may care about the noise level when buying a machine. Fortunately, those 3000-watt generators can operate quietly. The Honda EU3000iS create around 50 dBA noise level, which is 16 dBA lower than the Generac GP3000i.
With a 3,4-gallon fuel tank capacity, the Honda EU3000iS triples that for the Generac GP3000i (1,06-gallon). Besides, the EU3000iS has a longer runtime than its competitor as it provides up to 20 hours when fully charged, while the other operates within 5.8 hours.
The two generators offer a less-than-3% THD lever, so they are suitable for sensitive electronic devices.
The difference between the energy consumption levels of the two generators is not noticeable as both are approximately 0.18 GPH.
Design Comparison
With a 2.2 x 13.3 x 18.4 inches size, the Generac GP3000i is more compact than the Honda EU3000iS, which is 25.9 x 17.6 x 22 inches.
Furthermore, the Honda EU3000iS weighs 131 pounds, double heavier than the Generac GP3000i of 59.5 pounds. So the latter appears much more solid than the former.
Because of its heavyweight, Honda's product has two carrying handles for at least two people to move it. Meanwhile, the Generac's design is easy to carry with a built-in handle.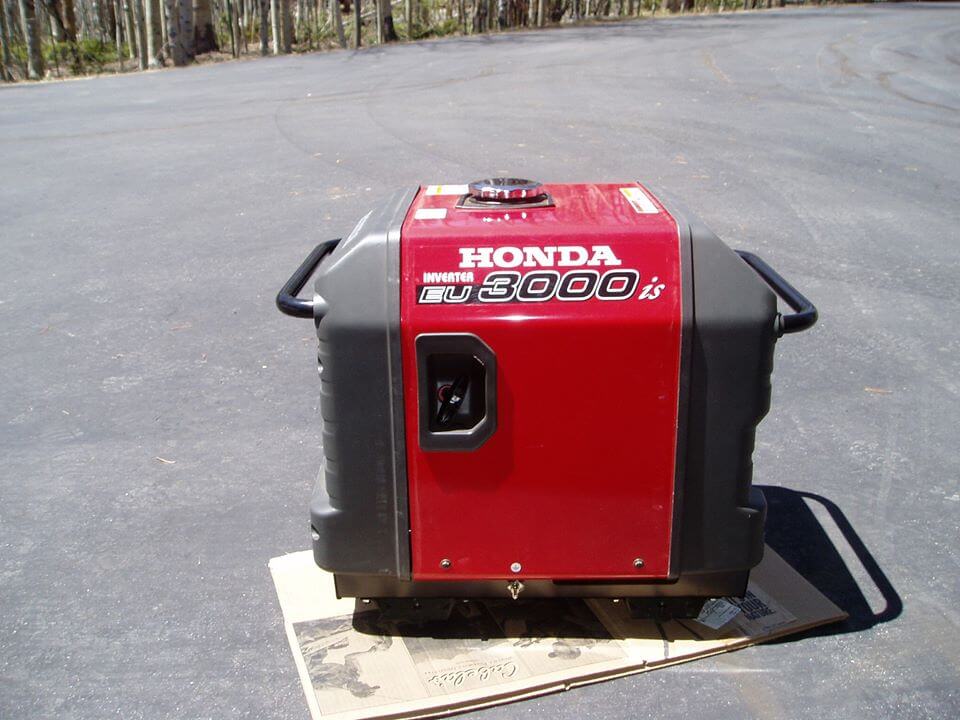 Features Comparison
Both Generac GP3000i Vs Honda EU3000is use manual recoil. However, Honda also provides an electric start for its product.
Regarding the outlets, two models all offer three AC outlets. But the Generac also provides two extra DC outlets for GP3000i.
Some features that may make users feel disappointed are the lack of a fuel filtration system and central control in these engines. Without these utilities, you can not know the details of fuel level and how to stop the generator in case of emergencies themselves.
Quick Rundown Of Generac GP3000I
[i2pc show_title="false" title="Pros & Cons" show_button="false" pros_title="Pros" cons_title="Cons" ][i2pros]Compact size and lightweight
Clean and strong power
Fit for a variety of uses[/i2pros][i2cons]Do not include common accessories [/i2cons][/i2pc]

---
Quick Rundown Of Honda EU3000iS
Super quiet
Fuel efficiency
Both traditional and electricity start
Longer runtime[/i2pros][i2cons]Lack fuel filtration system
Cumbersome[/i2cons][/i2pc]

---
Product Videos
---
Conclusion
After this comparison on "Generac GP3000I Vs Honda EU3000iS", we can see that the Honda EU3000iS will be the best choice. More specifically, it has a modern design, longer running time, fuel-efficient and low noise level.
However, If you want to choose a lightweight generator for small appliances at a more affordable price, the Generac GP3000I is also a good option. We hope that you can know more about those products and choose the best suited for your house.