Generac GP5500 Vs GP6500, the fight of two power generators from the same manufacturer, is indeed fiery as they both deliver exceptional features and functions. If you are interested in this burning battlefield but don't know where to start, our post would save you a great deal of time as all the information is explicitly noted.
Quickly dig in this article to find your satisfactory declaration of the winner.
Similarities between Generac GP5500 and GP6500
As both these two machines are manufactured from the Generac company, they bear a lot of resemblances. Here's what to notice.
The same dimensions with both feature 28.75 x 26.75 x 25 inches in length x width x height, respectively.
The tank capacity is both designed to reach 7.2 gallons.
Running time is all estimated to go up to 10 hours at 1/2 load.
Both tools can get operated through a conventional pull-start mechanism.
Differences Between Generac GP5500 Vs GP6500
There might be some similarities between the Generac GP5500 Vs GP6500, yet I believe that the differences are the main factors deciding the two's effectiveness.
Product Specs
Image
Best Choice
Best Choice
Image
Performance
The Generac 5940 GP6500 is the latter model of Generac firm, hence it is installed with more advanced technology.
Equipped with a running wattage of 6500, the Generac 5940 GP6500 can power more gadgets and appliances than its opponent.
Furthermore, the Generac 5940 GP6500 though has to give an additional boost to enable the motor running, it can still maintain the generation stable. Surprisingly, right? Let me explain, the starting watts of the Generac 5940 GP6500 goes up to 8125, which can produce a power source for 11 hours continuously.
However, the Generac 5939 is still proven to be more fuel-efficient when it can reach 20 hours running time when operating at 25% load work.
Portability
Both of these models benefit from two front wheels and are designed with identical sizes. Thus, none of which would take less space to store.
However, the Generac 5940 GP6500 does take a point when weighing 6 kg lighter. This will make the transfer more accessible and convenient.
On the contrary, the Generac 5939 GP500 is shown to be more durable and stable when suffering from damage as a result of its heaviness.
Price
There is a noteworthy cost disparity between the Generac 5939 GP5500 and the Generac 5940 GP6500, but it is understandable for a running power distinction of 1000 watts.
If you are finding a budget option and can maintain less power, go for a size down from the Generac 5940 GP6500, as the Generac 5939 GP5500 can also satisfy your need when it comes to smaller-scale work.
Quick Rundown Of Generac 5939 GP5500
No products found.
Pros:
Appreciable noise level at only 74 dB
Simple to use and beginners-friendly
Admirable maneuverability for frequent transport
Affordable for those wish a housing-scale generator
Simple handling and deliver clean power
Cons:
Limited information obtained from the control panel, which makes the motoring more difficult
Lack of a DC outlet, which prevents you from connecting the machine to a battery

Quick Rundown Of Generac 5940 GP6500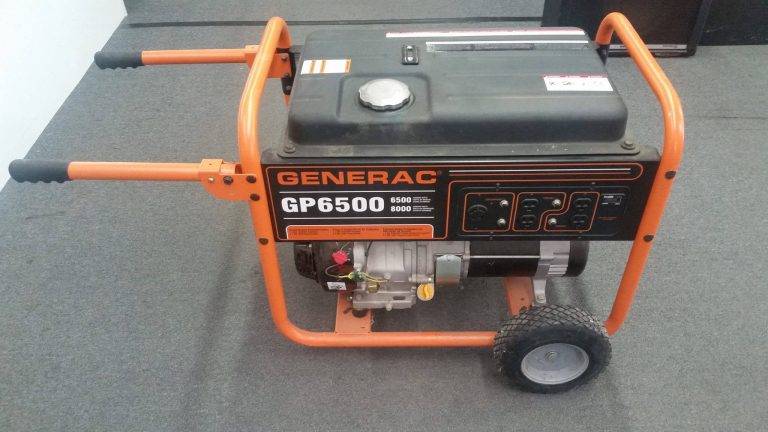 Generac 5940 GP6500
Reliable Power on the Go: Provides a dependable and portable power solution for home, camping, and outdoor activities.Wheel Type : 9.5" Solid Wheels.
Quiet Operation: Enjoy peace and quiet with the quiet-running design for powering devices without disturbing surroundings
Dual Fuel Capability: Runs on gasoline and gasolina, offering flexibility and convenience in fuel options
Compact and Portable: Small and mini design for easy transportation, ideal for camping, RV trips, and on-the-go power needs
Easy to Start and Use: Electric start for effortless starting, user-friendly interface and intuitive controls for easy operation
Pros:
Remarkable running and surge wattage
Safety appreciated, with the guarantee of connected devices' protection
Stable base permits endurance when placing on various surfaces
Fuel efficient
Noticeably versatile
Cons:
Kind of pricey
Cramped portability

Conclusion
Not everything is perfect, but the almost perfect power generators are definitely the Generac GP5500 Vs GP6500. Both these tools are assured to bring you great experience and value of work.
However, if I have to choose one, the Generac 5940 GP6500 is definitely my choice as it provides me with more functions and benefits.
I hope that my Generac GP5500 Vs GP6500 Comparison would help you find your proper generator.