Honda EB5000 and EB6500: Which portable generator is the better option for you? Still, have no idea? Let's scroll down to find the answer!
Differences Between Honda EB5000 and EB6500
Below is a summary of the specifications
Image
The Winner (#1)
The Runner-up (#2)
Size
22.3 x 13.25 x 19.8 inches
The Winner (#1)
Image
Size
22.3 x 13.25 x 19.8 inches
The Runner-up (#2)
Image
Power Comparison
The Honda EB5000 and Honda EB6500 are equipped with a 389 cc Honda iGX390 OHV 4-stroke motor that runs on gas. They're characterized by the Intelligent Automatic Voltage Regulation technology, meaning they're pretty versatile and commercial in their use.
The generators' names reflect their capacities quite well: The Honda EB5000 produces a maximum wattage of 5000W (500W more than its average wattage). Its successor can pump out 1000W over the typical loadout to produce a max wattage of 6500W.
Considering that both generators have the same fuel tank of 6,2 gallons, the difference in energy output is certainly impressive.
This makes EB6500 powerful enough to give power to enough household appliances for survival if normal electricity supply lines are interrupted. Despite both generators utilizing the traditional recoil starter, it's clear that Honda EB6500 offers way more in dire and demanding situations.
There is one category where EB6500 loses to its predecessor: run time. If you charge the latter generator model fully and have it run with 50% capacity, it will last 9,8 hours. If you put the EB5500 through the same test of ability, it can go on for up to 10,5 hours.
To compare the Honda EB5000 and EB6500 further, we might have to take a look at the THD put-out of both generators. The THD on a generator like an EB5000 is less than 10% since it's using a rotor-stator system. That gives Honda EB6500 a major leg-up in this category since it can put out more than 10% on a typical day of work.
The two generators have different degrees of fuel consumption, giving one model a great advantage over the other. Honda EB5000 only consumes 0,59 liquid gallons for every hour of its runtime, while the more powerful EB6500 has that number pumped up to 0,63 GHP. You can see the fuel-power tradeoff in the generators' measurements.
We also would like to remind you all to avoid revving up the engine of both these generator models during night hours. The two devices can emit 63-64 dBA (with Honda EB6500 being on the louder side), which can disturb quite a lot of people in their resting time.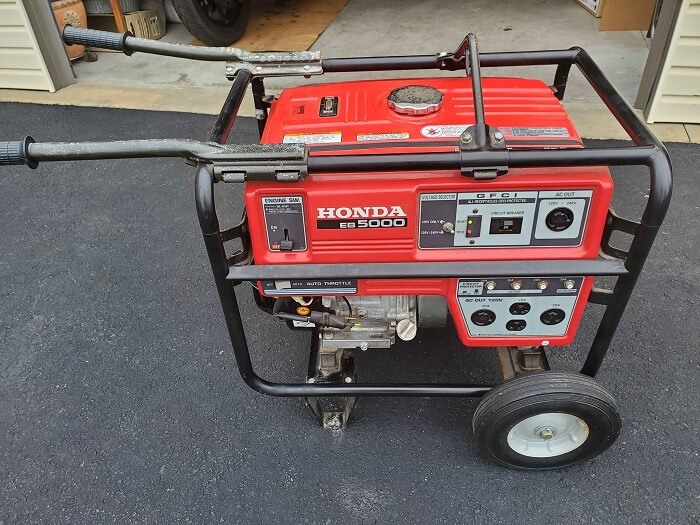 Design Comparison
To go further into this Honda EB5000 VS EB6500 comparison, we must discuss their sizes and design. Honda EB5000 length, width, and height rounds to 22.3 x 13.25 x 19.8 inches, while the EB6500's dimensions are slightly bulkier, being 48 x 48 x 48 inches in size.
These are both relatively standard dimensions for industrial and home use – not too space-economical and not too space-consuming as well.
As for weight, the Honda EB6500 weighs a good 6 pounds more than the generator model that comes before it. Considering that Honda EB5000's weight is around 256 pounds, it's great that both models have handles and wheels to assist with portability.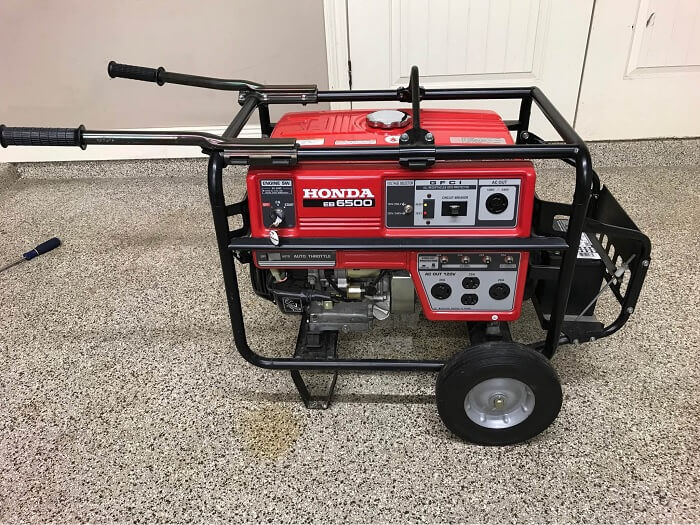 Features Comparison
Both the Honda EB5000 VS EB6500 is started using a recoil cord, which is a relatively traditional and simple method of starting a generator. This allows for easy control and start, making the generator models easy to use for everyone encountering them. The two models do not have remote starters or control.
Each aforementioned generator also allows up to six alternate current outlets, letting them provide energy for a generous amount of appliances.
Thanks to the great display of stats on the side of each generator, you can check for yourself which will suit your use more before you even use it.
To conclude this Honda EB5000 and EB6500 comparison article, we've compiled a quick rundown of each product for you to get a clear gist of their use and features.
Quick Rundown Of Honda EB5000
Long and sustained run time
Provides for a decent amount and variety of appliances
Support portability with wheels and long handles.[/i2pros][i2cons]Not fit for burst output[/i2cons][/i2pc]

Quick Rundown Of Honda EB6500
Favor short bursts of use
Decent sustained run time
Provides for a decent amount and variety of appliances[/i2pros][i2cons]Quite consuming for such a short run time
Does not have long handles to support portability[/i2cons][/i2pc]

Product Videos
Conclusion
Both generators in this Honda EB5000 VS EB6500 are quick to adapt to virtually any commercial environment, but the difference is set in its use. If you think you'll move it quite a bit during your use and prefer a stable and sustained power output, you should go for Honda EB5000.
Vice versa, if you want a generator that sits in one place and pumps out powerful supply for any device you plug in, Honda EB6500 is the right one for you.
Overall, we do recommend the EB5000 for its robust motor and great, constant flow of supply!