A generator undeniably plays a crucial role in both daily lives and work. When it comes to some famous manufacturers, Honda is always on the list, which has made several excellent generators according to the users' demand. And Honda EU3000iS vs EU3000I are among them.
However, first-time users often find it challenging to differentiate between these two products. It's not worth worrying anymore. We are here to help you broaden your knowledge with the brief comparison below. Check it out!
Image
The Runner-up (#2)
The Runner-up (#2)
Image
Differences Between Honda EU3000iS VS EU3000I
Honda EU3000iS vs EU3000I – what actually sets them apart from each other? We will compare them in terms of weight, and utilities. Let's start.
Weight
All the Honda generators are lightweight and compact enough to carry anywhere? Don't you think so? But remember that there is still an exception. Honda EU3000iS And Honda EU3000I have a massive difference in terms of the weight.
Specifically, Honda EU3000iS is much heavier and bulkier than Honda EU3000I. In this case, a swivel wheel kit works well as a moving supporter. Meanwhile, the EU3000I item is regarded as the lightest product in the line of 3000-watt generators available on the market, which brings convenience while lifting.
Utilities
When it comes to fuel efficiency, these two products really stand out thanks to the exclusive Eco-Throttle system. However, due to the Eco-Throttle, the model Honda EU3000iS can run up to 20 hours on just one fuel tank depending on the load. It means that overnight usage doesn't matter at all. How amazing it is!
On top of that, it would be a big mistake if we do not mention the noiseless performance. In spite of the powerful engine of these 3000-watt generations, they also offer an undeniably quiet run, especially the Honda EU3000iS. For this reason, these items are always the priority for quiet-needed activities.
Besides, it is worth noticing that you may find the eu3000is model easier to start than the EU3000I one. The reason lies in the start button. The EU3000iS generation is equipped with an electric starter and a back-up recoil starter, whereas the other has only a recoil starting button.
Also, charging batteries is another distinction between Honda EU3000iS vs Honda EU3000I. The EU3000iS version comes with a 12-volt DC outlet, which enables you to plug in sensitive electronics.
Quick Rundown Of Honda EU3000IS
Pros:
Extended running time thanks to its large fuel tank
Feature excellent noise reduction, which performs at 49 to 58 dBA
Save fuel cost thanks to the Eco-Throttle
Have an oil alert for automatic shut down when the oil is run out
Cons:
Weigh 131 pounds, which is quite heavier to carry around
Lack of remote starter
Cannot connect to other EU models expect EU3000is
Expensive yet acceptable due to its prominent features

Quick Rundown Of Honda EU3000I.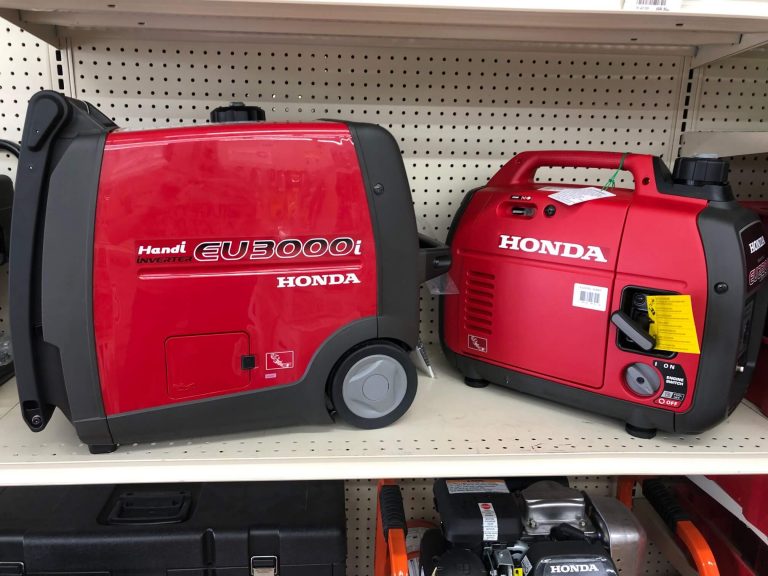 No products found.
Pros:
Have the most compact, lightweight design in the line of 3000-watt generators
Run quietly, operating at 57 to 65 dBA
Come with two handles and wheels to lift without difficulty
Cons:
Lack of electric start
No 12-volt DC outlet for charging outlet
Have a small fuel tank of 1.6 gallons, offering short running time
Quite expensive

Conclusion
We have clarified the distinctions between Honda EU3000iS vs EU3000I for your better understanding. Despite its same brand and a similar name, each product has its own plus and minus points that you should take into account.
We do hope that this article is useful to you so that you make the wiser decision for the ultimate usage of the generator.
Popular Alternatives Worth Considering: