Honda EG5000CL and EB5000: Which portable generator is the better option for you? Still, have no idea? Let's scroll down to find the answer!
Differences Between Honda EG5000CL and EB5000
Power Comparison
Though both EG5000CL and EB5000 are run by gasoline, Honda has equipped them with different engines. While the EG5000CL is built-in with a 389 cc Honda GX390 OHV 4-stroke engine, the EB5000 goes with the 389 cc Honda iGX390 OHV 4-stroke from the iGX series – an innovative version of GX. But its running ability is equivalent to the EG5000CLs.
In general mode, both Honda EG5000CL and EB5000 have a rated watt of 4500W and reach 5000W in the highest wattage mode. Although they share the same running watt, Honda E5000CL produces more noise than its rival (70dB compared with 63dB).
At a load of power at 50%, Honda EG5000CL can work straightforwardly for 11 hours with an energy-consuming level of 0.57 GPH. At the same working level, EB5000 runs 10.5 hours due to its consumption of 0.59 GPH.
The fuel tank's capacity of both generators is really equivalent to each other. EG5000CL can contain about 6.3 gallons of petrol while EB5000 carries 6.2 gallons.
It might be enough for complex parameters. Let's move on to the next exciting part: the differences between the design of both generators.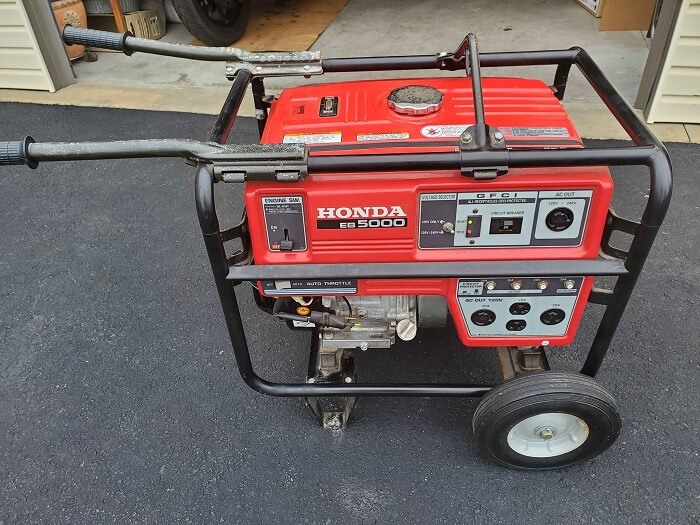 Design Comparison
According to the manufacturer, Honda EG5000CL measures 26.8″ x 22.8″ x 22.6″ with a weight of 190lbs. On the other hand, the EB5000 gets a dimension of 22.3 x 13.25 x 19.8 inches and a weight of up to 256lbs.
Hence, you can see ES5000CL is far more portable than its counterpart because of the discrepancy of nearly 83 lbs. And don't forget, these are merely the dry weight, which means without fuel inside.
To calculate the full-gasoline weight, remember this! A gallon equals 8.3 lbs. Then you can determine the weight of the whole generator before buying by our above information.
Noticeably, EB5000 has a built-in fold handle, standing leg, and two wheels. In comparison, EG5000L generators can be equipped with four wheels and a handle so that users can easily move them from place to place.
Features Comparison
Honda EB5000 and EG5000CL offer 6 AC plugs, which means we can merely charge them in some areas. Hence, if you are in the DC-plug country, you must have a converter to operate it.
Both Honda EB5000 and EG5000CL are traditional pulling generators. They generally start to operate after 1 to 3 strong pulls. Both are really friendly-user models for beginners who are not familiar with electric equipment.
Quick Rundown Of Honda EG5000CL

Quick Rundown Of Honda EB5000

Product Videos
Conclusion
Both Honda EG5000CL vs EB5000 is really the best steed in the portable generator range in the market. Originating from the most reliable brand with strong power and impressive features, both of them are worth taking into consideration.
If you have any questions about these favorite generators, let's write them down below. We'll appreciate your contribution.