Below I will compare the power, portability, and features of the Husqvarna ST224 and Ariens Compact 24
Difference between Husqvarna ST224 and Ariens Compact 24
Design Comparison
Are you wondering which one is lighter? Here are their dimension and weight put in the comparison relationship.
The first blower, Husqvarna ST224, has a 52.25 x 28.5 x 35 inches dimension and weighs 198.6 pounds. Meanwhile, its counterpart, Ariens Compact 24, measures 34 x 35 x 29 inches in size and 214 pounds in weight.
It is evident that Ariens Compact 24 is more compact but heavier than Husqvarna ST224. Therefore, in this round, it is quite hard to decide which is the winner.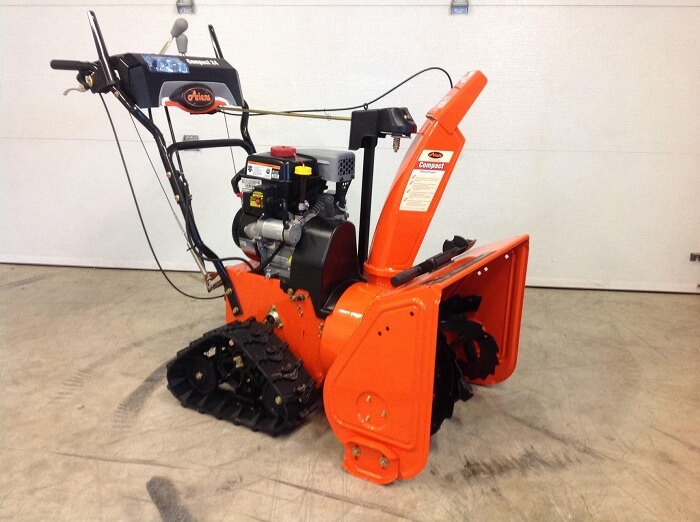 Power Comparison
First of all, both Husqvarna ST224 Vs Ariens Compact 24 have engine power in common with 208CC and 9.5 Foot/lbs of Gross Torque.
However, the clearing capacity of the two models is not the same. Incredibly, Husqvarna ST224 can clean snow at the width of 24 inches and 23 inches in height. Ariens Compact 24 is, in contrast, only packed with a clearing capacity of 24 x 20 inches.
Moreover, Husqvarna ST224 comes with a 12-inch steel auger with a 4-cycle engine type for more productivity and effectiveness. Possessing the same 4-cycle engine, but Ariens Compact 24 only has a steel auger with an auger diameter of 11 inches.
Besides, Husqvarna ST224 holds a self-propelled drive with six forward and one reverse speed. Still, Ariens Compact 24 is more outstanding with a similar self-propelled drive but a different number of reverse speeds, six forward and two reverse speeds for easy maneuvering.
Finally, Husqvarna ST224's remote chute rotation is 180 degrees, while the slight chute rotation of Ariens Compact 24 is stronger with 205 degrees. This means you can put snow accurately where you require it under working conditions.
To sum up, Husqvarna ST224's engine is more robust than Ariens Compact 24 in snow clearance. Therefore, Husqvarna ST224 scores in this round.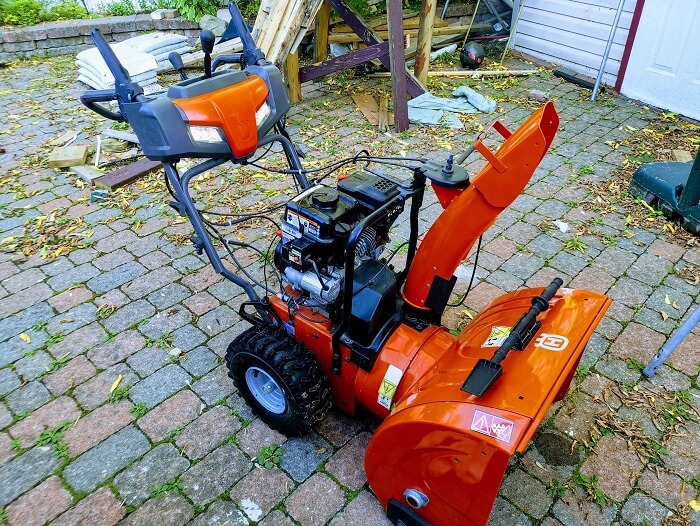 Features Comparison
Husqvarna ST224 wins a place in users' hearts because of the adjustable skid shoes. Thanks to this feature, ST224 works notwithstanding of surface variety.
In the meantime, Ariens Compact 24 is more prominent in terms of the headlight. With this light system on the head of the machine, you can use it even when in dark situations. It's so useful and convenient!
Quick Rundown Of Husqvarna ST224

Quick Rundown Of Ariens Compact 24

Conclusion
How to remove snow plies standing in front of your pathways and driveways? The answer is applying one of the two snowblowers between Husqvarna ST224 Vs Ariens Compact 24.
However, which one is better? It is dependable on your interest and purposes. If you want a more powerful snowblower, the right choice here is Husqvarna ST224. In the circumstance you want another more compact and easy-to-use, let's buy Ariens Compact 24.
We hope you have a great winter without any snow heaps locking your ways!