Below I will compare the power, portability, and features of the Husqvarna ST224P and ST227P
Difference between Husqvarna ST224P and ST227P
Design Comparison
The first model of Husqvarna, ST224P, measures 41.75 x 22.75 x 25.75 inches in size and 198.6 pounds in weight. Meanwhile, ST227P has a dimension of 52.25 x 31.5 x 35 inches and weighs 240 pounds.
As far as you can see, ST224P is impressively lighter than ST227P. Also, it has a more compact design than its counterpart, ST227P.
In addition, both are packed with remote chute deflectors, which help them control the vertical throwing direction with a lever on the panel to the direction that you need them to go.
In general, Husqvarna ST224P is the winner in this round for convenience in use.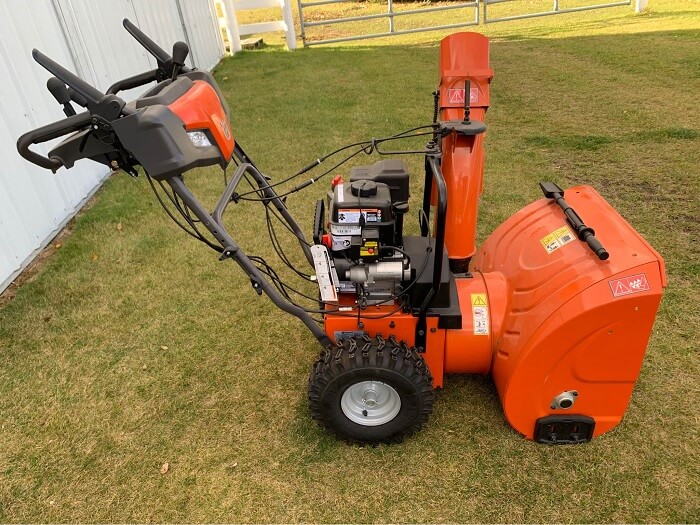 Power Comparison
When mentioning the engine power of two blowers, there are several specs that should be compared.
First, there is a considerable difference in the motor power of the two tools. Husqvarna ST224P is equipped with a cylinder displacement of 208cc.
On the contrary, ST227P is powered by a 254cc motor with infinite hydrostatic drive and has large tracks. This means you can move forward or backward, uphill or downhill, fast or slow, all with accurate control when using ST227P.
Also, their horsepower is not similar. For instance, Husqvarna ST224P owns the only 6.3HP, but ST227P is more impressive with a 7.5HP power.
The differences in motor power and horsepower cause a difference in Gross Torque. While ST224P holds 9.5 lb-ft, ST227P boasts 12.5 lb-ft gross torque to provide more energy.
Moreover, the working width of Husqvarna ST224P Vs ST227P is much more different. Specifically, ST224P is able to throw snow upwards of 24 inches. In the meantime, ST227P operates excellent for snow accumulations of 27 inches.
Overall, with the prominent innovations listed above, the engine conflict champion must be Husqvarna ST227P for sure.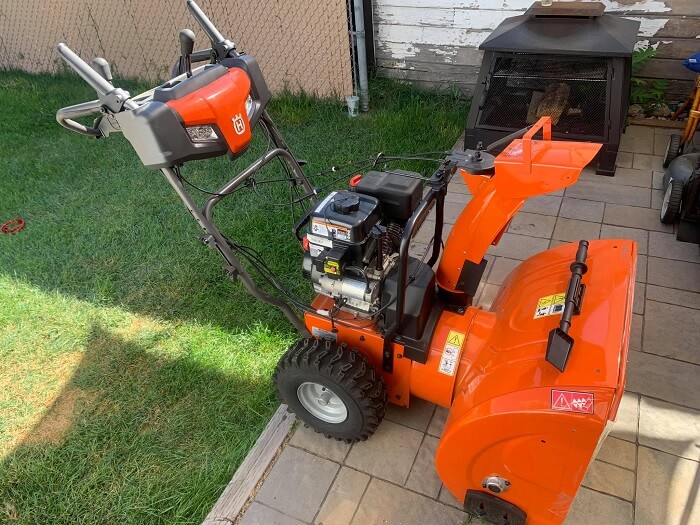 Features Comparison
The first unit, the Husqvarna ST224P, scores well for its reasonable sound levels when operating. For people who live in snow country, there is something peculiarly soothing about the sound of a snowblower in use, except at 3 AM. ST224P is approximately as loud as a regular lawnmower, so it should not disturb neighbors when clearing snows.
Meanwhile, although Husqvarna ST227P is more massive, it holds outstanding features that make it overwhelmed by the previous model. It is equipped with power steering. As a result, this convenient trigger control power steering enables higher maneuverability in adverse circumstances.
Quick Rundown Of Husqvarna ST224P
No products found.
[i2pc show_title="false" title="Pros & Cons" show_button="false" pros_title="Pros" cons_title="Cons" ][i2pros]Lightweight and compact than ST227P
Heated handle grips
Electric starter
LED headlights[/i2pros][i2cons]Slow reverse gear[/i2cons][/i2pc]

Quick Rundown Of Husqvarna ST227P
[i2pc show_title="false" title="Pros & Cons" show_button="false" pros_title="Pros" cons_title="Cons" ][i2pros]Heavy-duty auger
Electric start
Heated handle grips
Remote chute deflector
Blast through hard-packed snow
No more slipping and sliding
Get a smart start in cold weather[/i2pros][i2cons]Time-consuming to assemble[/i2cons][/i2pc]

Conclusion
This is the end of our comparison between Husqvarna ST224P Vs ST227P. Now you can certainly tell them apart from each other based on the distinct specs mentioned above.
If you are looking for a lightweight and compact snowblower, the right choice for you should be Husqvarna ST224P. When you need a more powerful and productive one, let's purchase Husqvarna ST227P.
We make sure that both of the two machines will meet your demands!