Below I will compare the power, portability, and features of the Husqvarna ST227P and Ariens Deluxe 28
Difference between Husqvarna ST227P and Ariens Deluxe 28
Design Comparison
Husqvarna ST227P measures 52.25 x 31.5 x 35 inches in dimension and 240 pounds. Meanwhile, Ariens Deluxe 28 has a dimension of 58.6 x 29.9 x 45.3 and weighs 249.8 pounds.
In general, Husqvarna ST227P is slightly more compact than its counterpart, Ariens Deluxe 28. In terms of heaviness, ST227P also wins because it is 10 pounds lighter than Deluxe 28.
Therefore, Husqvarna ST227P is obviously the winner in the convenience round.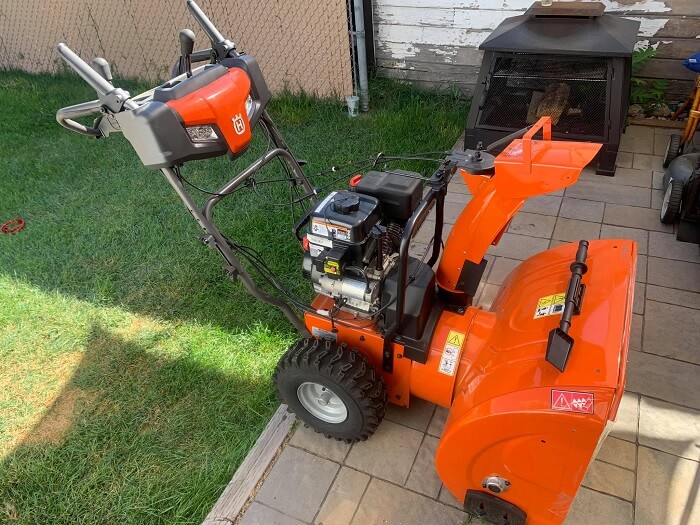 Power Comparison
Firstly, the two kinds of blowers are packed with cylinder displacement of 254CC, which extends the power and enforcement to deal with the severest winters and begins simply with the push of a button.
Moreover, the same cylinder displacement engine makes them have a Gross Torque of 12.5 foot/lbs.
However, each of these models has different clearing distances. Specifically, Husqvarna ST227P can remove snow accumulations up to 27 inches in width and 23 inches in height, while the clearing capacity of Ariens Deluxe 28 is 28 x 21 inches.
Besides, both Husqvarna ST227P and Ariens Deluxe 28 are designed as a 4-cycle engine with steel augers. However, the Auger Diameter of ST227P is only 12 inches, while Deluxe 28 boasts a 14-inch steel auger. This approved Ariens Deluxe 28 can help you to move fast and efficiently through snow compared to ST227P.
Plus, Husqvarna ST227P comes with a self-propelled drive with six forward and one reverse speed. By contrast, Ariens Deluxe 28 owns the same drive and number of forwarding speeds but possesses two reverse speeds, producing more accurate, smooth control and versatility in winter conditions.
Last but not least, there is a slight difference in Chute Rotation. Husqvarna ST227P comes with 180° rotation but Ariens Deluxe 28's crank chute control with 200° rotation, enabling you to set discharge management without pausing.
In short, Ariens Deluxe 28 is more prominent than Husqvarna ST227P with the characteristics listed above. Therefore, Ariens Deluxe 28is the winner in this round.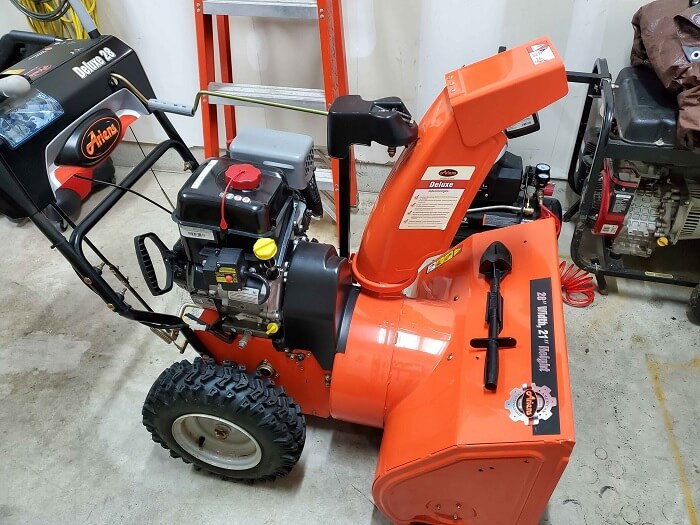 Features Comparison
Except for the features listed above, Husqvarna ST227P also holds one more outstanding specs. It is an electric starter, which means it connects to a power plug and commences the motor just by pressing a button. With this kind of starter system, you will never have to suffer from a dead battery.
Besides the above characteristics of  Ariens Deluxe 28, it is prominent with auto-turn steering. Therefore, it brings a zero-degree turning radius to snow throwing, delivering steady, accurate, even turns, and saving your time.
Quick Rundown Of Husqvarna ST227P
[i2pc show_title="false" title="Pros & Cons" show_button="false" pros_title="Pros" cons_title="Cons" ][i2pros]Heavy-duty auger
Electric start
Heated handle grips
Remote chute deflector
Blast through hard-packed snow
No more slipping and sliding
Get a smart start in cold weather[/i2pros][i2cons]Time-consuming to assemble[/i2cons][/i2pc]

Quick Rundown Of Ariens Deluxe 28
254Cc engine for better power and performance
14-In steel auger for moving fast and efficiently
Self-propelled drive
6 forward and 2 reverse speeds
Crank chute control with 200° rotation[/i2pros][i2cons]Heavy to move around
Time-consuming to assemble [/i2cons][/i2pc]

Conclusion
Have you found your snow solution for your winter between Husqvarna ST227P vs Ariens Deluxe 28 yet? We are sure that you have already discovered which snowblower is your beloved one.
If you just need a tool every member of your family can use, you should buy Husqvarna ST227P because it is lightweight and compact to move around.
However, in case you are a professional snow cleaner, it is better to own a powerful and productive tool like Ariens Deluxe 28.
Hope you unblock all obnoxious snow accumulations out of your way with one of the two snow blowers.