Karcher K2000 vs K5 come to the electric pressure washer market as the brand Karcher's excellent products. But which tool is superior? It is such a hassle to tell, especially when you are not knowledgeable enough about this field.
For this reason, we are here to broaden your knowledge with a thorough comparison and some pros and cons. Let's jump right into this post now!
Differences Between Karcher K2000 and K5
Image
The Winner (#1)
The Runner-up (#2)
The Winner (#1)
Image
The Runner-up (#2)
Image
Karcher K2000 Vs K5: Which Tool Is More Convenient?
The electric pressure washer is often more lightweight than other types out there. And both Karcher K2000 vs K5 are not an exception.
In more detail, the K2000 model comes with a weight of 25 pounds and dimensions of 18.25 x 22 x 35.5 inches. Meanwhile, its opponent has dimensions of 26.02 x 12.87 x 16.77 inches and weighs about 28.2 pounds, which is somewhat heavier.
You can rest assured that they are all easy to maneuver around. But if we have to choose, the K2000 washer will indeed deliver extra convenience.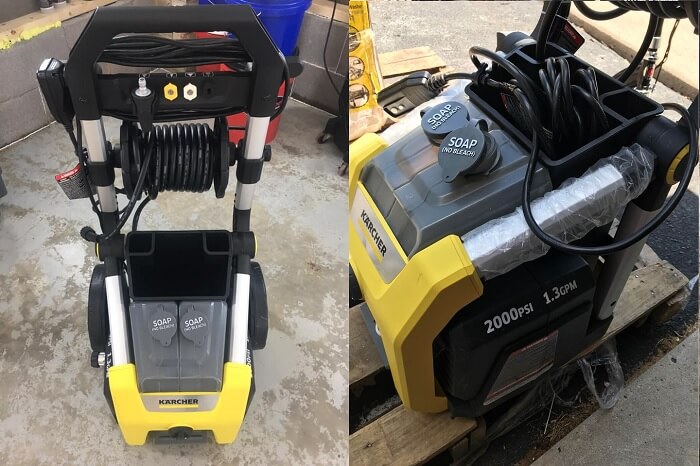 Motor Power
When it comes to engine power, both two Karcher products share a similarity. They are powered by up to 2000 PSI of the maximum attainable pressure.
But the K5 product is different from the other in terms of the water flow. Generating 1.4 gallons per minute (GPM), this Karcher K5 is relatively higher than up to 1.3 GPM of the other candidate in today's article.
As such, it can be affirmed that the K5 electric pressure washer promises to bring better efficiency to blast away any dirt and debris.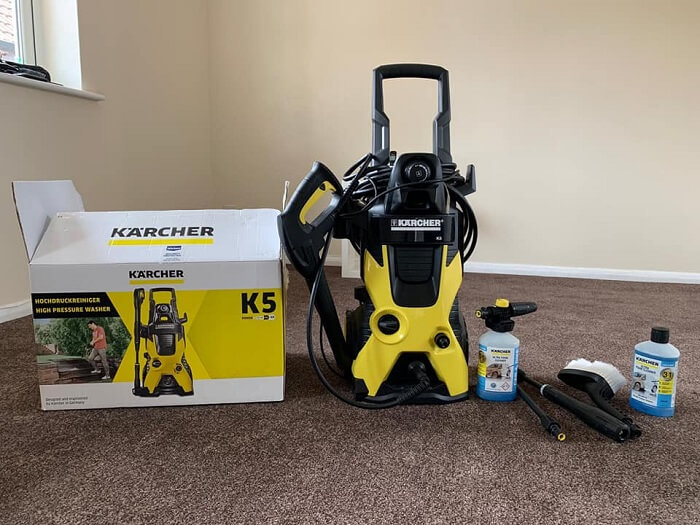 Stunning Features And Included Accessories
The first top-notch feature of Karcher K2000 must be four interchangeable nozzles. A wide range of different levels of pressure and control is available to handle even the most stubborn dirt.
It is not an exaggeration to say that Karcher has paid more attention to the ease of use. To be more specific, this K2000 unit provides a unique on/off button by storing the thermoplastic hose neatly after everything is completed.
In addition, a pressurized hose reel is also designed to add more convenience for usage and storage by storing the thermoplastic hose neatly after everything is completed.
Besides, with the help of an industry-standard M22 hose connection, you can effortlessly swap parts and get a secure fit. Primarily, many nozzles and hoses from other brands can be utilized with this tool.
It will most notably be a big mistake if we do not mention its dual detergent tanks and large storage bin.
The removable tanks can hold different soap types, and you will find it simple to switch between many tasks. On the other hand, the bin aims at keeping your accessories during your work.
The K2000 washer often accompanies dual detergent tanks, a wind-up hose reel, a 25-foot hose, a 35-foot electric cord with a GFCI plug, M22 hose connection, an ergonomic spray gun, wrap-around cord storage, and a large bin.
Karcher K2000 is excellent, but it does not mean that the K5 unit is treated as second fiddle.
This machine offers two spray wands, consisting of an adjustable Vario Power Spray wand and a high-pressure Dirtblaster spray wand.
You will benefit from the former while cleaning delicate surfaces that require low pressure. On the contrary, the latter is useful if you have to increase the pressure stream to deal with hard stains.
Besides, your motor lifespan is extended up to five times thanks to a water-cooled induction motor, which creates the water circulation to lower the temperature. Also, the durable and non-corrosive N-COR pump helps to prolong the lifespan.
Furthermore, this machine will surely meet their desire for those who do not want to disturb their neighborhood because it hardly makes noise during operation.
But what makes the K5 product indeed outperform other regular products out there is its ability to withstand the warm water of up to 104°F. No doubt, it dissolves such caked-on dirt without any difficulty.
Investing in the Karcher K5 will get an onboard detergent tank, N-COR pump, two unique spay wands, a 25-foot high-pressure hose, a 35-foot power cord with GFCI protection, and a built-in hose reel.
Quick Rundown Of Karcher K2000
Sale
Karcher K2000 Pressure Washer
Convenient Design: Designed for convenience, our electric power washer requires no tools to assemble and comes with 4 quick-connect nozzles including a turbo nozzle for intense cleaning
On/Off Foot Switch: Equipped with an on/off foot switch, our pressure washer surface cleaner is exceptionally easy to operate and delivers 2000 PSI of TruPressure cleaning power
Integrated Storage Bin: Our power washer surface cleaner features a built-in removable storage bin designed to neatly store all your pressure washer accessories
Onboard Detergent Tank: Our water pressure washer features 2 removable half-gallon tanks that allow for quick, easy, and convenient application of detergents

Quick Rundown Of Karcher K5
Karcher K5 Pressure Washer
Cleaner. Quicker.
2000 PSI, 1.4 GPM Electric Pressure Washer
25 foot high pressure hose
Vario Power Spray wand – easily adjust spray right from the wand
Dirtblaster spray wand – tackles the hardest jobs in half the time

---
Product Videos
---
The Bottom Line
Who wins in the battle between Karcher K2000 vs K5?
It is hard to determine as each tool has particular advantages that you cannot find in the other one. But Karcher K5 is always our favorite in terms of cleaning performance.