Have you ever heard of the drawn battle between Sun Joe SPX3000 vs Karcher K5? Coming from two trustworthy manufacturers of the pressure washer, both SPX3000 and K5 models share many things in common, including their ease of use and robust power to tackle light and medium-duty cleaning tasks.
That's why you might feel confused to choose which tool offers more value.
Do not worry because we are here to help you with our thorough comparison. Wait for no further and jump right into this post now!
Differences Between Sun Joe SPX3000 and Karcher K5
Image
The Winner (#1)
The Runner-up (#2)
The Winner (#1)
Image
The Runner-up (#2)
Image
Convenience
There is not much difference in the portability between the SPX3000 and K5 models.
Specifically, the SPX3000 unit has a weight of about 31 pounds and dimensions of 15.6 x 13.5 x 33.9 inches. Meanwhile, its opponent weighs 28.2 pounds, and its dimensions are 26.02 x 12.87 x 16.77 inches.
Although these two products come with different designs, they are all effortless to lift and carry around. However, if we have to choose a winner, Karcher K5 will have a little advantage.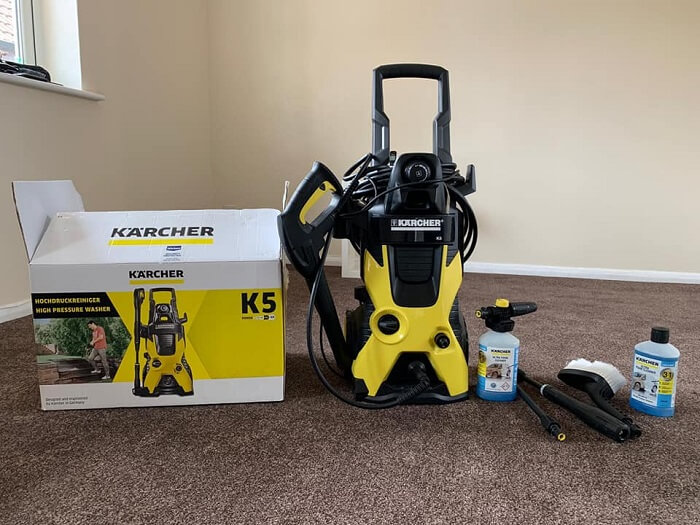 Engine Power
Engine power is not what you should look down on while picking up a handy electric pressure washer. The reason is that a powerful machine enables you to handle many tough cleaning projects. Luckily, these two options today surely live up to your expectation.
Regarding the maximum cleaning power, Sun Joe SPX3000 is powered by the water pressure of up to 2030 PSI and the water flow of 1.76 GPM. It is an incredibly robust machine to conduct several high-end cleaning performances of furniture, lawn equipment, vehicles, and more.
And Karcher K5 can boast 2000 PSI and 1.4 GPM, which are slightly lower than the previous candidate.
In conclusion, we agree that the SPX3000 pressure washer is superior in this regard.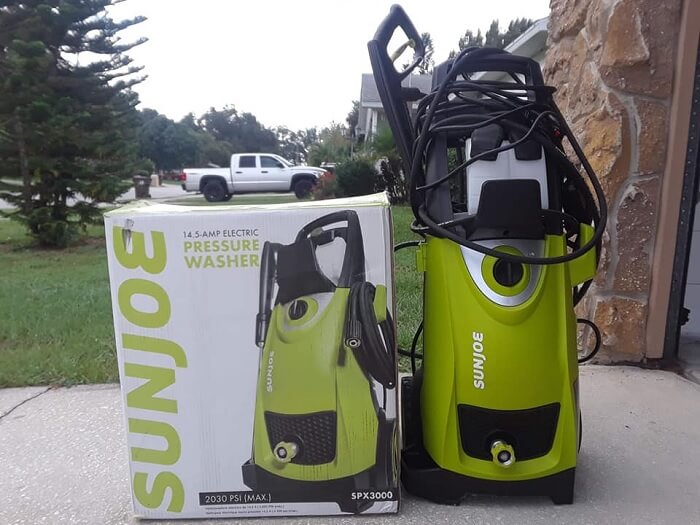 Stunning Features And Included Accessories
It must be mentioned that Sun Joe SPX3000 guarantees to serve you well with many worthy features.
And its versatility is among them. In more detail, this tool comes with dual onboard detergent tanks, allowing you to utilize various types of soap for different cleaning surfaces. Ultimately, you will save more time on your projects as well.
Furthermore, five quick-connect nozzles included in this machine deliver several levels of pressure to tackle your jobs without any hassle.
Another brilliant feature of the Sun Joe product is its ability to use warm water with a maximum temperature of 104°F to dissolve stains effectively. Notably, it is also designed with a Total Stop System for energy efficiency and a longer lifespan.
While buying this tool, you will receive a garden hose adapter, two removable soap tanks, five quick-connect spray tips, a 35-foot GFCI protection power cord, a needle clean-out tool, a 34-inch extension wand, and a 20-foot high-pressure hose.
However, do not make a mistake that Karcher K5 is weaker.
It is worth mentioning that this unit is equipped with a water-cooled induction motor. The temperature is lowered during operation thanks to the water circulation.
For this reason, the lifespan of this motor is prolonged up to five times compared to the usual. And the patented N-COR pump also contributes significantly to the lifespan due to its durability, non-corrosiveness.
Similar to its opponent, the K5 is able to tolerate up to 104°F of warm water to dissolve caked-on dirt and grime. Additionally, it is claimed to be quieter than other gas pressure washers out there.
Besides, this Karcher washer features two different wands, including an adjustable Vario Power Spray wand and a high-pressure Dirtblaster spray wand.
The former provides you with a switch to adjust the various pressures for usual usage. And the latter helps to increase the pressure stream to handle the most stubborn stains.
Karcher K5 is accompanied by an onboard detergent tank, a 25-foot high-pressure hose, two unique spay wands, an N-COR pump, a 35-foot GFCI protection power cord, and a built-in hose reel.
Quick Rundown Of Sun Joe SPX3000
Sale
Sun Joe SPX3000 Pressure Washer
Questions, Text 563563 to chat directly with a Sun Joe expert
POWERFUL: 14.5-Amp/1800-watt motor generates up to 2030 PSI (at initial discharge per CSA internal pressure testing) and 1.76 GPM (with nozzle open at minimum pressure) of water flow
VERSATILE: Tackle a variety of cleaning tasks: homes, buildings, RV's, cars, trucks, boats, decks, driveways, patios, lawn equipment, and more. With two 0.9 L onboard detergent tanks, removable tanks carry and store different types of detergent to simultaneously tackle different cleaning projects.
TSS (Total Stop System): Automatically shuts off pump when trigger is not engaged to save energy and prolong pump life.
Max PSI at initial discharge per CSA internal pressure testing. Max GPM with nozzle open at minimum pressure.

Quick Rundown Of Karcher K5
Karcher K5 Pressure Washer
Cleaner. Quicker.
2000 PSI, 1.4 GPM Electric Pressure Washer
25 foot high pressure hose
Vario Power Spray wand – easily adjust spray right from the wand
Dirtblaster spray wand – tackles the hardest jobs in half the time

---
Product Videos
---
Wrapping Up
Coming to the market at different price ranges, both Sun Joe SPX3000 vs Karcher K5 have many different key features that catch users' attention.
We prefer the SPX3000 model because of its robust motor and versatility.
However, it is up to your preference to determine which tool suits your needs more. We hope you can make the right decision.