The pressure washer is of great assistance when it comes to routine cleaning tasks. One of the famous brands that must be included on the list is Sun Joe, and there are two top-notch products, including Sun Joe SPX2598 vs SPX3000.
Their drawn battle, however, confuses customers because each machine has a couple of advantages. Who wins? Who loses? Let's take a look at our in-depth review to find out the answer.
Differences Between Sun Joe SPX2598 and SPX3000
Image
The Winner (#1)
The Runner-up (#2)
The Winner (#1)
Image
The Runner-up (#2)
Image
Design
Which feature will users pay attention to first when considering a good pressure washer? Well, it must be the compact build and portability. At first glance, you can totally notice a significant difference between these two products.
Sun Joe SPX2598 comes with dimensions of 13.78 x 12.64 x 19.69 inches and a weight of 16.8 pounds. It cannot be denied that this tool is quite lightweight and compact.
On the other hand, the SPX3000 unit weighs up to 31 pounds, and its dimensions are 15.6 x 13.5 x 33.9 inches.
As a result, we can conclude that Sun Joe SPX2598 brings more convenience to you while transporting. With minimal effort, you can move it around your working area without breaking a sweat.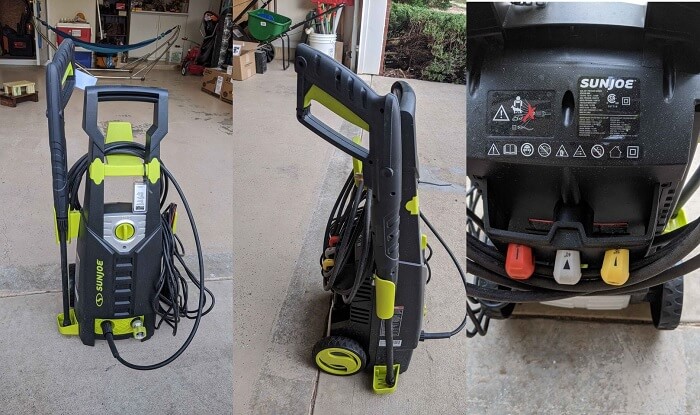 Motor Power
Regarding motor power, both of these pressure washers show a big gap, but they all can tackle light to medium-duty cleaning tasks. Every stubborn bit of gunk, grease, or dirt will be demolished without a hassle.
Specifically, the SPX2598 electric pressure washer boasts up to 2000 PSI of maximum cleaning power and 1.65 gallons per minute. Besides, the cleaning power of its opponent, the SPX3000 unit, includes 2030 PSI of water pressure and 1.76 gallons per minute of water flow.
Obviously, Sun Joe SPX3000 is the winner in this battle. It performs well in cleaning garden pathways, decking, garage floors, driveways, and so on.
Stunning Features And Included Accessories
Apart from lightweight design and portability, Sun Joe SPX2598 features extra maneuverability thanks to easy-glide wheels. What is more, it is designed with an adjustable twist nozzle spray wand to control the water pressure with ease.
This product is accompanied by a 20-foot hose with high pressure, a garden hose adapter, a 34-inch extension wand, a 35-foot GFCI protection power cord, three quick-connect nozzles, as well as needle clean-out tool.
Do not decide soon. Perhaps its opponent is more outstanding than you can imagine. Scroll down!
Sun Joe has added five quick-connect spray nozzles to the SPX3000 unit so that you are capable of selecting the size based on your project requirement. Primarily, this machine can dissolve hard dirt and grime thanks to its ability to withstand the warm water of up to 104°F.
Besides, if you expect a versatile electric pressure washer, the SPX3000 product will live up to your expectation. It is equipped with dual 0.9 liter onboard detergent tanks, which can be filled with different detergent types to conduct a variety of cleaning tasks, from buildings, homes to cars, trucks, and boats.
Like the previous washer, you shall receive a needle clean-out tool, a 20-foot high-pressure hose, a 34-inch extension wand, a garden hose adapter, 35 feet of the GFCI protection power cord, five quick-connect spray tips, and even two 0.9 liters removable detergent tanks along with SPX3000 unit.
Quick Rundown Of Sun Joe SPX2598
Sun Joe SPX2598 Pressure Washer
POWERFUL: 14.5-Amp motor
TSS (Total Stop System) Technology: Automatically shuts off pump when trigger is not engaged to save energy and prolong pump life.
ADJUSTABLE PRESSURE: Adjustable spray wand with twist nozzle easily controls water pressure to tackle a variety of cleaning tasks
DETERGENT TANK: Fill the 33.8 fl oz. Onboard tank with your detergent of choice for maximum cleaning power.Water inlet pressure (Max): 0.7 mpa
Pros:
Total Stop System trigger to shut off the pump automatically
Easy-glide wheels
Lightweight enough to transport around effortlessly
Affordable price
Cons:
Not powerful enough for the heavy-duty cleaning task
Only has three quick-connect spray nozzles

---
Quick Rundown Of Sun Joe SPX3000
Sale
Sun Joe SPX3000 Pressure Washer Review
[POWERFUL]: 14.5-Amp/1800-watt motor generates.Pump Type : Wobble-Plate Piston. Voltage (V) : 120..Cord Lock : Yes. Foldable Handle : No
[VERSATILE]: Tackle a variety of cleaning tasks: homes, buildings, RV's, cars, trucks, boats, decks, driveways, patios, lawn equipment, and more. With two 0.9 L onboard detergent tanks, removable tanks carry and store different types of detergent to simultaneously tackle different cleaning projects.
[TSS (Total Stop System)]: Automatically shuts off pump when trigger is not engaged to save energy and prolong pump life.
[NOTE]: To ensure a fully functioning washer, please make sure all hoses and cleaner connections are properly and securely fastened.
Pros:
Offers the Total Stop System that saves energy and extends pump life
Versatile enough thanks to two large onboard detergent tanks
Five quick-connect spray tips
Takes in the warm water
Cons:
Quite heavy for transportation
A little bit pricey

---
Product Videos
The Bottom Line
It cannot be denied that Sun Joe SPX2598 vs SPX3000 all impress the customer's thanks to lots of excellent features. It is such a splitting headache to determine which tool is better.
We highly praise the top-notch SPX3000 product with its robust engine, versatility, and safety.
However, choosing which one is depending on your demand and budget. Hopefully, our article will help you a lot. Good luck with your option!