Further down the page, you'll find some explanations regarding the key similarities and differences between the NordicTrack EXP 7i and the ProForm Pro 2000.
Specs Comparison
The motor in the ProForm Pro 2000 is 3.5 CHP. This size can support not only walking but also daily running. Meanwhile, its fellow is powered by a 3.0-CHP motor. This one falls into the range recommended for hiking and light jogging, not really for heavy use.
Despite the strong motor, both of them are not overly noisy. The belts move smoothly over the decks and produce minimal track sound.
Measuring a belt area of 22'W x 60'L inches, the Pro 2000 is 2 inches wider than the 7i. For most users, either of the two treadmills is large enough for them to run with a long stride. However, big-sized people may feel safer hopping on and off a wider moving belt.
Both units sustain a max user weight of 300 lbs – a standard capacity in the industry. People of nearly all sizes can step on these machines with absolute confidence.
They feature an incline of 12%, letting you walk high and challenge yourself. One considerable difference between them is that the Pro 2000 offers a -3% decline, which is a very unique selling point. The decline benefit can be a big part of game-changing. A nice downhill helps tone and condition your legs after an interval run.
Both deliver a top speed of 12 MPH. Compared to the standard rate of 10 MPH, there is no limit on the intensity level when you use these two models.
The two treadmills are integrated with cooling fans. Many may ignore this point, but we find it a nice feature to have. The fans will cool down your body and the air around you. However, the 2000's fans seem to be noisier than the 7i and other units.
While the Pro 2000 offers 50 onboard programs, the exp 7i doesn't provide any preloaded routines. With the first one, users can follow specific daily routines and optimize their training sessions.
Either the Pro 2000 or the 7i have heart rate sensors in the horizontal handlebar grips. They let you monitor your current heart rate and track the heart rate history throughout the workout. However, these sensors at high speed are not as accurate as at low speed. If you're lightly walking, they will give a better read of your rate.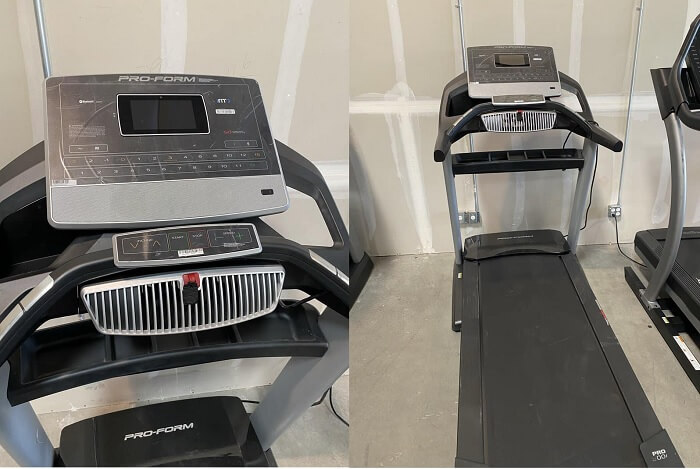 Features Comparison
The 7-inch display is not huge, indeed, but it's large enough to read and control the speed and incline grade. The two models' screens are extremely vibrant and simple to use.
They also include built-in Bluetooth speakers so that users can connect the console to their mobile devices and play their favorite music via the speakers.
Neither the NordicTrack exp 7i nor its rival has a USB port. Sometimes, our phones run out of battery, but we can't charge them to use while running. We actually find it a little inconvenient.
Both include water bottle cubbies and tablet holders. Besides, they also provide users with accessory trays and support bars. Having all necessary gadgets at the fingertips as working out adds much to the comfort level.
IFit technology is incorporated into the two machines. This workout app offers the best interactive personalized fitness and health coaching right in the comfort of your home. One thing to note is that the Pro 2000 doesn't require the IFit membership to use the app, whereas its opponent does. That means you need to pay for a subscription to access full IFit's full library if you purchase the 7i.
The two companies seem to show a lot of confidence in their products. They cover customers' purchases with a generous warranty. Both of the two treadmills come in with a 10-year frame, 2-year part, and 1-year labor warranty. ProForm and NordicTrack are about to say: " Screw it! Our machines will go with you for your whole life."
Quick Rundown Of NordicTrack EXP 7i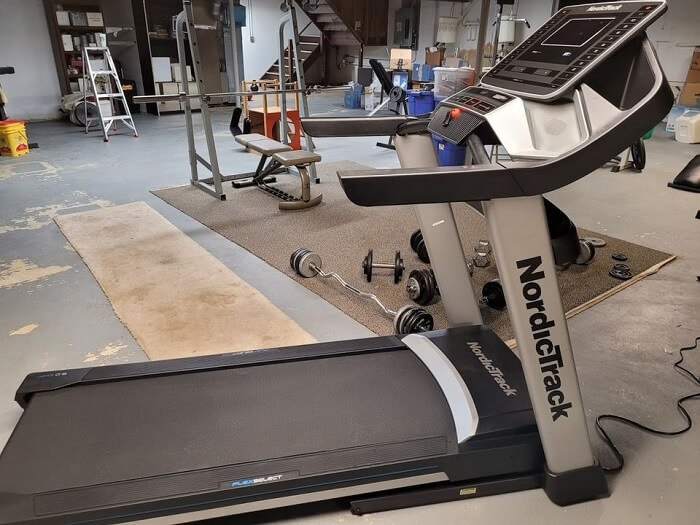 ---
Quick Rundown Of ProForm Pro 2000
ProForm Pro 2000 Treadmill
Footprint: 39.15" W x 79" D x 71.4" H | Tread Belt: 22" x 60"
Weight Capacity: 300 lb
7 inches backlit over sized LCD with racetrack display, iFit compatible. Integrated device shelf
3.5 CHP Mach Z commercial Pro, 0 to 12 MPH Quick Speed
-3 – 15% Digital Quick Decline & Incline Control

---
Product Videos
---
Conclusion
ProForm Pro 2000 vs NordicTrack Exp 7i – who should we reward the title 'winner'? As seen, the ProForm Pro 2000 has gained ground over its competitor in many categories. We prefer running on this home unit as it provides us with additional variability, decline options, plentiful programs, and a wider tread belt.
Besides, the EXP 7i is also a good deal for walkers and power joggers. The machine will please you with a decent-sized motor and quiet running experience.
---