Further down the page, you'll find some explanations regarding the key similarities and differences between the ProForm Pro 1000 and the NordicTrack C 990.
But before checking out explanations regarding their specs and features here's a table that summarizes the main technical summary sheet for these 2 treadmills:
Image
The Winner (#1)
The Runner-up (#2)
Heart Rate Monitor
Bluetooth chest strap and EKG grip pulse
Display
7″ full color touch display
The Winner (#1)
Image
Heart Rate Monitor
Bluetooth chest strap and EKG grip pulse
Display
7″ full color touch display
The Runner-up (#2)
Image
Specs Comparison
When it comes to price comparison, ProForm Pro 1000 and NordicTrack cost almost the same. In other words, they belong to the mid-priced range.
NordicTrack C990 and ProForm Pro 1000 can handle up to 325 lbs
With ProForm Pro 1000, users can access a pack of 22 preloaded workouts. But for more incredible innovation, NordicTrack makes their model C900 ready with 32 onboard ones.
Besides, the 2-ply belt of NordicTrack C990 brings a greater thickness than the 1-ply one of ProForm Pro 1000. The thicker the belt is, the longer its lifespan tends to last.
Both ProForm and NordicTrack treadmills run on a 3.0 CHP motor. It offers a durable, powerful operation and stays cool even on a tough workout. Plus, the quiet in-home experience will never make users disappointed.
0-12% is the incline adjustment with not only Pro 1000 but also C990. This range is diverse enough to challenge any users on leg training.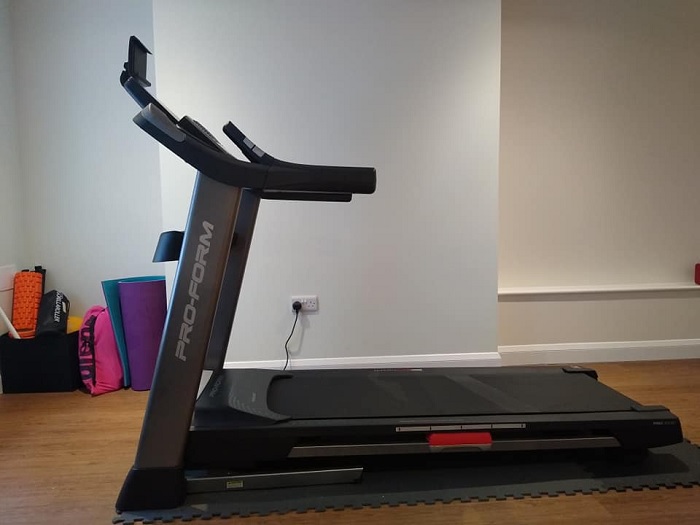 The same motors offer the same range of speeds. Hence, these treadmills are available to run at 0-12 mph.
ProForm Pro 1000 features a built-in CoolAire™ fan that enables users to choose two different speeds. With NordicTrack C990, there are Dual AutoBreeze™ fans that can automatically adjust their speed, matching the workout intensity.
As for heart rate control, Pro 1000 uses the EKG Grip Pulse heart rate monitor, including two hand-grip sensors on the handlebars. In the case of NordicTrack C990, the treadmill helps to control the user's heart rate by a Bluetooth wireless system without chest straps.
When it comes to weight, the Model Pro 1000 of the ProForm weighs 250 lbs., which is slightly heavier than the NordicTrack one (198 lbs. only).
Noticeably, ProForm and NordicTrack design their treadmills with a couple of wheels for better portability in machine movement. These parts are right under the frame.
ProForm Pro 1000 gets its dimension of 79.6 x 36.6 x 59.3 inches for L x W x H and the NordicTrack C990 measures 79.5 x 35.5 x 60.3 inches. Generally, the difference is not too much.
Due to owning a 20" x 60" tread belt, ProForm Pro 1000 gives users a comfortable workout experience. This roomy space is ideal for stretching out every stride. Like the Pro 1000, the C990 from NordicTrack features the same.
SpaceSaver with EasyLift™ Assist is the next similarity between ProForm Pro 1000 and NordicTrack C990. The special design makes these two space-saving treadmills that are worth your money. After workouts, users can fold them vertically to leave space for many other activities.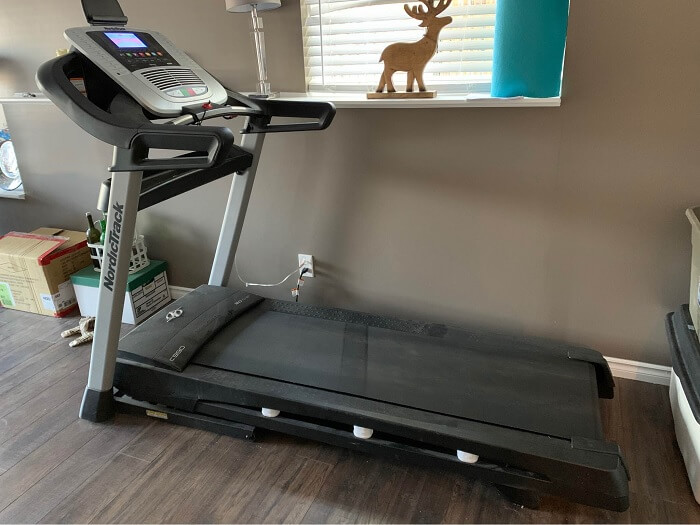 Features Comparison
To adjust speeds, incline/decline, and fans or workouts of ProForm and NordicTrack treadmills, users can make adjustments on the console.
When it comes to displaying, ProForm Pro 1000 shows all training data on a 6" backlit screen, which is unlike the 7″ HD touch one of NordicTrack C990. In comparison, the HD screen tends to give a higher quality of the image.
Thanks to Intermix Acoustics speakers, ProForm Pro 1000 can help to play the right tempo. With NordicTrack C990, dual 2-inch speakers are also good enough to motivate runners.
Although there is no USB port, these treadmills have an audio jack. Hence, users can connect the machine with other devices.
Like many other treadmills, ProForm Pro 1000 and NordicTrack C990 are ready with iFit – a popular fitness app. It means that you have a chance of enjoying more interactive workout challenges besides the built-in workout programs.
Moreover, the manufacturers leave two roomy trays on two sides of the console. These parts are suitable to hold keys, smartphones, bottles of water, etc. while running.
ProForm Pro 1000 is under brand protection with a lifetime warranty for both frame and motor. Plus, it is a 3-year term for parts and a 1-year term for labor.
NordicTrack C990 also comes with a lifetime warranty for frames. But the term for the motor lasts 10 years only. Unlike Pro 1000, this model's parts and labor have 2 years of warranty.
Quick Rundown Of ProForm Pro 1000
ProForm Pro 1000 Treadmill
3.0 chp mach Z commercial motor, 20 x 60 tread belt, proshox cushioning, SpaceSaver with easylift assist
6 inch backlit display, 12 MPH quick speed, 12 percent quick incline, 22 workout Apps
The ProForm Pro 1000 Treadmill is protected with a Lifetime frame and motor Warranty, 3-year parts Warranty and 1-Year Labor Warranty

---
Quick Rundown Of NordicTrack C 990

---
Product Videos
---
Conclusion
It is a little bit hard to choose the better treadmill between ProForm Pro 1000 vs NordicTrack C990. They cost nearly the same price and give great features, too.
But the NordicTrack option seems to be superior since it offers more preloaded workouts, a thicker belt as well as lighter weight for better portability and storage.
---