Further down the page, you'll find some explanations regarding the key similarities and differences between the ProForm 305 CST and the ProForm 505 CST.
Specs Comparison
On the top things to consider, let's find out their selling price first. Proform sells models 305 CST and 505 CST at the rate of around 1000 dollars. Specifically, the Proform 505 CST goes to the market at a rate of over 1000 dollars while its brother sells at nearly 1000 dollars. There is not much difference between the two models, so we need to consider other factors to make a final decision.
Now, let's dig into the size and weight of the two treadmills. Generally speaking, Proform 505 CST's dimensions are bigger and heavier than the Proform 305 CST model.
In detail, Proform 505 CST measures 70 inches long, 34 inches wide, 59.5 inches high, and weighs about 186 lbs, while the dimensions of Proform 305 CST are 65 inches long, 29.5 inches wide, 56 inches high, and 142 lbs weighty. So, there is not much to discuss regarding the measurements and size between the two treadmills. But surely you can consider these criteria.
Between Proform 305 CST and Proform 505 CST, the maximum carrying capacity is slightly different. Despite the strong build, the two models can carry different types of users. To Proform 305 CST, it can only take a maximum of 300 lbs-136 kg users while the counterpart can handle 325 lbs-147 kg. That is why weightier users should probably pick the model 505 CST.
Both running machines go with various onboard workouts compared to other treadmills on the market. While model 505 CST is built with 18 training programs, its brother comes with 16 workouts.
Now, let's talk about the treadmill's incline range. In detail, the Proform 505 CST model ties with its brother in the battle of incline level due to the same incline range between 0% to 10%. This incline range is best suitable for users at home who require entry-level training sessions. So, you should probably pick other treadmills with a wider incline range if you want more intensity in your training sessions.
What about the engine power? Having equipped with the same 2.5 HP, the 505 CST and 305 CST models can speed up to 11 MPH with just a push of a button.
Finally, let's talk about the running area of the two machines. Proform 305 CST is assembled with a pretty humble 16-by-50 inch running area, while 505 CST is going with an even smaller tread belt- a 22-by-55 inch tread belt. So, the model 505 CST will surely bring with it more comfort while running.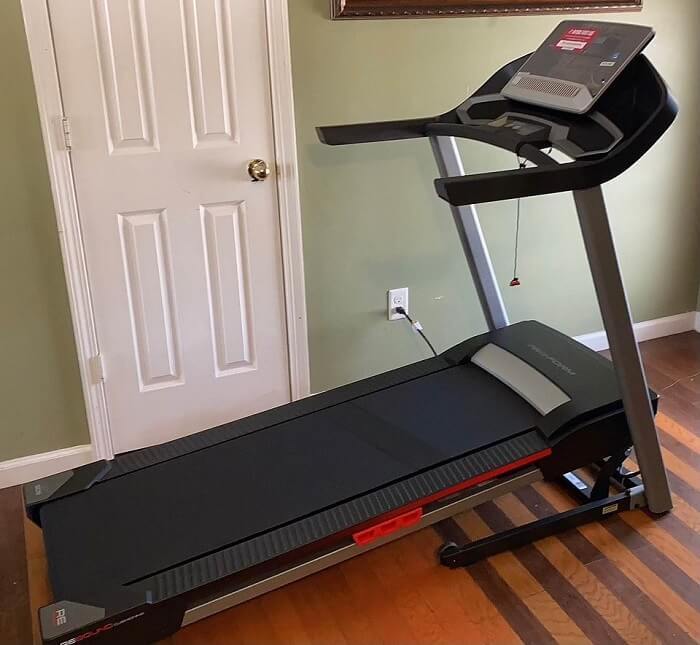 Features Comparison
Firstly, BlueTooth technology is enabled in both Proform 305 CST and Proform 505 CST. So, it is easy to connect the treadmills with mobile devices, such as phones, headphones, and the speakers built in the treadmills.
Besides, two machines also have screens to show training information. Coming with the same screen size- a 5-inch high contrast display, the users can easily track the time, speed, calories burned, and other info.
Nowadays, most treadmills can connect with iFit Coach- a well-known fitness app designed for treadmills. Specifically, this app allows users to use various workout programs, Google Maps worldwide, and more other benefits. When users purchase the model 500 CST, the package already includes a 1-Year iFit Membership equal to 396 dollars. This policy does not apply to 305 CST.
A tablet holder is in the 505 CST model, while the 305 CST does not go with one.
Lastly, runners can keep track of their heart rate with the help of Heart Rate Monitoring technology. In both model 505 CST and 305 CST, users can touch the handlebar grips to follow their heart rate when running.
In general, between Proform 305 CST and Proform 505 CST, the warranty coverage is much different. Specifically, the frame and the motor of the 505 CST are under a 10-year warranty package, one year on other parts, and electronics and labor. However, the 305 model only covers motor and frame for five years, parts and labor for 90 days.
Quick Rundown Of ProForm 305 CST
ProForm 305 CST Treadmill
IFit coach ready; Access iFit account from computer, tablet, or Smartphone; Requires membership, sold separately
5 inch high contrast multi color display, 16 on board workouts, EKG grip Pulse heart rate sensor, 2.5 HP Mach motor
16 x 50 inches tread belt, 0 to 10 MPH digital quick speed control, 0 to 10 percent digital quick incline control
Adjustable proshox plus cushioning, SpaceSaver design, integrated device shelf, audio auxiliary port, out of box easy assembly
The 305 cst is protected with a 5 year frame & motor warranty, and 90 day parts & labor warranty; Built with the whole family in mind, the 305 cst treadmill accommodates upto 300 pounds

---
Quick Rundown Of ProForm 505 CST
ProForm 505 CST Treadmill
Discover Trainer-Led Workouts; A 30-day iFit trial membership gives you access to interactive training sessions, on-demand studio & global workouts, and connected fitness tracking in your home
5" Backlit Display; Track speed, distance, and estimated calorie burn; Integrated Tablet Holder; Stream interactive iFit workouts to your own smart device to stay engaged and motivated as you train
Self-Cooling Mach Z Drive System powers sustained speed, interval, and endurance cardio training; Trainer-led 0-10 MPH Digital QuickSpeed Control and 0-10% Digital Quick Incline Control
20" x 55" Tread Belt recommended for users under 6'2"; ProShox Deck Cushioning protects your joints for a more comfortable run and recovery; Dual 2" Speakers and Auxiliary Port for entertainment
325-pound user weight capacity; Protected by a 10-year frame warranty and 1-year parts and labor warranty; 61" H x 36" W x 73.5" L

---
Product Videos
---
Conclusion
Hopefully, this article has mentioned the main discrepancies between Proform 305 CST vs 505 CST. Despite being sold at a higher rate, the latter is on our recommendation list because of the more beneficial qualities than its sibling-Proform 305 CST.
---