Further down the page, you'll find some explanations regarding the key similarities and differences between the ProForm 600i and the ProForm Carbon T7.
But before checking out explanations regarding their specs and features here's a table that summarizes the main technical summary sheet for these 2 treadmills:
Image
The Winner (#1)
The Runner-up (#2)
Display
10″ full color capacitive touch display
The Winner (#1)
Image
Display
10″ full color capacitive touch display
The Runner-up (#2)
Image
Specs Comparison
Before buying a product, price is always the top priority. However, rest assured that both the ProForm 600i and Carbon T7 treadmills are in the affordable price range. But it is obvious that Carbon will win over its rival with a lower price!
Next, let's see how much weight these trainers can handle. Just like other ProForm treadmills, Carbon T7 can carry a maximum of 300 pounds. Meanwhile, The ProForm 600i features an extremely sturdy construction that supports users up to 325 pounds.
What about the number of built-in workout programs in each treadmill? Well, there is a big gap between them. Built into the Carbon T7 is the iFit Coach personal trainer, which does not have any built-in program. ProForm 600i has 22 integrated workout programs.
The engine is also an important factor for users. Amazingly, both of these treadmills are equipped with a 2.75 CHP. This special motor is designed for heavy use, with continuous peak performance.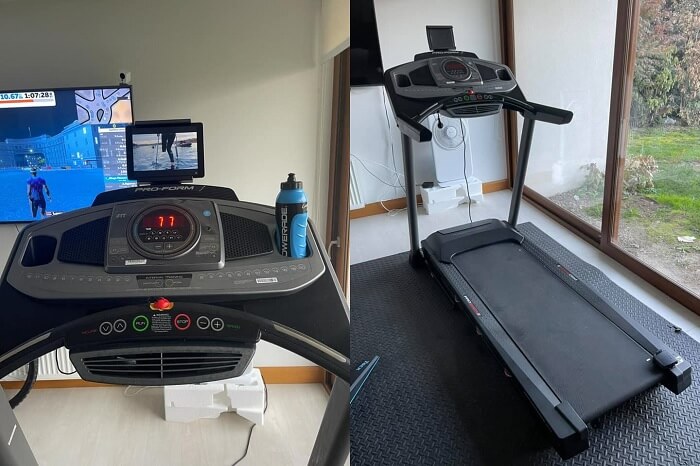 Another similarity between these two treadmills is that they have a motorized incline of up to 12%, in adjustable increments of 1%.
ProForm 600i and Carbon T7 all have smooth, balanced, and powerful movement in terms of maximum speed. They offer a speed range from 0.5 MPH to 12 MPH. At this speed, you can even sprint like a pro.
When the treadmills reach their highest speed, there may be so much heat released. The CoolAire™ Workout will cool down the ProForm 600i s' engine. Meanwhile, there is no cooling fan of the Carbon T7.
The heart monitoring feature is similar on both machines. Users just need to wear an EKG Grip Pulse; then, the treadmill will calculate the heart rate for you!
Moreover, the running area of the 600i has a dimension of 60 ″ L x 20 ″ W inches, long enough to comfortably accommodate users up to 6'5 ″. Carbon T7, on the other hand, is more modest with a 22″ wide 55″ treadmill deck.
You may wonder whether there are rollers to move the trainers? Yes, they both have rollers. Based on the manual, the wheels are about 1.9″ Non-Flex, front and back.
Sizing is another essential element to consider before purchasing. If saving space is your top priority, the T7 is a great choice. Its footprint measures 35.24-inch width, 74.62-inch length, and 64.39-inch height. Contrastly, the 600i takes up quite a bit of floor space when fully assembled and unfolded. It's about 79.75″ L x 36.75″ R x 59.25″ H, so it may not be the correct choice for a small apartment.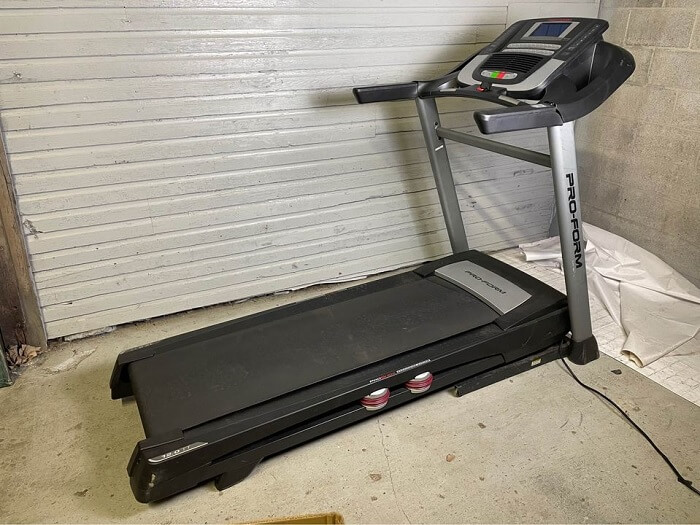 Features Comparison
The first feature to mention is the screen of the device. For accessing iFit Coach, as well as workout data, the Carbon T7 includes a 7-inch intelligent, high-definition touchscreen display. The ProForm 600i features a Watts Round LED Display with functions. Hence, both of them are easy to use.
What about their speaker system? Well, Carbon T7 provides the Dual Speakers with a good amount of sound and high clarity. With the 600i, the sound system includes two 2-inch speakers and an iPod, MP3 player, or smart device port with your music.
When there is a need to connect with other devices, you can use the built-in Bluetooth connecting gate in each trainer. However, USB is only available in ProForm 600i.
Both of these treadmills are capable of connecting to smartphones and tablets, which is extremely convenient. You can play your favorite music and watch your interesting shows while doing the exercise.
The last feature that is also quite essential for treadmills is the water bottle holder. Luckily, both ProForm 600i vs Carbon T7 treadmills have a small built-in corner to place the drink.
When buying a ProForm 600i, you will be provided with a 2-Year Parts Warranty and 1-Year Labor Warranty and Lifetime Frame and Motor Warranty.
Meanwhile, the Carbon T7 users will have a set of 10- Year Frame, 2 – Year Engines, 2 –Year Parts, and 1 -Year Labor.
Quick Rundown Of ProForm 600i
ProForm 600i Treadmill
60-inch length gives your legs plenty of room to stretch out your stride
20 x 60 tread belt, proshox cushioning, space saver with easy lift assist, IPod Compatible audio
CoolAire workout Fan, EKG grip Pulse, 325 lb Weight capacity
This Treadmill is protected with a Lifetime frame and motor Warranty, 2-year parts Warranty and 1-Year Labor Warranty
If it Compatible- requires if it Wireless module; sold separately; buy an if it Wireless module and receive a free one-year if it subscription

---
Quick Rundown Of ProForm Carbon T7
ProForm Carbon T7 Treadmill
Balanced Nonflex Rollers
Incline-matching Technology
EKG Grip Pulse Tracks Your Heart Rate
30 Preset Workout Apps Allow You To Customize Your Workout

---
Product Videos
---
Conclusion
With an affordable price range, the ProForm 600i and Carbon T7 will be the ideal model for you to consider. Both are quite affordable and come with different features as well as standard capabilities found in all treadmills.
Then which will choose between "Proform 600i vs Carbon T7?"
If you're still considering your options, we will highly recommend the Proform 600i. From its powerful motor, compact size, and quiet operation, the 600i will be slightly ahead of its competition!
---