Further down the page, you'll find some explanations regarding the key similarities and differences between the ProForm Carbon T7 and the ProForm 505 CST.
But before checking out explanations regarding their specs and features here's a table that summarizes the main technical summary sheet for these 2 treadmills:
Image
The Winner (#1)
The Runner-up (#2)
The Winner (#1)
Image
The Runner-up (#2)
Image
Specs Comparison
The price must be your top concern when shopping, right? If so, Proform 505 CST will definitely win your heart as it is much cheaper than the Proform Carbon T7.
How about the weight capacity? In this round, Proform 505 CST still outweighs its competitor. This treadmill can handle up to 325 pounds, while 300 pounds is the weight limit of Carbon T7.
Moreover, the biggest difference between the two products comes from the number of built-in programs. While 505 CST provides users with 18 exercises, Carbon T7 offers none.
In return, Carbon T7 stands out more regarding the maximum speed because the trainer allows users to reach up to 12 MPH. The fastest speed in the 505 CST machine, on the other hand, can only reach 10 MPH.
The heat will release from the machines when the speed hits the limit. Unfortunately, both machines do not include the cooling fan. Even though this issue does not matter a lot, it is still a disadvantage.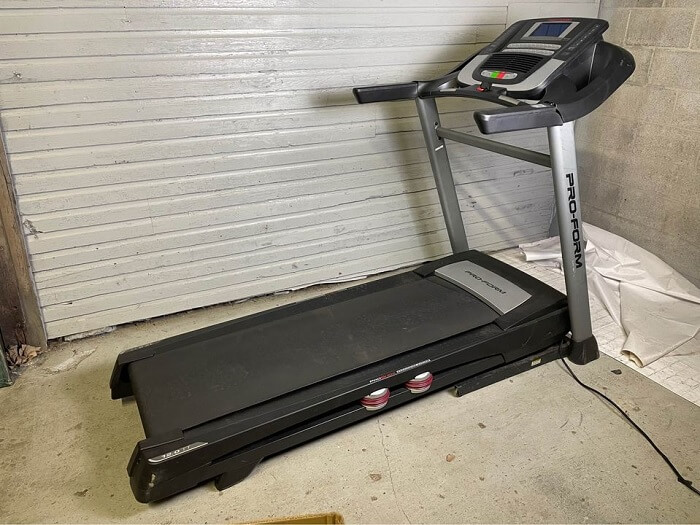 Carbon T7 also attracts more joggers with its powerful 2.75 motor. Meanwhile, the 505 CST's engine can reach up to 2.5 CHP, a little weaker than its competitor.
Proform Carbon T7 keeps on its winning streak with the incline range of 0 – 12%. This figure in 505 CST is lower, ranging from 0 to 10%.
Now, let's have a look at the dimensions! Proform manufacturers often come up with compact designs. To be specific, 505 CST takes up to 73.5″ long X 36.5″ wide X 61″ high. Carbon T7 is a bit bulkier, measuring 74.62″ long X 35.24″ wide X 64.39″ high. So, the gap in their size is minor.
The difference in their weight seems to be unremarkable as well. While 505 CST weighs 203 pounds, Carbon T7 is slightly heavier: 212 pounds.
You may wonder how to lift these massive machines. Don't worry! Carbon T7 and 505 CST are foldable, not to mention the rollers equipped in both of them.
Proform lines often have a heart rate display, but Carbon T7 and 505 CST obtain different features. Specifically, Carbon T7 uses an EKG heart rate monitor, and 505 CST offers EKG grip pulse heart-rate sensor.
Running area is another essential element to decide which treadmill to buy. However, this feature cannot help you choose between Carbon T7 and 505 CST because both have the same 20″ wide x 55″ long belt.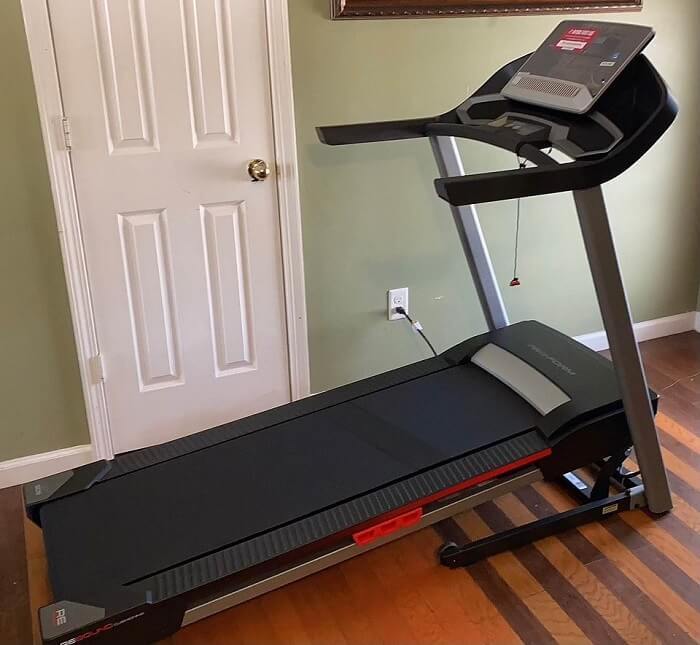 Features Comparison
Conveniently, you can change the speed and incline range to fit your demand in both Carbon T7 and 505 CST. However, the two machines use different tools: 505 CST installs a 5″ backlit display, Carbon T7 brings out a modern material – 7″ smart HD touchscreen.
The display in Carbon T7 and 505 CST can help you adjust all the features, except for the fan speed. As we have mentioned before, none of them has such a thing in their system.
Let's discuss the training application. iFit is the top choice among joggers to keep track of their training. Fortunately, both Carbon T7 and 505 CST are able to sync up with the iFit Coach. Although Carbon T7 does not support you with any built-in exercise, you can access the workout library thanks to the iFit application.
In terms of entertainment, these treadmills share a lot of things. They both feature dual 2-inch speakers for users to listen to music while practicing. Nevertheless, two treadmills also have an audio jack to increase the sound quality at a higher volume.
The only downsides regarding the features of the two products are there is a lack of a USB port. Hence, users might find it difficult to connect the treadmill to other devices.
Water bottle cubbies and device holders are also available in both Carbon T7 and 505 CST.
Two Proform treadmills share the same warranty policy for the frame and the labor. In detail, they warrant the frames for ten years and the labor for one year.
But the Carbon T7 provides two-year parts, and 505 CST only offers one-year parts.
Quick Rundown Of ProForm Carbon T7
ProForm Carbon T7 Treadmill
Balanced Nonflex Rollers
Incline-matching Technology
EKG Grip Pulse Tracks Your Heart Rate
30 Preset Workout Apps Allow You To Customize Your Workout

---
Quick Rundown Of ProForm 505 CST
ProForm 505 CST Treadmill
Discover Trainer-Led Workouts; A 30-day iFit trial membership gives you access to interactive training sessions, on-demand studio & global workouts, and connected fitness tracking in your home
5" Backlit Display; Track speed, distance, and estimated calorie burn; Integrated Tablet Holder; Stream interactive iFit workouts to your own smart device to stay engaged and motivated as you train
Self-Cooling Mach Z Drive System powers sustained speed, interval, and endurance cardio training; Trainer-led 0-10 MPH Digital QuickSpeed Control and 0-10% Digital Quick Incline Control
20" x 55" Tread Belt recommended for users under 6'2"; ProShox Deck Cushioning protects your joints for a more comfortable run and recovery; Dual 2" Speakers and Auxiliary Port for entertainment
325-pound user weight capacity; Protected by a 10-year frame warranty and 1-year parts and labor warranty; 61" H x 36" W x 73.5" L

---
Product Videos
---
Conclusion
The article has just compared Proform Carbon T7 vs 505 CST. Although they have similar characteristics, we believe that Carbon T7 still overshadows its competitor because of its powerful engine, weight capacity, and large touch screen.
---