Further down the page, you'll find some explanations regarding the key similarities and differences between the ProForm 705 CST and the ProForm Carbon T7.
But before checking out explanations regarding their specs and features here's a table that summarizes the main technical summary sheet for these 2 treadmills:
Image
The Winner (#1)
The Runner-up (#2)
Heart Rate Monitor
Pulse Grips and Chest Strap
The Winner (#1)
Image
Heart Rate Monitor
Pulse Grips and Chest Strap
The Runner-up (#2)
Image
Specs Comparison
As we know that pricing is the first factor anyone is especially concerned about when purchasing a treadmill. With these two products, the ProForm 705 CST is more pricey than the Proform Carbon T7.
Let's see what the maximum weight capacity that these trainer machines can handle is. To be more specific, the 705 CST can hold a maximum weight of 325 pounds, while the Carbon T7 can handle up to 300 pounds. These figure numbers reveal that everyone can comfortably and safely use these treadmills.
Following this is the number of built-in programs in each treadmill. Specifically, this feature is the first difference that helps buyers make a comparison between these two products. Proform 705 CST has 22 fully loaded exercises into the console, while the Carbon T7 does not have any built-in programs.
In terms of engine power, the ProForm treadmill is equipped with a 2.75 CHP motor, the same as the Carbon T7 treadmill.
Proform 705 CST and Carbon T7 also have another thing in common: the tilt capacity of the running surface. Their 2.75 CHP motor supports an incline grade of up to 12% and offers powered, automatic incline adjustability. This feature helps users limit the impact on their joints, increasing resistance and burning calories.
The maximum speed of both products is a maximum of 12 miles per hour speed controls. We consider that it is more than enough for most walkers or joggers.
A large amount of heat will be released after the treadmills run for a long time and reach the highest speed. Fortunately, both machines all obtain self-cooling technology. It will automatically run to cool down the engine. However, one more special feature of the 705 CST is that it also provides a built-in 2-speed fan.
What about the heart monitoring feature? Both products have similar heart rate monitoring features. Specifically, Carbo T7 and its rival are equipped with the EKG Grip heart rate sensors, which are designed on the handlebars, and the trainer will help users track their heart rate.
When buying the product, you will probably wonder if these trainers have rollers to move? The answer is yes, as both have rollers. However, The Carbon T7 is only designed with a balanced non-flex roller, while the 705 CST is retrofitted with ProShox Cushion and a 1.9 inches non-bending balance roller.
Size is another essential factor that users need to consider before making a purchase. The 705 CST has up to 78.75'' long, 36.5'' wide, and 61'' high. In contrast, the Carbon T7 is less unwieldy with 77'' long, 32'' wide, and 12'' high. So, the Carbon T7 is a good choice for small spaces!
The trainer's track size may be a problem that buyers will be concerned about when purchasing this product. The Proform 705 is designed with the 20″ X 60″ running surface. Meanwhile, the Carbon T7 only has the 20″ X 55″ belt.
Both machines are also equipped with a folding SpaceSaver design for compact and easy storage after use.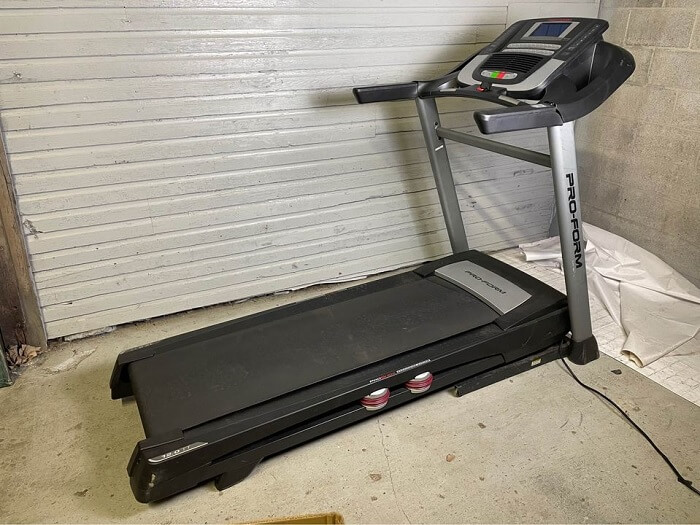 Features Comparison
The Proform Carbon T7 model has an outstanding feature compared to the Proform 705 in Visual Display. The Carbon T7 has a built-in 7 inches Smart HD touchscreen. In contrast, the screen of the 705 CST is slightly smaller with a 5-inch screen. From our perspective, screen size is big enough to view and properly monitor the time, speed, mileage, calorie burn, and heart rate.
What about their speaker system? Both products offer an onboard sound system and auxiliary audio port with dual 2" speakers. Hence, this helps users be able to listen to music while exercising.
The warranty of the 705 CST is quite decent for a reasonable machine. You will get a 10-year frame warranty, 2-year parts warranty, and 1-year labor warranty after purchasing this machine.
On the other hand, the Carbon T7 comes with a good enough warranty. It includes a 10-year frame warranty, 2-year parts warranty, and 1-year of labor coverage.
Quick Rundown Of ProForm 705 CST
ProForm 705 CST Treadmill
Discover Trainer-Led Workouts;  A 30-day iFit trial membership gives you access to interactive training sessions, on-demand studio & global workouts, and connected fitness tracking in your home
5" Backlit Display; Track distance, speed, estimated calorie burn, and more; Stream iFit workouts to own your tablet or phone; On-board sound system and audio auxiliary port
0-12 MPH Digital QuickSpeed controls; 0-12% Quick Incline controls; With iFit, your trainer automatically adjusts your treadmill's speed and incline for an optimized cardio workout
Folding SpaceSaver design for compact storage; 20" x 60" treadmill belt for tall runners; Self-cooling drive system for extended use; ProShox cushioning and 1.9" balanced non-flex rollers
325-pound user capacity; Protected with a 10-year frame warranty, 2-year parts warranty, and 1-year labor warranty; 61" H x 35.5" W x 78.75" L

---
Quick Rundown Of ProForm Carbon T7
ProForm Carbon T7 Treadmill
Balanced Nonflex Rollers
Incline-matching Technology
EKG Grip Pulse Tracks Your Heart Rate
30 Preset Workout Apps Allow You To Customize Your Workout

---
Product Videos
---
Conclusion
This article has helped you partly distinguish between two trainer models: Proform 705 CST vs Carbon T7. We suggest that the 705 CST is a greater option with its fantastic features, running surface, and ProShox cushioning than its competitor- Carbon T7.
---