Further down the page, you'll find some explanations regarding the key similarities and differences between the ProForm 905 CST and the ProForm 600i.
Specs Comparison
Price is nearly a deciding factor when you compare two different products in the same category. In this aspect, Proform 905 is at an advantage because it costs less than the other.
However, letting price be the only reason for picking a product is not the way that wise customers would do. Another factor that they should take into account is the weight that the treadmill could deal with. With a higher price, the Proform 600i can carry up to 325 pounds, while the Proform 905 works at its best capacity with only 300 pounds.
The workout programs that are built-in in each trainer are significantly different. The Proform 905 gets the lead point from this lens due to its various programs (up to 30 programs), whereas the other only introduced 22 ones to their users.
What about the power performed in each trainer? It seems that the Proform 600i runs weaker than its competitors (2.75 CHP, which is 0.25 less than the CHP number of Proform 905 CST)
In terms of the incline range, there is no difference between the two products above. Specifically, they both offer the same figure of range: 0 – 12%.
It is also a head-to-head comparison when considering the speed of each trainer. It turns out that both treadmills will allow the customers to reach the number of 12 MPH.
Moreover, there is no problem if you want to use these treadmills for a long time. For the Proform 905, there is a self-cooling system that helps to cool the trainers no matter how long you run onto them. Also, there is a CoolAire fan in the Proform 600i.
Proform 905 and Proform 600i are a great advantage for the former when considering the heart monitoring feature. Besides the EKG Grip Pulse Sensor equipped in both products, the Proform 905 offers users the additional Chest Strap, which increases the accuracy when calculating the heart rate.
It can be claimed that Proform 600i makes up for less space than its competitor (Proform 905 takes 61''H x 36.5'' W x 78.75'' L, whereas Proform 600i takes 13,5''H x 30''W x82.5''L ). Hence, the former trainer is more convenient due to the attachment of a non-flex wheel, while the latter can save space with the lift assist.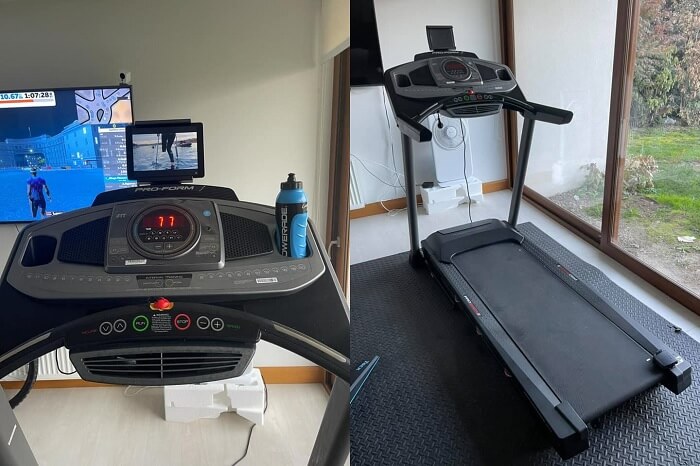 Features Comparison
There is a significant difference when comparing the features of the two treadmills. In detail, the Proform 905 offers various modern features such as a backlit display integrated with a health calculator (like distance, speed tracking, heart rate, number of calories burnt, to name but a few). There is also an auxiliary audio port to serve the demands of the customers. Their competitor, on the contrary, focuses on developing a convenient and simple treadmill, which has a LED display and an iFit Bluetooth. There is also an auxiliary audio port to serve the demands of the customers.
When it comes to displaying the screen, the 905 CST offers users a 5'' backlit one, whereas its rival obtains a Round Watts LED.
Both machines come with iFit workout programs that allow you to choose a suitable program from thousands of training options regarding the exercise program.
Last but not least, both products all have a water bottle holder, phone holder, table holder for the best experience.
When choosing Proform 905 CST, you will be offered a 10-year frame, 2-year part, and 1-year labor warranty. Meanwhile, Proform 600i seems to be better in this service as it provides lifetime frames, 2-year parts, and 1-year labor.
Quick Rundown Of ProForm 905 CST

---
Quick Rundown Of ProForm 600i
ProForm 600i Treadmill
60-inch length gives your legs plenty of room to stretch out your stride
20 x 60 tread belt, proshox cushioning, space saver with easy lift assist, IPod Compatible audio
CoolAire workout Fan, EKG grip Pulse, 325 lb Weight capacity
This Treadmill is protected with a Lifetime frame and motor Warranty, 2-year parts Warranty and 1-Year Labor Warranty
If it Compatible- requires if it Wireless module; sold separately; buy an if it Wireless module and receive a free one-year if it subscription

---
Product Videos
---
Conclusion
It is a head-to-head comparison when it comes to Proform 905 CST vs 600i. However, we prefer the former due to its modern features, various built-in programs, and stronger technical specifications. Yes, let's try it if you have a chance!
---