Further down the page, you'll find some explanations regarding the key similarities and differences between the ProForm Pro 2000 and the Sole F85.
But before checking out explanations regarding their specs and features here's a table that summarizes the main technical summary sheet for these 2 treadmills:
Image
The Winner (#1)
The Runner-up (#2)
Heart Rate Monitor
EKG grip pulse Sensor and wireless chest strap
Pulse grip and chest strap heart rate monitoring
Display
7″ full color capacitive touch display
9-inch LCD workout display
Audio
Audio Auxiliary Port and Bluetooth Speakers
MP3-compatible sound system
The Winner (#1)
Image
Heart Rate Monitor
EKG grip pulse Sensor and wireless chest strap
Display
7″ full color capacitive touch display
Audio
Audio Auxiliary Port and Bluetooth Speakers
The Runner-up (#2)
Image
Heart Rate Monitor
Pulse grip and chest strap heart rate monitoring
Display
9-inch LCD workout display
Audio
MP3-compatible sound system
Specs Comparison
Although Proform Pro 2000 and Sole f85 belong to the same group of inexpensive treadmills, their price is quite different. To be specific, if you choose Sole F85, you will have to spend about $500 more than the Proform Pro 2000.
When comparing the weight limits, the F85 has the upper hand with a maximum lifting capacity of 400 lbs. As you know, this figure is 100 lbs more than ordinary treadmills, including the Pro 2000.
About workout programs built, the F85 features 7 new fitness tests and 12 custom workouts based on the user's needs and fitness. Meanwhile, the Pro 2000's program is not pre-installed. About 16.000 exercises will be ready immediately after signing up for iFit.
The running belt of both models is designed with the ideal thickness to support most runners. This feature helps reduce wear on the track and reduces the impact on your joints.
Pro 2000 uses a 3.5 CHP engine with multiple speed options during practice. In comparison, the F85's 4.0 CHP engine is one of the most powerful on the market today. It supports heavy training, interval work and can be adjusted at arbitrary speed.
The sound is a factor that worries many customers when choosing a trainer. Here, Sole F85 is more appreciated with the ability to control the noise level when operating. Besides, the Pro 2000's belt moves smoothly on the deck, so it doesn't make too much noise.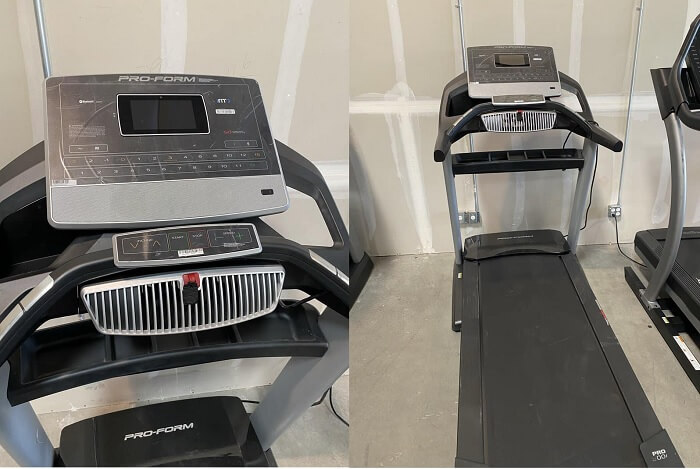 How about the incline range? The incline and decline gap of Pro 2000 is -3% to +15%; meanwhile, the Sole F85 has a maximum tilt of +15%. This ability to change the incline on both machines helps prevent injury and ensures muscle balance.
Both models allow users to reach 12 MPH. It would be nice if you could hold this speed for more than a few seconds! With this top speed, you can comfortably practice various exercises such as running, sprinting, etc.
Pro 2000 has two fans with four power settings, but it is a bit noisier than other machines. Unlike its competitor, Sole F85 makes almost no noise, although it's pretty useless.
Regarding the heart monitoring feature, Pro 2000 is equipped with a modern heart rate sensor, while the F85 has a wireless heart rate monitor with an accuracy of up to 99.9%.
When it comes to size and weight, there's a pretty big difference between the two treadmills. The Pro 2000 is more compact at 84 x 25 x 38 inches and just weighs 210 pounds. On the contrary, the Sole F85's dimensions are 85.43 x 37.01 x 17.32 inches and weigh 50 pounds more than the competitor. Therefore, Pro 2000 is the more optimal choice for narrow spaces.
What about two treadmills' belt sizes? Like most other standard models, they have similar running belts at 22×60 inches, ideal for tall users or those with long strides.
Another outstanding advantage that cannot be ignored is the ability to fold. Both trainers are foldable to reduce the space used. After folding, you can easily move them to storage by using a bottom roller system. However, instead of 2 wheels as usual products, Sole has up to 4 wheels.
Features Comparison
Overall, both models are designed quite user-friendly. To activate and adjust the parameters, all you need to do is click the "Speed" and "Incline" buttons.
The Pro 2000's fan has three-speed settings from low-medium-high. As you run faster, the wind power will increase, and vice versa. In comparison, the fan of the F85 also has the ability to adjust the wind speed like the opponent, but it does not have much effect.
Pro 2000 exercises are activated when you become an iFit member. Programs automatically synchronize with speed and incline settings. On the other hand, Sole allows users to design their own training plans.
Proform Pro 2000 training parameters are displayed on the 10-inch HD touch screen. Meanwhile, Sole F85 is not appreciated for this feature. Its screen is up to 10.1 inches, bright and easy to see, but it does not have colors like other similarly priced machines.
The speaker is quite the same on both machines. They all include an audio auxiliary port and dual 2-inch speakers. Users can play music or practice videos through the input jack in the control panel.
How about wifi connectivity? Both models use the built-in Bluetooth connecting gate and USB port. Regarding displaying data, Sole F80's screen is presented quite simply, while Pro 2000 will attract more users. At this point, the full-color-inspired display is a plus for the Proform Pro 2000.
Each brand uses a different app to assist the treadmills during their workouts. Specifically, Sole's product line uses the SOLE Fitness app. Meanwhile, Proform users will get 1 year of free use when signing up for iFit. Additionally, the Proform Pro 2000 and Sole F85 are capable with Android and iOS devices.
Both treadmills have good storage capacity. Besides the two large pockets on either side of the dashboard, there's an additional storage tray under the dashboard. Items such as water bottles, cleaning cloths, headphones, etc., will always be at your fingertips.
Proform Pro 2000 warranty is slightly shorter: 10 years frame warranty, 2 years parts warranty, and 1-year labor warranty.
On the other hand, Sole F85 offers a lifetime warranty on the frame, engine, deck, 5 years for electronics and parts, and 2 years of labor.
Quick Rundown Of ProForm Pro 2000
ProForm Pro 2000 Treadmill
Footprint: 39.15" W x 79" D x 71.4" H | Tread Belt: 22" x 60"
Weight Capacity: 300 lb
7 inches backlit over sized LCD with racetrack display, iFit compatible. Integrated device shelf
3.5 CHP Mach Z commercial Pro, 0 to 12 MPH Quick Speed
-3 – 15% Digital Quick Decline & Incline Control

---
Quick Rundown Of Sole F85
Sole F85 Treadmill
Treadmill offers an industry-leading warranty and a proprietary Cushion Flex Whisper Deck, shown in a study to reduce impact on your joints by up to 40% compared to running on asphalt
4.0 CHP, DC Type motor with 0.5-to-12 MPH speed range, 0-to-15% rack-and-pinion gear design incline, two-ply belt, pulse grip and chest strap heart rate monitoring
Six standard programs, two custom programs, and two heart programs; cooling fans and MP3-compatible sound system; nine-inch LCD workout display
Measures 35 by 58 by 80 inches (W x H x D); deck measures 35 by 80 inches (W x D) and running surface measures 22 by 60 inches (W x D); 265-pound weight and 400-pound weight limit; 2.75-inch rollers
Includes the following manufacturer's warranties against defects in materials and workmanship: lifetime on frame, motor, and deck; five years on electronics; and two years on labor

---
Product Videos
---
Conclusion
Above are a few comments about two outstanding treadmills – Proform Pro 2000 vs Sole F85. From the comparison of power, size, features, and elements, Proform Pro 2000 stands out over its competitor – Sole F85. Do you agree with us? Let's leave a comment below to share your opinions!
---